Lambretta Preservation: Part 1
Scootering|October 2019
Keeping a Lambretta in original factory condition is saving its history for future generations. Customising it will mean the history is gone forever, so which to choose?
Finding an old Lambretta or any scooter for that matter in an old garage or shed is a dream we all have. To some it does become a reality, but it raises the question of what should be done with it. Should it have a total restoration from bare metal upwards or perhaps left as it is from the day it came out of the factory? Many factors make up the final decision. Is the paint free from rust and the majority of it still intact? Does the engine turn over or is it seized solid? Is everything still connected ready to work after cleaning up? If the answer to these questions is yes then preservation is by far the best option.
Why should you preserve rather than restore
The last Innocenti Lambretta rolled off the production line almost 50 years ago. Since that time the amount left that are still in original untouched condition has rapidly declined. Many thousands of examples since having being restored. No one can be blamed for this happening. Who was to know that the Lambretta would gain such popularity after production had finished? These days if one is found how it left the factory then it seems everything is done to preserve it. This decision is dictated by the fact that its value is greater than if it's restored, certainly for the rarer and more sought-after models.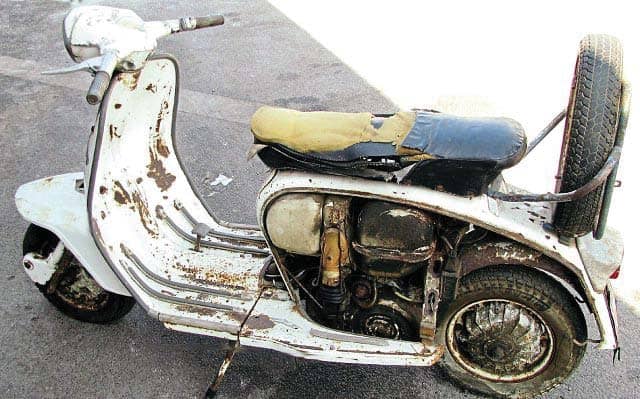 More importantly than the financial gain by keeping it this way is the fact that Lambretta history is been saved. Once the paintwork has been removed and the engine changed there is no going back. It's impossible to avoid that cliché, 'it's only original once'… but the fact is, it's true. The Mona Lisa has been cleaned and preserved, but no one would ever say let's touch the paint up or go over the faded areas again. So that's how Lambretta preservation should be looked at, like a priceless painting that must remain as is. No one is saying you can't clean one up and sort things that need repairing because that's what this series is about. What you don't want to do is take it too far and remove history unnecessarily.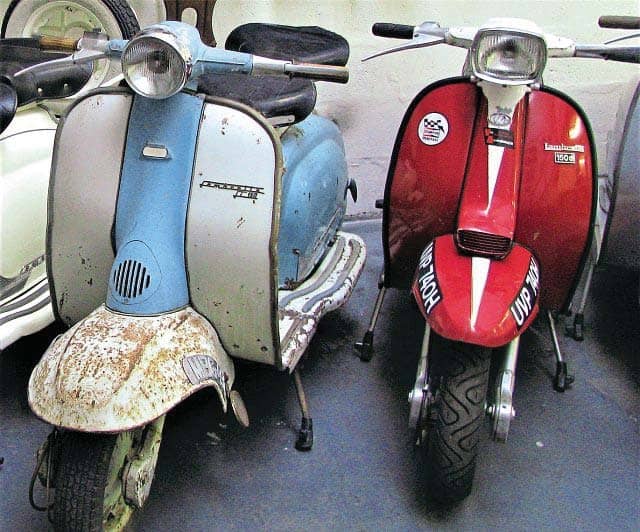 Deciding if it's good enough to save
The first thing you have to ask yourself is whether the Lambretta in question is good enough to save? If you have found a proper old barn find then more than likely it will have stood idle for decades. If left uncovered then there will be years of dust laying on top, even in a garage environment. One thing to note is that Lambretta paint is pretty hardy stuff and though on the surface it may look bad, it does clean up well. Most of the problem stems from whether or not it has rusted badly and a lot of the paint has come off. In saying that, some owners like it when the paint has gone and there is just bare metal. This fashion first started in the VW scene where some owners would hardly have any of the original paint left. Special waxes are now available where the bare metal can be treated and preserved.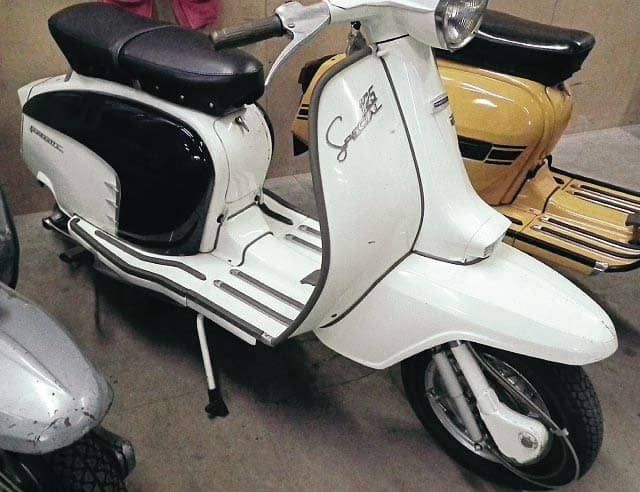 You can read up to 3 premium stories before you subscribe to Magzter GOLD
Log in, if you are already a subscriber
Get unlimited access to thousands of curated premium stories and 5,000+ magazines
READ THE ENTIRE ISSUE
October 2019