Uganda The Pearl Of Africa
This trip, the very last in the series of stories from Dan Grec's two-year Africa round trip, details a scary mishap and some extraordinary wildlife encounters
I'm out solo, exploring an isolated gravel track in Uganda when the stunning Lake Albert comes into view over the crest of a hill. I strategically park the Jeep to get the best photo possible and walk away with camera in hand.
As I climb the rock bank for a photo, I see the Jeep move. Almost before I can react it has travelled an entire Jeep length and is picking up speed fast. I desperately scramble after it, hoping without reason there is a way I can fling myself into the driver's seat to stop it. Seeing the inevitable I keep clear, utterly helpless.
Within three or four lengths it hurtles out of control into the ditch on the left before striking the rock wall, very hard. The tyre takes the full impact, violently flipping the Jeep over onto the passenger side before it skids to a crunching stop.
I crumple to the ground, terrified that I may have just ended my African Expedition, and with no idea what to do.
Into Uganda
A few weeks earlier, I completed another straightforward border crossing from Rwanda into Uganda. After finishing the paperwork and starting the Jeep, I think for a second before turning off the engine and walking back to the armed military man guarding the boom gate.
"Which side of the road in Uganda?" I ask.
"Keep left," he says, "not like Rwanda."
After swapping sides multiple times now, I figure it never hurts to double-check, and the lack of signs makes me not trust my own memory of which country drives on which side.
Mgahinga mountain gorillas
A couple of friendly armed park rangers hitch a ride with me to the National Park on the border of Rwanda and The DRC, where mountain gorilla sightings are all but guaranteed. At $600USD it's not an easy choice, though I rack it up as a 'once in a lifetime' and, as soon as I have paid, I can't wait to get started.
At a very brief introduction, I'm told there is only one gorilla family here, consisting of eight gorillas. This group contains two full-size male silverback gorillas – which is not at all common – and the leader is the second-largest gorilla in existence. Together with four other people, we set out hiking through the thick forest up the gentle slopes of the volcano. After an easy 45-minute walk we hear, and then see, the men tracking the gorillas sitting calmly on the ground.
From the moment I crouch down, about 10 metres from the massive gorilla, my brain can't process what my eyes are telling it. The silverback is so big and so close, I feel as if I am seeing the best CGI movie of all time. He weighs well over 300kg, almost all being pure muscle, and his biceps, shoulders, and chest are simply too big to comprehend. His head is three or four times bigger than mine and his hands could easily crush my skull. It's a certainty that he could tear me limb from limb with as much effort as it takes to snap a twig. Knowing all of that, it's insane to sit on the ground so close, though the trackers and guides assure me I'm fine.
To move around, the gorilla walks on his front knuckles with his chest forward and, again, I can't believe he is actually real. At times he looks exactly like a stuffed toy – complete with fluffy fur and leathery round belly.
It soon becomes clear each gorilla has a unique personality, though the one thing they all have in common is their ability to completely ignore us. I'm very close to the silverback when he stands up and grunts while striding right beside me, easily close enough for me to reach out and touch – which I don't do.
The baby gorillas are full of beans and wrestle, climb on and eat everything they can, and even take turns using the big silverback as a trampoline. He has an impatient look on his face but doesn't do anything to stop them. Too soon our hour is up, and we tear ourselves away and hike back, still in disbelief about what we have just experienced.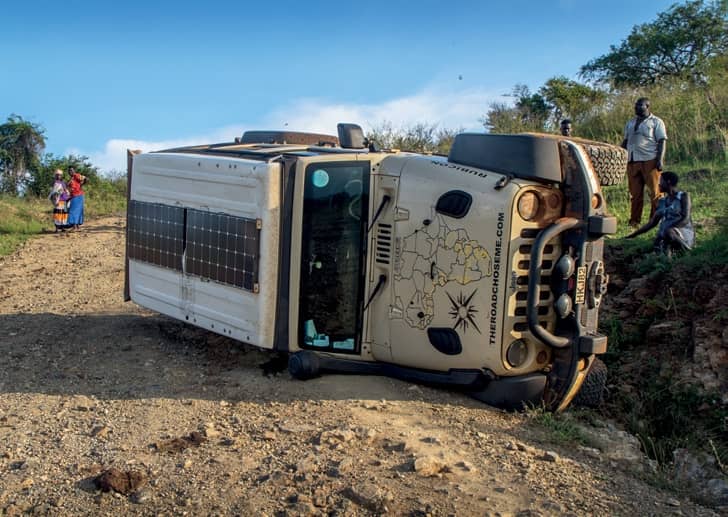 Ishasha National Park
This rugged park lies on the very western border of Uganda, butting up against the mighty DRC. As soon as I approach the park entrance, I know I'm onto a good thing. It's extremely remote, there is nobody else around and I even hear elephants trumpeting loudly while chatting to the officer at the entrance gate. Throughout the equatorial regions of Africa, I have been shocked to find wide-open hills covered in thick grass, and I smile as I recognise this familiar landscape yet again.
This park is famous for lions that climb trees; the only place in the world where they are known to do this. I keep my eyes peeled and search high and low all over the park, though I never do spot a single lion. The torrential rains keep the temperature down, and I'm told the lions move into the trees in search of a cool breeze when the temperature skyrockets during the hot dry season.
You can read up to 3 premium stories before you subscribe to Magzter GOLD
Log in, if you are already a subscriber
Get unlimited access to thousands of curated premium stories, newspapers and 5,000+ magazines
READ THE ENTIRE ISSUE
March 2020