Defenders On Tour
SA4x4March 2020
The second 2019 Defender Trophy event kicked off in Limpopo and was unique in that participants camped in three different countries…
I now live in England but African blood runs through my veins. In nearly 20 years as a 4x4 journalist, I have attended over 10 Defender Trophy events. They are always held in southern Africa, and, as the name suggests, they are for Defenders only. Last year Englishman Phillip Young did do it in a Toyota Land Cruiser, but only because he could not get his Defender through customs in time after shipping it over from the UK for the event!
As I exit the OR Tambo arrivals hall in Johannesburg I walk straight into the welcoming hot Highveld air. After a few minutes of waiting, the mother of all Defender 130s appears – it's the Front Runner demo model. It might just be the most-accessorised Defender I've ever seen. Ryno Cloete is behind the wheel, and doing what he does for a living; demonstrating Front Runner products to the world's media. Ryno whips out a packet of biltong and places a cold drink in my hand. "Welcome home, brother," he declares.
Our first stop is the Front Runner factory and world-class showroom at Kyalami. Even though it's a Saturday there are loads of (mostly) Defenders lined up and waiting to get some or other accessory added. Marketing man, Jaco Nel, meets us at the entrance and takes us on a guided tour. The place has expanded tenfold since my last visit over a decade ago. Front Runner is one of the big South African 4x4 success stories, with offices and warehouses all over the world.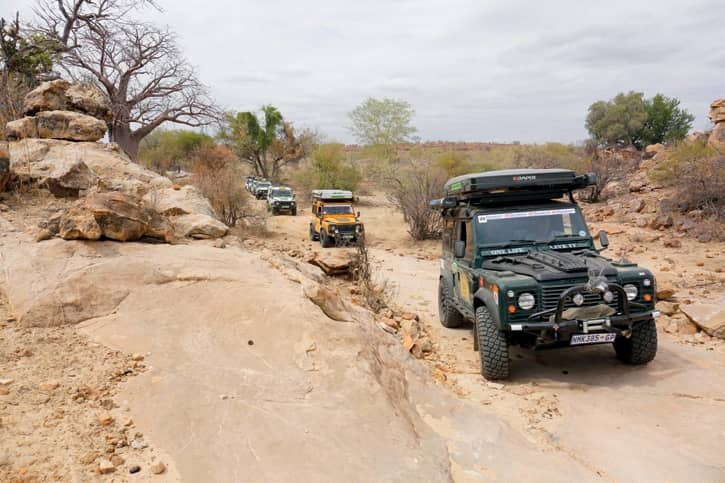 DAY 2:
Even though we only have to report for Defender Trophy duty on Monday afternoon, we head off on Sunday morning. I'm in the 130 with Ryno while two of my best mates, Aldri van Jaarsveld and Lindsey Parry, are in a Defender 110 Td5. Aldri has tied a big South African flag to the back of his Land Rover. He is impossible to miss.
We take the N1 toll road north in the direction of Zimbabwe. I have driven this road many times and not much has changed, except the tolls are now more expensive. We cross the Tropic of Capricorn and after about four hours we reach Polokwane, the capital of the Limpopo province. We now take the more rural R521 towards the Limpopo River. The last town we pass through is Alldays, where we top up on ice and other essentials. It's nearly 40 degrees Celsius, so ice is like gold in these parts.
We swap the tar for gravel and head east along the Limpopo River, entering a wildlife area and our home for the next two nights, the Ratho Bush Camp, which is also a working farm. We are one of the first of the 31 competing Defenders to arrive. Event organiser, Johan Kriek, greets us warmly and tells us to set up camp in a dry section of the Limpopo River.
Before I can put up my Front Runner popup tent, Ryno passes me the first of many cold beers. The sun forms a blazing orange ball and slowly slips behind some baobab trees. A herd of impala nervously cross the river about 200 metres away from us.
It gets dark quickly and so we make a fire. Ryno expertly braais some lamb chops and boerewors, the single malt whisky flows and shooting stars entertain us further.
I have left my head torch in my tent and walk the 50 or so metres from the braai area to go fetch it. I hear a snarl behind a rock or log, which makes me nervous. I walk backwards towards the fire and tell the others, but they just mock me and say I have been in the UK too long. One of the event sponsors, Johan Fouche, then grabs a searchlight and walks with me. Straight away we see the yellow eyes of a lioness who is hiding behind a large log. This is not good. Johan carries on walking towards her. She jumps up and scurries away. I decide it's time for bed.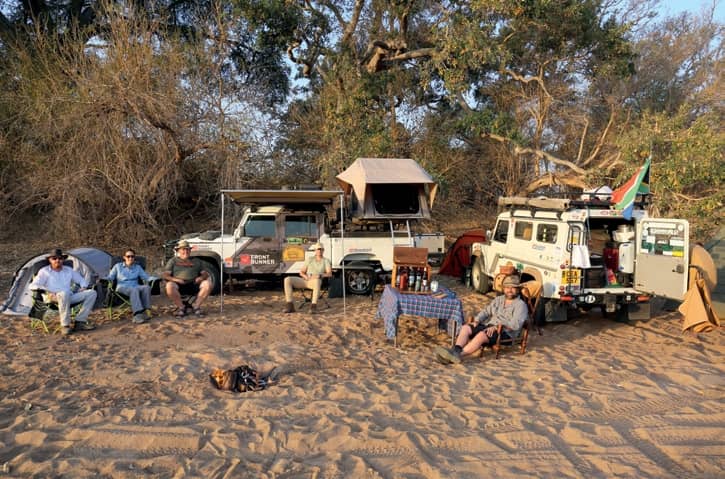 DAY 3:
You can read up to 3 premium stories before you subscribe to Magzter GOLD
Log in, if you are already a subscriber
Get unlimited access to thousands of curated premium stories, newspapers and 5,000+ magazines
READ THE ENTIRE ISSUE
March 2020