Tread carefully
Racecar Engineering|Anatomy of a Racecar
It's not just the drivers who need to look after the tyres, for as our in-depth guide to getting the most from them shows, engineers can also do much to make sure the race rubber is being used to its full potential
The running of a racecar entails the management of many components and fields: structures, engines, aerodynamics, damping, gearing, vehicle dynamics, geometry, child psychology (applied to the driver), and the supply of coffee to the engineers. But, apart from that last one, the one that will give the biggest returns is using your tyres to their best capability.
Tyres are the essential link between the vehicle and the ground through the contact patch, where everything happens, and most of the other items are optimised around this.
As the tyre gets loaded vertically (through transfer or aero) or laterally (cornering) and longitudinally (braking and accelerating) it will continuously change its shape and size. This is what you control through pressures, cambers and roll-couples. This, in turn, will give your racecar its handling and grip. Have more power? It will have to go through the tyres. Need to turn it, and how fast you corner? It is the relationship between the four contact patches that will determine how well you do so. Need to finish the race and win? How you use and save your tyres will determine your probability of achieving this. They are then, very important.
Black magic
The fact that they are round and black is just a minor thing, really; there is a lot more to a tyre than its appearance. Yet that can also give you a read-out on what is happening if you look at the contact patch closely.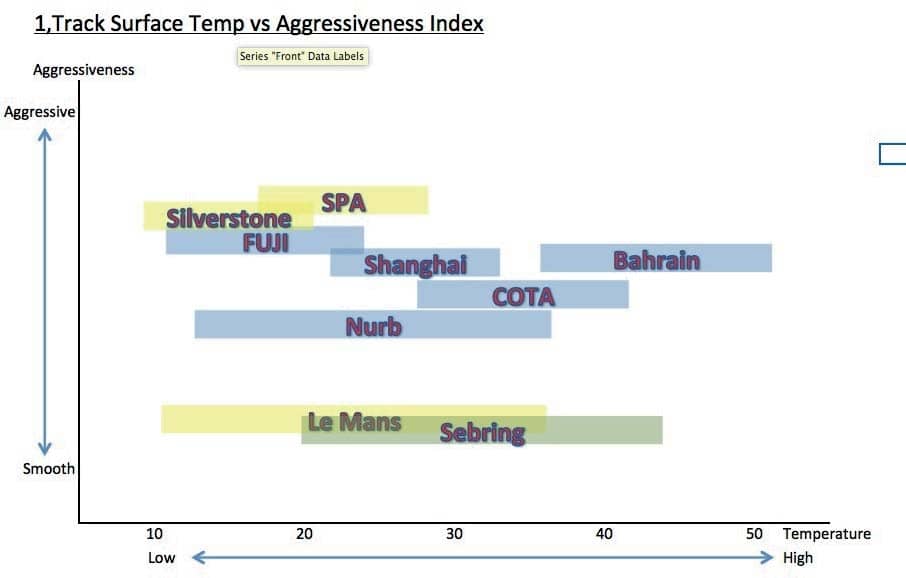 The sheer amount of engineering, chemistry and preparation for repeatability that goes into tyres is directly related to how they work. Always bear in mind that everything is non-linear with rubber, and because of the chemistry and pneumatics it is a bit of a black art, dependent on track conditions, weather, the type of race or session, and driver use or abuse.
Different classes with different rules will either have you running control or spec tyres, where all use the same rubber, or there might be a full-blown tyre war, which makes choice of tyres even more complex, as here you can juggle with carcass construction and compounds, even sizes if stagger is involved. In the past the easiest way to sort out handling changes on ovals due to track evolution was at pit stops, choosing from a selection of diameters so the next set would change the cross weight of the car, to be less loose or have less push.
On-road tracks it is a bit more difficult, but one of the imperatives of the engineer's job in cross-ply tyre days used to be to make sure all his sets were the same diameter and matched, there being a considerable variation in these hand-built tyres. You would also try to ensure the coding on the side showed that it was the same fabricator that had made your set.
I was not very welcome at several tyre-fitting tents, turning up and asking for tyres to be changed to match so often that eventually I found the supplier pre-sorted them out when mounting my sets. A diameter tape was a very effective performance tool back then. This habit was kept for several years until my records showed that varying diameters were a thing of the past on radial tyres, the belt doing a good job of keeping them pretty much identical.

On the edge
Most racing tyres are now radial, as increased cornering stiffness is associated with a higher yaw rate gain and shorter response times. This is the reason why radial tyres are now preferred to cross-ply tyres in motorsport. However, radials do have a less linear response on the edge of adhesion and so can break away rapidly, whereas cross-ply tyres give more warning through the pneumatic trail torque felt at the steering wheel as you reach the limit, the steering effort dropping off slower.
What used to be a fairly free weekend tyre allocation limited only by your wallet has now evolved so there is now only a limited number of sets you can use, making tyre management even more crucial to your performance.
Over the years I have accumulated an extensive collection of tyre surface photos of the four corners and notes regarding set-up and handling, with all the variations of conditions and how to read them to try to make sense of what they are trying to tell you. Some of these are dotted throughout this piece (see Reading tyres box outs). These give examples from different manufacturers and classes in different track conditions and temperatures. Here we are only looking at the appearance and will not delve into the vastly more complex reasons for what happens. There is not the space for that.

Slick work
Let's start here with how a racing tyre works. The tyres are so fundamental to a racecar's behaviour that basically the cars are designed around them, or the tyres will be designed specifically to respond to the car characteristics, within the limits of known tyre technology.
Tyre behaviour will depend on two different elements. One is carcass and the other is compound. These are fixed, but utterly dependent on variables that are, well, very variable, such as track temperature, tread temperature, pressure, camber, camber gain, toes, weight transfer and driver aggressiveness.
You can read up to 3 premium stories before you subscribe to Magzter GOLD
Log in, if you are already a subscriber
Get unlimited access to thousands of curated premium stories and 5,000+ magazines
READ THE ENTIRE ISSUE
Anatomy of a Racecar