Cruel Sport
Performance Mini
|
Nov - Dec 2019
UNFORTUNATE MISTAKES HAVE SHOWN ALEX JUST HOW FINE THE MARGINS ARE IN THE PRO CLASS, AND JUST HOW CRUEL MOTORSPORT CAN BE AT TIMES…
Motorsport, like any sport, can be cruel. I hate to use clichés like 'hero to zero' and so on, but there is an element of truth to them. A good day can turn sour very quickly in motorsport, as we were reminded at Croft recently.
Those of you who have previously read my columns will know that this year hasn't been kind to us. The pace has been there, but the results haven't. Race 1 at Croft was our best chance to date at changing that. Qualifying had been a touch underwhelming and we started 7th. But with new tyres on the front and some setup changes the guys at Lawrence Davey Racing had given me a rocket ship for the race, and thanks to some great racing early on, and someone else's mechanical misfortune, with 2 laps to go I found myself in 3rd, a couple of minutes away from our first podium in Cooper Pro. Trouble is, 4th place was right behind me, and he wasn't intending to stay there. You can probably see where this is going, can't you..?
He made his move into turn 4, Tower Bend, a roughly 90-degree right hander. He came from quite far back on the brakes but to be fair he got it stopped. I knew I'd lost the corner, so my instinct was to be tight on the exit of the corner and try to get the cutback on him. But I was too tight, I was over the kerb, and he (quite rightly) parked the car on the apex of the corner to stop me getting the cutback. We made contact.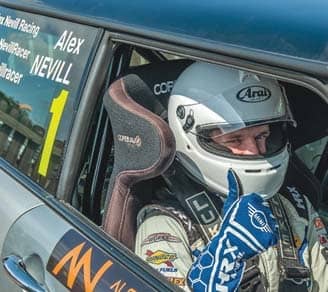 You can read up to 3 premium stories before you subscribe to Magzter GOLD
Log in, if you are already a subscriber
Get unlimited access to thousands of curated premium stories, newspapers and 5,000+ magazines
READ THE ENTIRE ISSUE
Nov - Dec 2019