A Winning Combination
THE LEGACY OF FUN FORD WEEKEND TROPHY STOCK CHAMPION BRUCE WINN'S 1993 MUSTANG COBRA LIVES ON
"It was supposed to be my car," says Patty Winn, Bruce Winn's widow and previous caretaker of the well-preserved 1993 Mustang Cobra you see here. That's no doubt a common claim among car enthusiasts. As the story goes, Patty's husband Bruce did eventually find himself taking ownership of the Vibrant Red machine.

Born and raised in Fort Wayne, Indiana, Bruce was a military veteran with over 10 years of service under his belt. He met Patty when he was home between his two tours in Vietnam. His continued service after the war took them to El Paso and, later, Anchorage.

"He raced a Gremlin at a dragstrip in Anchorage," Patty tells us. "The trans broke and my father had to ship him a T-10 four-speed from back home."

The couple returned to Indiana in 1974, and both Bruce and Patty went to work and focused on raising their son, Bruce.

Much later, in 1993, the couple went car shopping, and found themselves at Allen County Motors in Fort Wayne, Indiana.

Of the day that they brought home the first-year SVT Cobra, she recalls, "I wanted a Mustang 5.0 convertible, so we went to the showroom to look at one, and [the Cobra] was in the showroom. We both looked at each other and said that was the one we had to have.

"I drove it a little here and there—it was a real adrenaline rush."

With the Cobra being the pinnacle of Ford ponycar performance at the time and Bruce having an interest in drag ​racing, it's not surprising that the car would find itself at the dragstrip.

"We bought it as a lease and I made him wait until we paid it off because no one was going to insure it if we raced it," Patty explains.

A few years later, the final payment was made, and Bruce could flex the Mustang's muscle as he saw fit. Around this time, the Ford drag racing series Fun Ford Weekend began to rise to prominence, and the allure of an all-Ford racing event called to the Winns.

"We were originally going to try True Street," Patty says of their initial plans to race the Cobra. But within the series, a new class called Trophy Stock caught Bruce's attention.

Fun Ford brought on the Trophy Stock class in 1995, and the rules were quite strict with regard to performance modifications. The class was open to any 1979 or newer Ford passenger car equipped with a Ford Windsor engine and weighing at least 3,200 pounds. The engine needed to be stock, but competitors were permitted to change rocker arms, camshaft, exhaust headers, and underdrive pulleys, and to add an aftermarket exhaust system. Any DOT-approved tire could be used, but was not to exceed 9.5 inches wide.

Equally, fuel-injected and carbureted cars were allowed to compete as well, seeing as Ford transitioned to EFI around 1986. But the 1993 Cobra and its factory-upgraded powerplant offered a performance advantage out of the box with its better-breathing intake manifold, cylinder heads, camshaft, mass air meter, and throttle-body.

While Bruce's home track was Muncie Dragway in Albany, Indiana, his favorites to visit were Summit Motors​ports Park in Norwalk, Ohio, and Bradenton Motorsports Park in sunny Bradenton, Florida.

"Bruce had family in Lithia, Florida, and I had family in St. Pete," Patty recalls. "We had to drive the Windstar, and he drove the Mustang. I took his mom and my mom and called it the mother-in-law express," Patty says of their trips to race at the Fun Ford Weekend season opener.

During the 1996 season, Bruce managed to run just a few events, but explained to Patty that he couldn't get enough points that way.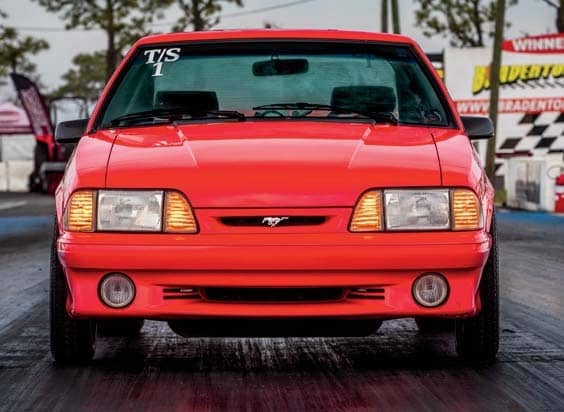 "I said just go to every race, so in 1997 and 1998, that's what he did."
You can read upto 3 premium stories before you subscribe to Magzter GOLD
Log-in, if you are already a subscriber
Get unlimited access to thousands of curated premium stories and 5,000+ magazines
READ THE ENTIRE ISSUE
January 2020