WYN'S WEAPON
How's this for the good old days of smoked-out powerbands? Epic!
I
t's a long way from Okinawa, Japan's most southerly island and the American military's easternmost outpost, to Cape Canaveral and the NASA Space Shuttle's blast-off base — half a lap of the globe, to be precise. But for US Air Force Major Wyn Belorusky Jr. and the quartet of limited-edition Yamaha RZV500R ring-ding road rockets he brought Stateside with him, it was a voyage of a renaissance when he exchanged sub-tropical Japan for the Florida Space Coast, after a three-year posting as a C130 navigator. 'I'm a born-again biker courtesy of the US government,' proclaimed the 48-year-old veteran, a peace dividend discard given his early retirement papers on a full pension by Uncle Sam in the wake of the Cold War's conclusion, after a 17-year USAF career which ended with a posting to NASA writing Space Shuttle guidance system algorithms. 'Instead of getting paid by the Pentagon to shoot rockets into space, Washington gives me the budget to play with the two-wheeled kind on the street. I'd say that was a pretty good peace dividend — wouldn't you?'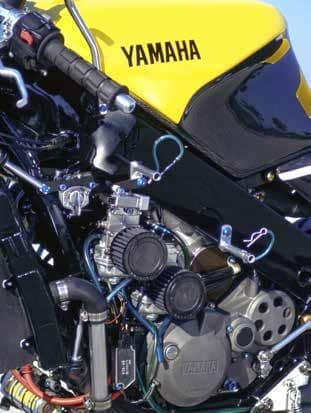 Hard to argue with that, especially as Wyn's latest weapon is a masterpiece of motorcycle art capable of arousing as much admiration in the parking lot of the local McDonalds as at the nearby Daytona International Speedway, rather than a megatron missile capable of obliterating half the world's population. As such, it's arguably the bike that Yamaha engineers dreamed of building back in 1984 when Japan's first 500cc two-stroke race replica, the RZ/ RD500LC, was launched on an unsuspecting public, before being reined in by the massed ranks of accountants reluctant to grant too free an expression in the street guise to their company's race engineers' title-winning talents.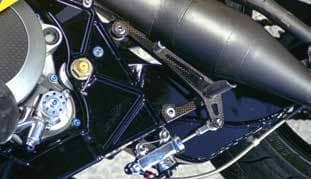 For much as the RD500LC was touted during its two years of production in 1984-85 as a Roberts/ Lawson racer-with-lights, it wasn't regretfully really that at all. Rather, it was Elsie Yamaha on a steroid diet, after a session with the surgeons to double up on dyno power by the simple means of coupling together two liquid-cooled RZ/RD250LC parallel-twin stroker motors on a common crankcase, to create a 50° V4 reed-valve sportbike with serious performance potential. Only, by now the era of the modern superbike was dawning, and bikes like Yamaha's own 20-valve FZ750, let alone the RC30 that'd allow Honda to rewrite the rulebook for sporting street bikes, were almost on us. So, the RZ/ RD500LC, like the NS400 Honda and RG500 Suzuki, instead became a niche-model footnote of J-bike evolution — but in doing so, it also became a cult bike, of which 8000 units in all were built during its two years of production, according to the International RZ/RD Owners Group which Wyn helps run. Of these, a bare majority were steel-framed bikes producing a claimed 87 bhp at 9500 rpm (78 bhp at the rear wheel) for the European, Canadian and Australasian markets, alongside a total of 3700 aluminum-chassis versions built exclusively for the Japanese home market under the RZV500R label, whose engine was detuned to 64 bhp to comply with Japanese legislation.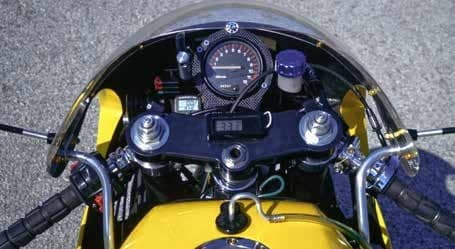 You can read up to 3 premium stories before you subscribe to Magzter GOLD
Log in, if you are already a subscriber
Get unlimited access to thousands of curated premium stories, newspapers and 5,000+ magazines
READ THE ENTIRE ISSUE
July 2020