The Experiment
Motoring World
|
September 2018
A Whole Lot Of Slush, Outrageousness And Stupidity Loosely Translates To Ridiculous Amounts Of Fun
Not all lunacy results from a realm without reason. But the only way to truly understand the madness is to become one with it. In other words, it's okay to go mad sometimes. Trust me, it's quite fun. The Pune Off-Road Expedition is an annual event held on the outskirts of Pune city. And as you can imagine, it's timed to be in perfect sync with the wettest time of the year. Downpour, mud, slush and grime are just the beginning of what can only be described as absolutely marvellous mayhem. And then some.

You give a monkey a mandolin and it will have endless entertainment right until the point it breaks the mandolin. I'd like to think of myself as the monkey in this scenario and the TVS Ntorq 125 my scrappy little mandolin. Since almost everyone I know already thinks I'm missing a few nuts and bolts in the upper floor, nobody really questioned my reasoning behind deciding to take a scooter to an off-road event. But like I said, there is some logic to all the madness. I've had the opportunity to ride some of the most gargantuan ADV motorcycles off-road and I've felt the 250+ kg struggle down to my very bones. This time I just wanted to see how far a 116-kg scooter could really go off-road without me needing any chiropractic adjustments. Or something like that.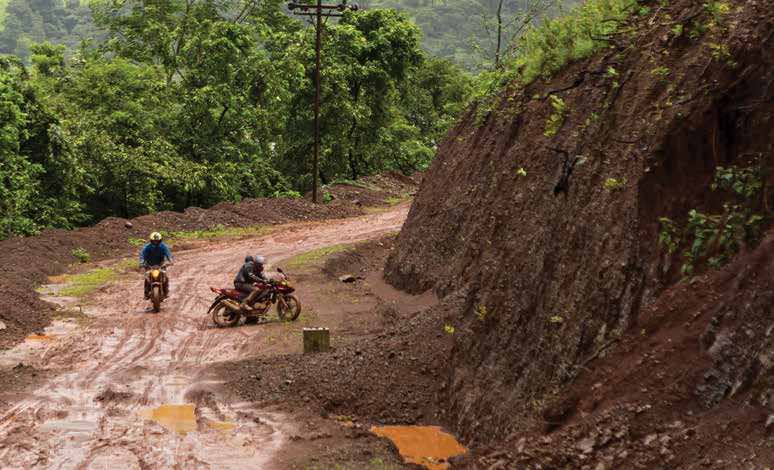 Here's where the tricky part starts, though. The event was to be held a few kilometres from Panshet village, on periphery of the lake. I now had to travel about 200 km one-way aboard a scooter that's designed to make urban travel easy. As soon as the thought entered my mind, muscle memories of the back pain that resulted from long rides aboard uncomfortable motorcycles came flooding in. Would I even make it to Pune? And to make matters even more interesting, I had a Triumph Tiger 800 for riding company. And Kawasaki casually forgot we were on our way to pick up the Versys-X 300 after we had already ridden all the way to Pune. Way to be on the ball, Kawasaki India.
You can read up to 3 premium stories before you subscribe to Magzter GOLD
Log in, if you are already a subscriber
Get unlimited access to thousands of curated premium stories, newspapers and 5,000+ magazines
READ THE ENTIRE ISSUE
September 2018