SPLASH HIT!
Motoring World
|
September 2020
Five motorcycles, a scooter and rainy mud. A most fun and dirty antidote to lockdowns
If you don't know where you're going, you need suspension of disbelief. That's no metaphysical statement; when out on our Bike Slush Fest, you need shock absorbers that make you go, 'Whoa, I didn't even feel that.' As such, perhaps it was questionable to take along a 51-year-old Rajdoot 175 on our voluntary annual battle against the forces of mud and monsoon. But then I told myself that all good ideas start off as bad ones, and given that we were taking along a mix of machines — a scooter, a commuter, the cheapest Indian dual-purpose bike, the hottest adventure bike right now, and a big ADV bike for reference — I thought an old machine might add a bit of sepia charm to the proceedings. And I was in for a surprise.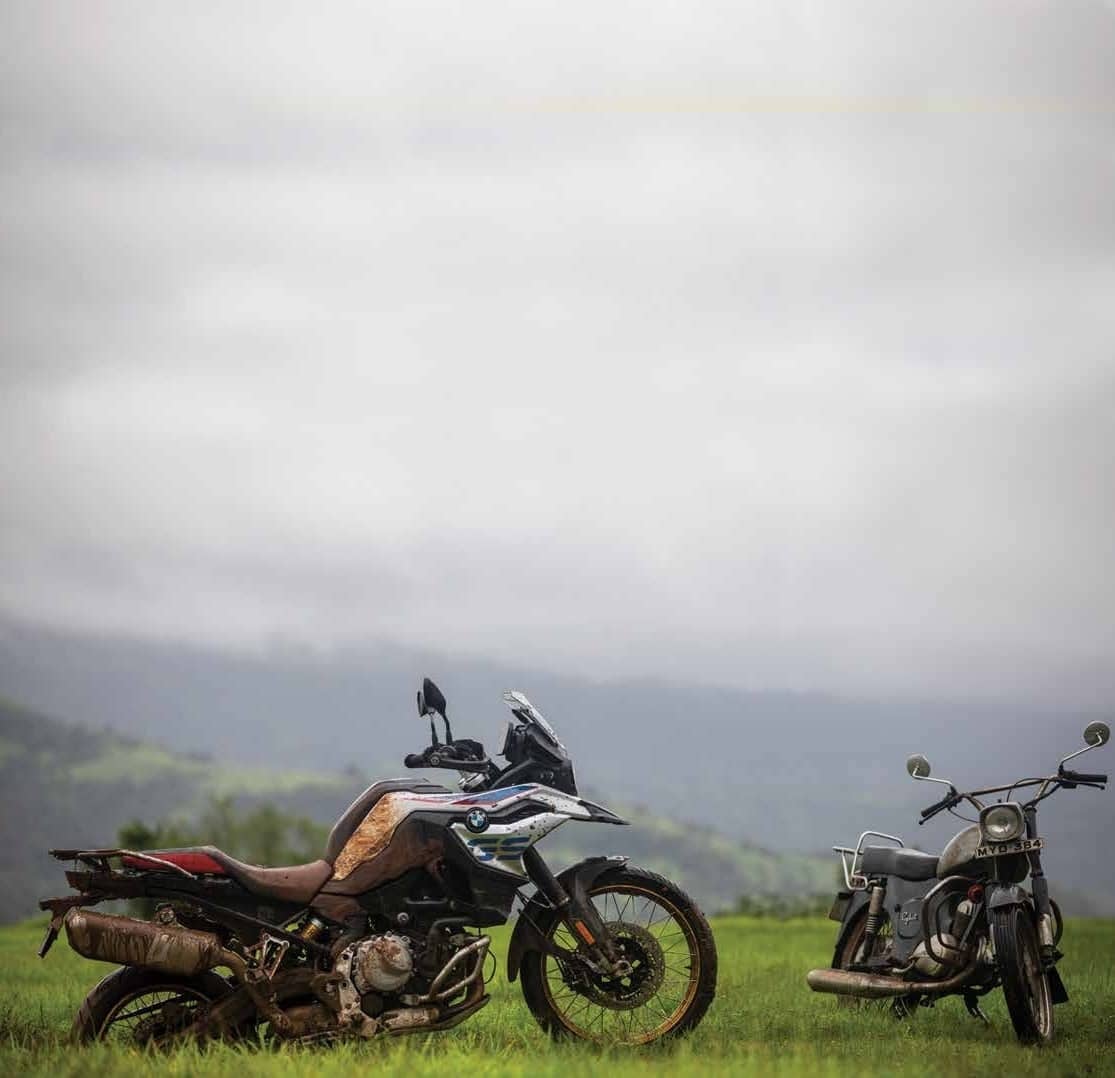 The order of machines described above consisted of the following: the Yamaha RayZR 125 Street Rally, I clearly fixated on that last word in its name; the Hero Passion Pro, a light and cheerful machine that punches above its weight the BS6 Hero Xpulse, a massive improvement over its older self; the KTM 390 Adventure because, well, because; and the BMW F 850 GS, the bike that BMW uses to train riders for its GS Trophy events. As usual, no modifications were made to any of these machines. As usual, we would come to regret that later in some cases. For example, the GS came with street tyres on it despite putting in a request for dual-purpose ones at the very least. You can imagine how that went.
LAP RATS
Fancy a go at the circuit? Climb out from a dug-out section called Rocky Start. Scramble uphill through muddy grass. Pass the laughing crowd; don't bother responding, any distraction will end with a faceplant. At the rise's peak, head downhill-left for Aquack, muddy waters that make the rider's legs waddle like a duck's. If not blinded by the water, seek out Lost Gap, the left between two small rocks. This is crucial for a clean momentum-boosting run to Hopes Up; it looks easy at first but slowly destroys your soul as you attempt to climb it. Managed to get over? Head slightly uphill-right up Breather Lane to a sharp right-hander called What The.
You're now aimed at Glug, a small pond at the end of a downhill slope called Backslide, self-explanatory when the grass-hidden camber kicks out the rear wheel and you make the sudden transition from seat to ground. This is also when Glug's name makes most sense. Once rider and bike have righted course, it's a straight run to The Other Side where the grass is greener but also hides several nasty bumps. After the short rodeo, it's time to go around Rocks8, a big eight made by big rocks; the angle of entry is up to you. Exit Rocks8 and head back down past the crowd that's laughing even harder now, and into the start-finish drop now called Rock Bottom. Which, incidentally, sums up your current physical state.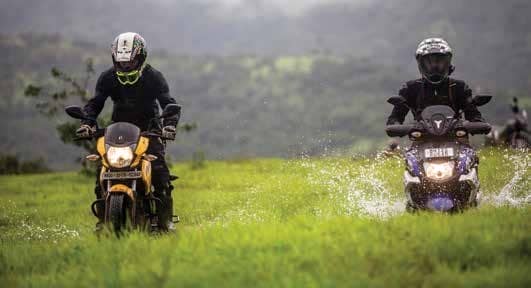 Given that we were well short of hands (legs and spines, too), and also because they were probably suffering from cabin fever thanks to lockdown after lockdown, we called Ex-Men Ruman and Aadil to join us, and promptly put them on the GS and the Passion Pro respectively. Janak, rubbing his gloved hands with premature glee, took the 390 Adventure, while Kyle plonked his considerable self on the Xpulse. Varad, the resident go-fastest guy, uncharacteristically found himself on the scooter, while I settled for nursing my still-running-in Rajdoot through the storm. You'd be hardpressed to find a better mixture in a pack of mules.
This year, we headed to Panshet on the outskirts of Pune, to a rolling patch of grass, slush, moss, water, all fun things that test the balance of man and machine alike. For my part, I set a course as best as I could on the Rajdoot, and then hung around pointing a finger and laughing at everyone else. But before I did that, I found myself pumping the Rajdoot's kick until the ancient motor roared to life in a cloud of smoke; I couldn't help but issue a silent apology to surrounding flora. The old motorcycle's BS6 companions at least don't choke the grass they trample. Then again, does a 51-year-old motorcycle stress the environment more or less than new ones?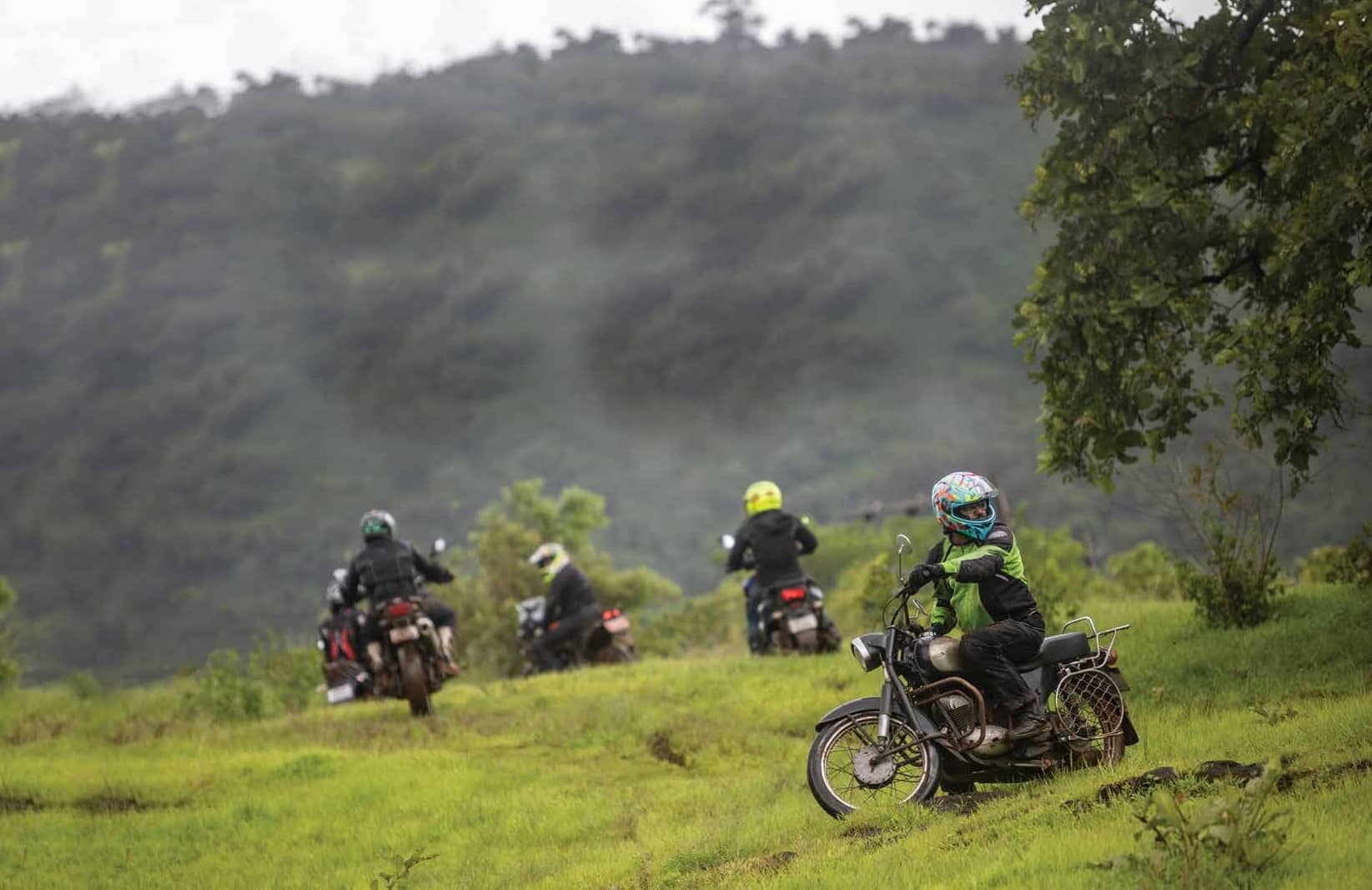 You can read up to 3 premium stories before you subscribe to Magzter GOLD
Log in, if you are already a subscriber
Get unlimited access to thousands of curated premium stories, newspapers and 5,000+ magazines
READ THE ENTIRE ISSUE
September 2020