HORSING AROUND
Motoring World
|
September 2020
Pairing two-wheeled equines from the two ends of the TVS stable
Horses are some of the most beautiful animals on the planet, and everyone likes them. However, more often than not they stink, tend to have a temper, are easily rattled, can bite, and if you're at the wrong end, kick you into low-earth orbit. I suspect these are some of the reasons why fedup ingenious humans took to designing two-wheeled horses that other impressionable humans started buying in droves. And like their four-legged inspirations, motorcycles today are registered as many different breeds. In the Indian context, the company that finds itself farriering the most diverse stable is TVS, with a breadwinning workhorse at one end and a flagship thoroughbred at the other.
The TVS XL100 Comfort and the Apache RR 310 are as far apart as two-wheelers made by the same company can be, the former being the only moped sold in India. Yes, it doesn't have pedals, but calling it a step-through is less charming. Plus I like thinking that the past tense of 'mope' can also be a cheerful object. The XL is a 38-year-old idea, now polished with the grace and refinement of the modern era. It is BS6-compliant and has fuel-injection to boot. The RR 310 is a BMW made by TVS, and its BS6 version is a shocking improvement over the older one. However, the roots of all those TVS Racing badges on the RR 310 go back in time to the XL.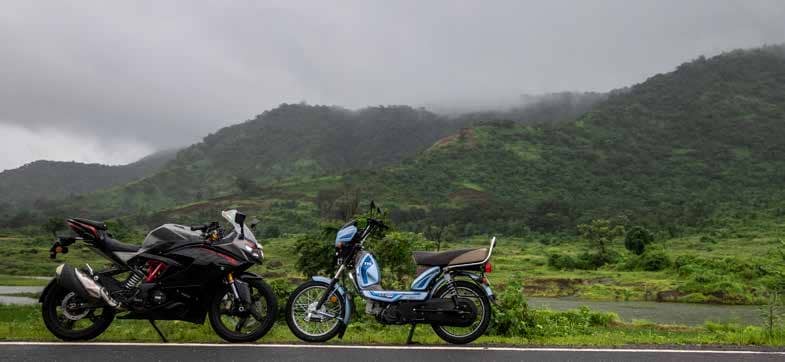 Riding the XL into a heavy downpour, I thought of the time I rode one of its two-stroke ancestors, a racing moped, at the Madras Motor Race Track near Chennai. I was far from a suitable jockey for it, and proceeded to burn its clutch till it started smoking, but not before I'd scared myself on the 110-kph machine in a manner befitting an overweight prey animal. However, this time around, the XL reassured me with its 60-kph refinement; it could probably go faster, but there was no point. Quite a swing away from its racing heydays, then. However, it brightened up a dreary monsoon day with its fantastic blue self, and that was good enough for me.
You can read up to 3 premium stories before you subscribe to Magzter GOLD
Log in, if you are already a subscriber
Get unlimited access to thousands of curated premium stories, newspapers and 5,000+ magazines
READ THE ENTIRE ISSUE
September 2020