CAR SLUSH FEST 2020:WELCOME TO THE JUNGLE
Motoring World
|
October 2020
The new Mahindra Thar meets its grizzled elders and shows them what it's capable of
When a child is born, it's usually welcomed into the family with a small ceremony. The elders gather around and introduce the newest member to the history of the clan and help establish the child's identity, too. So naturally, when Mahindra introduced the new Thar, a similar ceremony was in order to welcome it into the fold. Unfortunately for the Thar, its elders aren't exactly the nurturing sort and this quickly turned into a baptism by fire. Each of the older cars decided to pass on only one lesson to the youngster, and they were not ready to leave until the new Thar had learned it.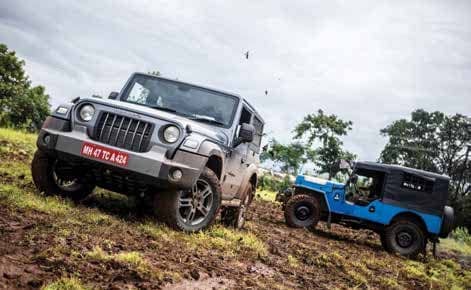 We designed a course that incorporated all of these lessons to see how everyone fared afterwards. From the slippery start finish straight, the contenders would sprint to the first obstacle called hallow Grave, obviously the deepest part of our track. The mud ruts here were more than happy to try and beach the cars. A quick left turn into Rock and Roll corner which tested the cars articulation and ability to put power down over uneven terrain before veering right to Rise and Shine. This started as a way to test approach and departure angles, but quickly turned into a contest for the biggest airtime. After making it back to solid ground again, the cars had a quick drive through The Bog to test low-range capabilities before turning right at the righteous corner for the final sprint back to the start finish line.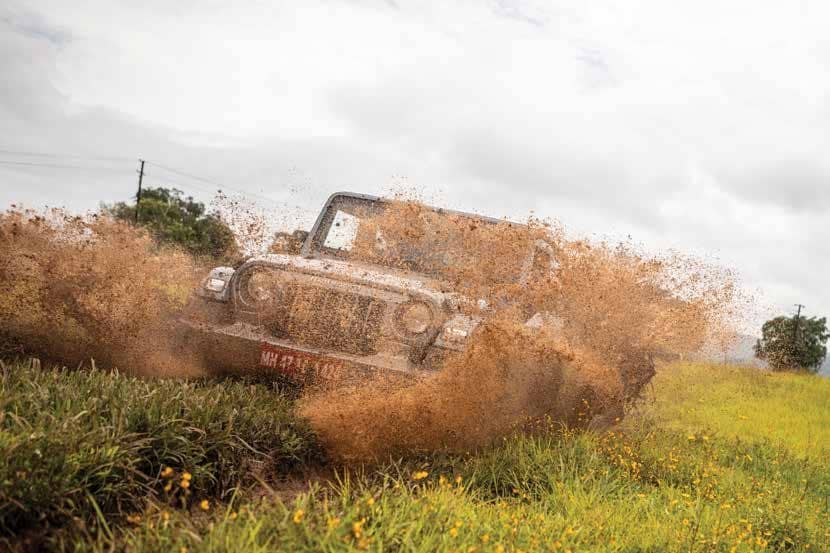 Don't let its final time fool you, the new Thar performs quite admirably off-road. It's just that running a course after multiple others have gone before you means you're left with a slushy mess full of deep ruts. Nevertheless, the new Thar handled Shallow Grave well despite it seeming like there was a lot of stuff hanging underneath the car. Rock and Roll was also an easy one, because in its pursuit of good on-road performance, the new Thar's independent front suspension puts the power down really well.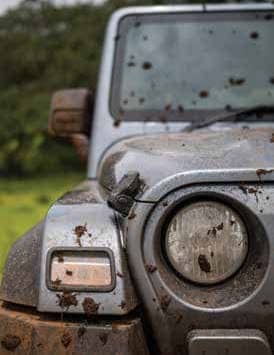 Rise and Shine presented a challenge because it seemed like the new plastic bumper covers and other add-ons up front may have compromised its approach angles a little. Turns out, that wasn't the case at all and the new Thar took this obstacle in its stride as well. It was only at the bog that it slowed down a bit. The switch to low range and back out of it to clear this obstacle may have been what took the lead away from it on the timing sheets. After that, it was smooth sailing back to the finish line to celebrate with the others, of course.
You can read up to 3 premium stories before you subscribe to Magzter GOLD
Log in, if you are already a subscriber
Get unlimited access to thousands of curated premium stories, newspapers and 5,000+ magazines
READ THE ENTIRE ISSUE
October 2020