Bajaj Qute - First-Of-Its-Kind Qute In India
Motoring World
|
April 2019
Bajaj finally brings out the first-of-its-kind Qute in India
It's not a car.' That was probably the most repeated statement at the Bajaj Qute's first drive. As if to ram the point home, the word 'drive' was entirely absent at the drive, with even the welcoming messages reading, 'Welcome to Bajaj Qute first ride.' Yes, it's not a car, though that's not what other manufacturers thought when it was revealed at the 2012 Auto Expo as the RE 60. And, since the ancient Central Motor Vehicles Act has been plodding along since shortly after the invention of the wheel, there was no definition of that class of vehicles. So, even if the attentive and/or envious manufacturers' only concern was defining the category, their efforts threw a Supreme Court-sized spanner in Bajaj's works. It also turned the Qute into a bit of a quandrycycle.
However, after a six-year-long battle, it's finally here, and Bajaj may have to forgive people for thinking it's a car; after all, India doesn't really have that depth in its automotive spectrum to differentiate between machines for different applications. For example, a Ducati Panigale is still seen as a motorcycle that can threaten a Bajaj Platina, and so hefty taxes are slapped on the former. As far as I'm concerned, if it's got four wheels and a steering wheel, it's driven and not ridden. So what's the Qute like to drive? First things first.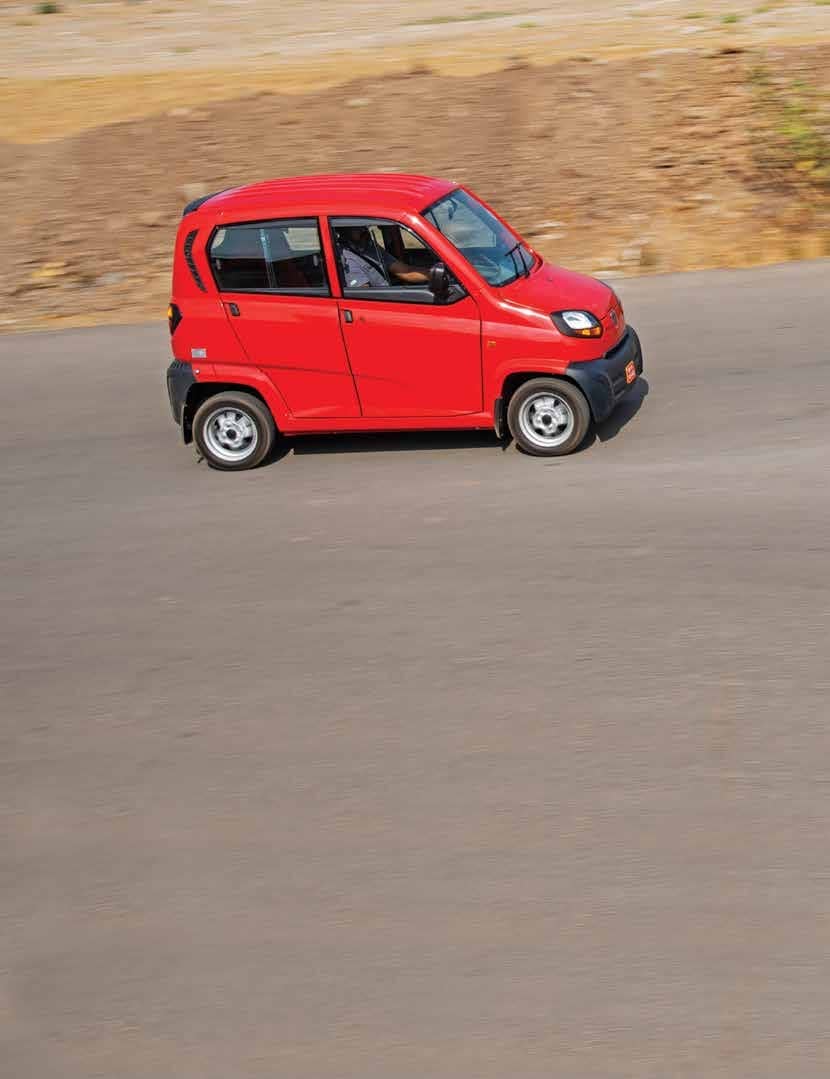 After a brief search through the ministry of road transport and highways' website, whose server seems to be connected to 1000-mm ceramic discs with ten-piston callipers instead of the internet, I only found five documents that that answer to the search 'quadricycle', and which make the word 'tedious' look like a cheerful carnival. Of these, the first one from 2013 with 3.1 paragraphs was the first to mention the word 'quadricycle' and that it had to be included as a class of vehicle into the CMVR. The next document about the subject is from 2017. That makes even the Qute look pretty fast, and it's limited to 70 kph.
Anyway, moving to the quadricycle itself, it's quite interesting to look at. How anyone thought it was a car is beyond me. It's almost exactly the same size as an autorickshaw as observed quite easily when parked alongside one. It is a natural evolution of the three-wheeler platform that doesn't overreach in terms of space; it merely seeks to enclose that space with doors and stabilise the whole package with four wheels. It's got a metal monocoque body onto which bolt plastic doors, boot lid and engine cover, and a metal roof, and not much else. The spirit of cost-cutting is strong in this one.
You can read up to 3 premium stories before you subscribe to Magzter GOLD
Log in, if you are already a subscriber
Get unlimited access to thousands of curated premium stories, newspapers and 5,000+ magazines
READ THE ENTIRE ISSUE
April 2019