BOB'S BIKE
Motoring World
|
September 2020
Fancy hidden gems? Here's a turbo motorcycle like no other
When it was announced almost a year ago that prestige car manufacturer Aston Martin was linking with the French-based born-again Brough Superior factory to jointly develop a motorcycle, it seemed almost too good to be true. Mind you, putting a pair of Britain's most historic marques on two and four wheels together seemed like a marketer's mirage — great on paper, but how could it possibly work out in practice? Then we saw the AMB 001 adorned with Aston's winged badge on its flanks unveiled at last November's EICMA Milan Show — and suddenly it all made sense.
For, clothed in ultra-distinctive carbon-fibre bodywork designed by Aston Martin's chief creative officer, Marek Reichman, the turbocharged direct-injection 997cc AMB 001 V-twin is a radically innovative motorcycle which has actually been undergoing development for the past decade. How so? Because that's how long French designer, entrepreneur and Brough Superior Motorcycles CEO Thierry Henriette has been working on such a bike. The original prototype made its public debut at the 2011 Paris Show under the Boxer Superbob label, named after Thierry's late father Robert who'd passed away three years earlier, after supporting his son's decision at age 22 to drop out of medical school in favour of establishing a motorcycle dealership he named Boxer Bikes, after the then-new Ferrari Berlinetta Boxer he'd recently driven! Thierry's Aston Martin days were yet to come.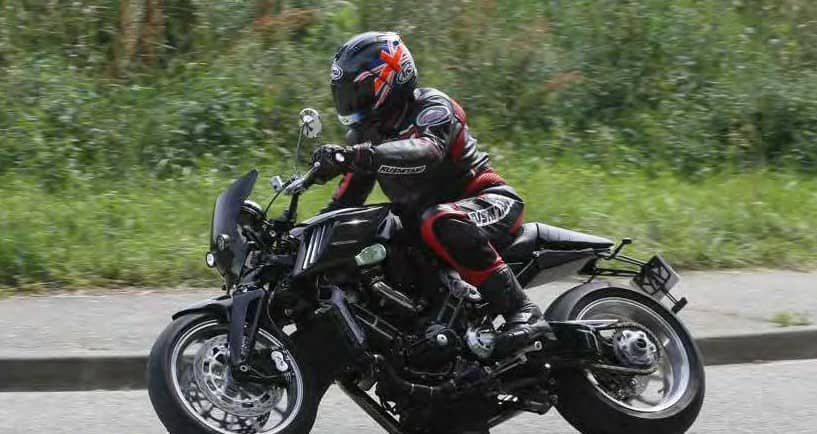 That 2011 prototype Boxer Superbob was an entirely new motorcycle full of innovation, built around a specially-developed 88º V-twin eight-valve engine created for Henriette by Akira Engineering in Bayonne, builders of the Kawasaki ZX-10R motors which later powered Tom Sykes to the 2013 World Superbike title, then teammate Jonathan Rea to five more World Championships. Starting work in January 2011, Akira specifically designed the Superbob motor for forced induction, with stronger crankcases and engine internals to harness the extra performance delivered by the Garrett turbocharger which Henriette had stipulated should be installed, complete with intercooler to combat the heat of the turbo. This turbo, however, was a relatively low-pressure device running 0.4 bar/5.80 psi of boost, and therefore aimed at quickening throttle response and delivering smoother, more potent low-to-midrange acceleration, rather than enhancing top-end power via greater boost.
The unheralded Superbob roadster's debut at the 2011 Paris Show caused such a splash that it largely succeeded in overshadowing Ducati's equally-new 1199 Panigale. Alluringly styled by Boxer Design, it featured a hollow carbon-fibre semi-monocoque frame with the liquid-cooled 997cc engine acting as a fully load-bearing chassis component. The cast-aluminium single-sided swingarm rotated in the horizontally-split crankcases, which incorporated the cylinders in the upper half. The Superbob was a huge hit with the French public, and thus armed with a sheaf of potential customers for a turbo motorcycle costing under €20,000, Thierry Henriette started looking for the €5million in capital investment he needed to start production.
But money was still tight after the 2008 GFC, especially for a bike from a brand like Boxer that was completely unknown outside France. Brough Superior, however, was another matter — and after Henriette was introduced to Mark Upham, the owner of the Brough trademark, the two shook hands in July 2013 on a deal to collaborate in developing a range of new-generation Brough Superiors using a normally-aspirated version of the Superbob's Akira-designed V-twin engine. Just four months later the first modern Brough SS100 was unveiled at the Milan Show to mark the 90th anniversary of the model's introduction — a huge achievement given the ultra-short time frame.
You can read up to 3 premium stories before you subscribe to Magzter GOLD
Log in, if you are already a subscriber
Get unlimited access to thousands of curated premium stories, newspapers and 5,000+ magazines
READ THE ENTIRE ISSUE
September 2020