Y Not?
Motor Trend|August 2020
ELON MUSK PUTS THE EUROPEANS ON NOTICE WITH A FAST-AS-HELL COMPACT PERFORMANCE SUV
Dear Teslarati: If you're looking for a 2020 Tesla Model Y Long Range review that focuses on its range, charging rate, battery capacity, or Autopilot with Traffic Light and Stop Sign Control, this isn't it. Our Model Y Dual Motor Long Range review is more than likely your bag.
If you can't be bothered with simple math, would rather drive fast instead of letting a computer ease you along, and don't care about battery size, then stick with me. Let's together ignore the politics of Elon Musk, "alternative" energy, and the hidden meaning of X Æ A-12, and instead focus on one thing: Regardless of propulsion fuel, how does the Model Y Long Range's Performance setup function as a luxury-performance SUV?
Quite well, as it turns out. The new Model Y Performance is probably the most convincing American sport luxury SUV I've driven in, well, ever.
Before we dive deeply into the why of the Model Y, let's talk briefly about the what. The Tesla Model Y is the brand's new compact SUV. Although it shares much with the Model 3, including its basic platform, motors, batteries, and lots of its sheetmetal, more than 25 percent of the content in the Model Y is unique to Tesla's new small SUV. As it sits today, there are currently two versions of the Model Y: the Model Y Long Range and the Model Y Performance, the latter of which is also available with the Performance Upgrade package at no extra cost.
The standard Model Y Performance, compared to the Long Range model, gets the same big battery, more power, a larger rear motor, a rear spoiler, and revised powertrain software. It loses just 1 mile of range compared to the Long Range, for a 315-mile rating, but with 456 hp and 497 lb-ft of torque on tap from its front and rear motors, that is almost zero sacrifice (except $8 grand from your wallet) for an additional 72 horsepower. Our test car also came with the Performance Upgrade package (or PUP for short), which is for those who don't mind sacrificing a bit more range—in this case 35 miles—for even better handling and braking performance.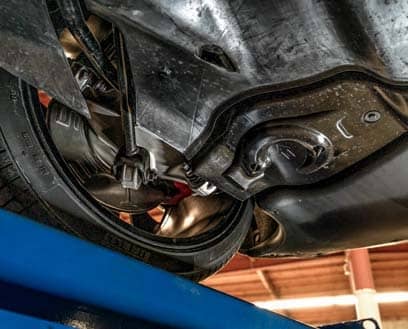 Although its front and rear motors are unchanged from the standard Model Y Performance, the PUP gets a larger, staggered 21-inch wheel setup that provides a broader tire footprint for better traction (versus standard 19-inch wheels on other Model Ys), uprated brakes (2mm wider rotors front and rear) for better heat management, and a suspension that's lowered by 0.6 inch versus the standard Model Y Long Range and Performance. Top speed also gets bumped up to an electronically limited 155 mph.
You can read up to 3 premium stories before you subscribe to Magzter GOLD
Log in, if you are already a subscriber
Get unlimited access to thousands of curated premium stories and 5,000+ magazines
READ THE ENTIRE ISSUE
August 2020