Wider Net
Motor Trend|January 2020
MORE TYPES OF SUVS HAVE US LOOKING DEEPER THAN EVER FOR A WINNER
SUVOTY I Contenders
Audi Q3
PRO Futuristic IP and console • Nimble handling • Big rear seat for its class
CON Lots of interior plastic • Bouncy ride • Merely adequate powertrain
Following industry trends, Audi has allowed its subcompact Q3 crossover to grow into something that can fit standard-sized Americans.
The first impression is strong. Familiar Audi exterior styling is smartly tailored to the small package, so much so that it was often mistaken for the identically hued and decidedly more expensive E-Tron.
Similarly, the dashboard—with its standard digital instrument cluster and wide, frameless touchscreen infotainment system—will make prospective buyers feel like they've stepped into a much more expensive model. Our top-shelf Prestige S-Line tester was well equipped with a premium stereo, adaptive cruise control, and a 360-degree camera, justifying its $8,200 premium over a base model.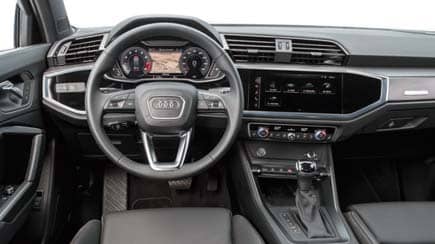 The price becomes harder to justify, however, when your eyes dip below chest level, where cheap plastic abounds. Multiple judges called out the center-console. It's plain and stark and headed by a blank panel, where the ignition button and volume knob have been seemingly dropped into a sea of plastic.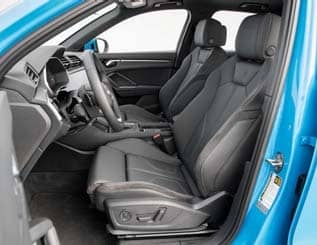 The judges had universal praise for the enlarged, capacious rear seat—bonus points for USB ports and separate vents— even if it comes at a cost to cargo space. Audi's implementation of wireless Apple CarPlay is notably better than BMW's.
Opinions on driving performance were mixed. Although the judges agreed that its handling felt light and nimble, they also agreed it was prone to bounciness on rough pavement. The powertrain felt adequate but potentially overmatched by a full load of passengers and cargo. Despite its vaunted Quattro AWD system, the Q3's off-road abilities split the judges.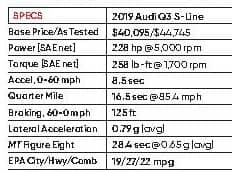 Instead of a tall A3, we got a smaller, less expensive Q5. That's all well and good, but it doesn't move the needle much in its class.
-Scott Evans
Audi Q8
PRO Sporty exterior design • Modern interior • Great cargo room
CON Falls short as flagship SUV • Hatchback or SUV? • Hard to see its value
With handsome exterior design and a beautifully styled interior, the Q8 is ready to fight the growing group of SUV coupes. Despite these attributes, Audi's flagship SUV drew mixed reviews. Some judges liked its sporty handling; others criticized the Q8's value and its ability to deliver on its premise.

The Q8 is a looker from any angle. Its octagonal grille and the sharp lines on its hood go well with its strong fenders and character lines. But its fastback profile is less pronounced than its competition.
The Q8 was one of the most talked-about vehicles in this year's test. Like the rest of Audi's premium lineup, the Q8's interior got high marks. In addition to having plenty of passenger and cargo room, it was the technology that truly impressed the judges. The instrument panel shows Audi's Virtual Cockpit with Google Maps and navigation, and there are two other screens in the center console.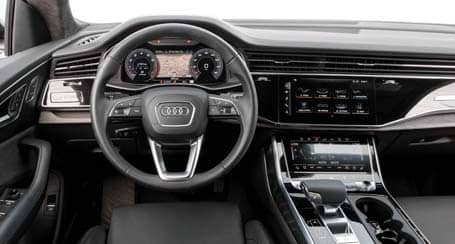 The driving dynamics received mixed comments. On winding roads, some judges thought the Q8 had a composed ride with little body roll. With the optional air suspension, it feels agile and leans in nicely in the corners. But other judges thought it didn't live up to its sporty styling. Although the Audi had good high-speed stability, judges noted a lot of wind noise and a surprising amount of impact harshness.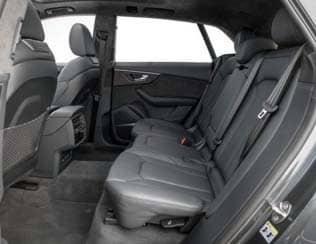 In the sand and off-road, the Quattro AWD system showed its capability, but the ABS and traction control systems protested when more grip was needed.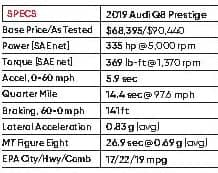 The Q8 has a tasteful design and an elegant interior, but it doesn't bring anything unique to the table. Miguel Cortina
BMW X3 M
PRO Quick, powerful • Drifts like an M car • Power-folding second row CON Stiff, jittery ride • No off-road modes • Jaguar's take is better
The M division's take on the standard X3 stuffs a new S58 503-hp twin-turbo inline-six into the engine bay, and adds a performance-oriented version of BMW's xDrive all-wheel-drive system.

The result is a driving experience that Reynolds called "amazingly fast." Seabaugh and Evans both praised the X3M's willingness and capability for power oversteer and tail-out antics. Loh said it "drifts like a Formula D racer." Priddle loved the popping, snorting exhaust note played by the forced-induction inline-six.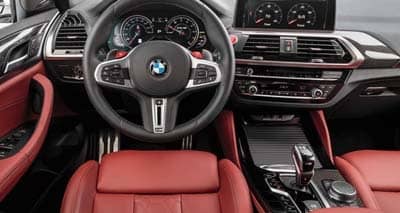 Multiple editors are already pegging the X3M as a compelling favorite for next year's super-SUV comparison—the winner of which gets to compete in Best Driver's Car.
It didn't fare quite as well between the fun sections of road. "The transmission is jerky, and throttle response— depending on the mode—is either too aggressive or toolaggy," Seabaugh said. "And its ride is on the rough side."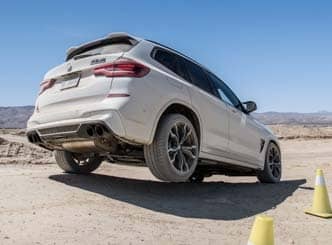 The X3M's suspension "really hates sharp jolts," Rechtin said, and Evans said it has "a lot more vertical motion than I expected; it definitely went for the kidneys."
The X3M had no trouble when we took it away from pavement, managing our frame-twisting articulation test just fine and faring well in the sand—even sliding around playfully.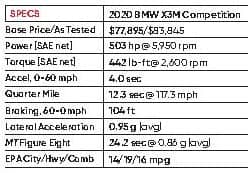 Inside, Rechtin lauded the comfortable and supportive frontseats. Priddle pointed out the high-quality stitching and swaths of red and black leather broken up by splashes of wood and carbon fiber, but she criticized the integration of the dash-mounted infotainment screen.
Priddle also mentioned "ample cargo space and thoughtful hooks in the back to keep bags from rolling around."
So the X3M is not without its flaws, but if this is where BMW's M division is headed, we have a lot to look forward to. Duncan Brady
BMW X7
PRO It's how quick? • Third-row amenities • Rich interior
CON Slow-folding second-row • Lots of body roll • Oh, that grille
Want a proper third row in your BMW SUV?
Time to celebrate. The most capacious BMW ever has arrived. And this 203.3-inch-long family hauler makes a ridiculous entrance by wearing one of the most obnoxious, lip-plumping gone-wrong grilles we've seen.

Maybe that's why the X7 is so quick—to outrun criticism of its imposing front end. Even with its 335-hp base engine, the six- to seven-seat BMW feels swift. Some credit goes to a responsive eight-speed auto, but the sensation of speed also originates from its ponderous body roll.
Consumers might expect a bulky driving experience from three-row crossovers, but drivers of the Mercedes GLS will appreciate how their errand run feels less tiring than it would in the X7.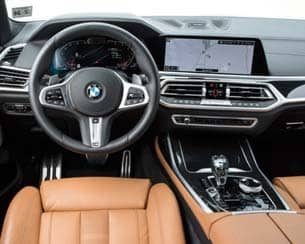 Not that second- and third-row passengers will have much to complain about. Kids in the third row of loaded X7s get heated seats, wood trim, sunroof and sunroof cover controls, vents with a separate climate control zone, and power-operated backrest controls.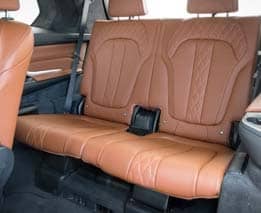 The lighter X7 xDrive40i is probably the model we'd pick. Although it never drives as small as a 5 Series, the fuel economy and range are better than the Merc's, and you'll have more money for options, including a 1,500-watt Bowers & Wilkins sound system complete with tweeters with accent lighting.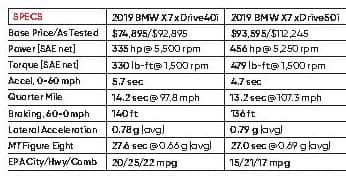 All that is great, but this X7 is let down by its polarizing design, excessive body roll, and a glacial power-folding second row. But as Loh said, "If you want to take the extended family on a tour, the X7 is your ride." Rechtin concurred: "The new executive shuttle has arrived." Zach Gale
Cadillac XT6
PRO Elegant exterior • Intuitive infotainment • Comfortable ride
CON Falls short on value • Old interior design • Competition is better
The 2020 Cadillac XT6 arrives with elegant styling, a comfortable ride, and a spacious interior. But when being compared to the new Lincoln Aviator—its most direct competitor—the Cadillac falls short on many fronts.

We were fortunate to have de Nysschen—who was president of Cadillac when the XT6 was being developed—as a guest judge. He didn't pull punches, saying the three-row crossover should have been based on GM's Omega ​RWD platform. But Cadillac chose to fast-track the XT6, given the popularity of three-row SUVs and the hole in its lineup.
That led to the XT6 being based on the two-row XT5, saving development time and cost, "but inevitably, it would force compromises versus a purpose-developed premium crossover architecture," de Nysschen said.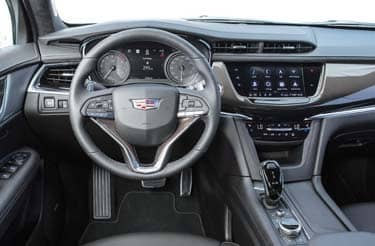 The XT6 is still a comfortable vehicle. Judges liked the way the suspension is tuned in terms of body control, ride comfort, and handling—" Sporty even on the winding road," Seabaugh said— but noticed significant body roll and tire noise.
The XT6 arrives with only one engine, a 3.6-liter V-6 that sends 310 hp and 271 lb-ft to the front or all four wheels via a nine-speed automatic. But compare its numbers with the rear-based Aviator with 400 hp, and the XT6 already falls short.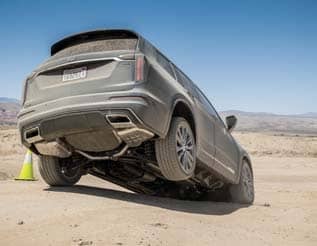 The interior styling also disappointed judges. "The XT6delivers the most basic-looking interior, not the standard of the world," Loh said. The rest of the interior—except the revamped infotainment system, which is one of the best in the business— seems old.
It's clear the Cadillac XT6 was a three-row SUV conceived with limited resources. And when you compare that against other three-row luxury SUVs, the Caddy falls short in almost every category. Miguel Cortina
Chevrolet Blazer
PRO Attractive RS trim • Impressive packaging • The Camaro of SUVs
CON Expensive • Unimpressive base model • Poor AWD implementation
The new Chevrolet Blazer is among Chevy's most successful designs of late. It seamlessly brings Camaro styling cues into the crossover format, providing a sporty-looking alternative to the traditional cookie-cutter crossover.

Although a design-driven exercise, the Blazer doesn't give up much in utility. The cabin is comfortable and flexible, and rear passengers get a flat floor and reclining seats. The seats fold flat for more cargo space.
Chevy offers a front-drive-only 193-hp I-4 and a 308-hp V-6 that's available with front- or all-wheel drive. Chevy only sent us a Blazer RS—complete with the V-6 and a more advanced AWD system. Of our staff, only Gale had driven a lesser Blazer. He wasn't impressed: "The Blazer's magic doesn't extend evenly across the entire line."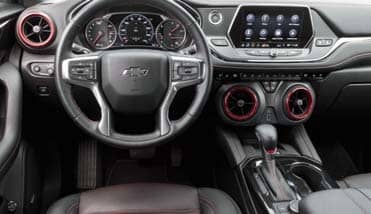 With sporty acceleration and good ride and handling manners, the RS model does at least deliver on the performance of its sheet metal promises. The Blazer manages the difficult task of balancing steering feel with compliant, livable ride quality.
Elsewhere, we were disappointed by GM's insistence on making AWD driver-selectable—a quick way for customers to find themselves stuck when the Blazer doesn't warn you to manually shift into all-wheel-drive soon enough.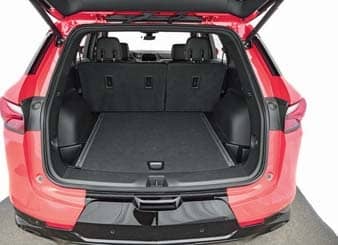 Our tester's $50,765 as-tested price also gave us pause. Fit and finish was OK, but the cheap switchgear from GM's junk drawer—including the plastic drive mode knob that literally flexes when you twist it—detract from an otherwise nice cabin.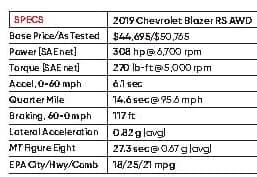 Still, if you want to be the cool parent, this might be the SUV for you. Christian Seabaugh
Ford Escape
PRO Hybrid variants • Light and tossable • Standard safety tech
CON Buzzy three-cylinder • Cheap interior • Start button placement
A​fter an interminable wait, Ford has graced us with a new Escape. Once a MotorTrend favorite, the Escape bursts back into the compact crossover class to battle the Honda CR-V and Toyota RAV4. What makes the Escape so intriguing is the way it doesn't try to ape those two sales leaders' strategies move for move.
Three and four are the most important Escape numbers—only three cylinders sit under the hood of base models, and a startling four engine options are available across the entire lineup, including two hybrids.
About the turbo-three Escape: Don't be afraid of it. Actually, its 181 horsepower propel it with more authority than you'd expect. Given its buzzy nature at low speeds, however, we wonder how it'll feel at 50,000 miles instead of just 5,000.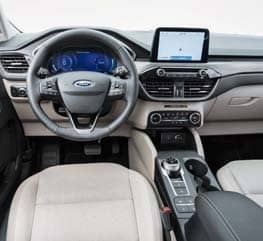 The Escape earns back our respect with its tossable feel. The crossover moves with a lightness that reminds us of fun Fords we've favored in the past. The heavier hybrid trades a little of that playful nature for improved fuel economy and a quieter drive.

The biggest issues are inside. Even giving the benefit of the doubt to the preproduction models we drove, Ford should have done a better job hiding the harder plastics. We can't expect Lincoln interiors at Ford prices, but other brands make this compromise more effectively. Respectable though not class-leading is where the 2020 Escape's journey ends. Even so, the Escape will be compelling to buyers who can overlook its sprinkling of issues and are OK with a crossover that can't match the class leader in interior spaciousness. Zach Gale
Ford Explorer
PRO Fun to drive • Great hybrid • Fast ST trim
CON Awful interior quality • Awfully Expensive • Awful brakes on the ST
The Explorer's popularity with Americans is a testament to all the boxes it ticks, and the latest evolution aims to further fit the mold of what the modern family needs. To ensure there's an Explorer for everybody, Ford offers a powerful four-cylinder, an efficient hybrid, and a sporty ST.

"I love the way it drives," Evans said. "The turbo-four is torquey and really gets things moving."
The ST also had its fans. "It has some nice zip and sharp steering," Priddle said, though all judges complained about difficult brake modulation.
The Hybrid is compelling, too. The powertrain handoff between gas and electricity is seamless, and when both engine and motor work together, the Explorer is quick and feels powerful.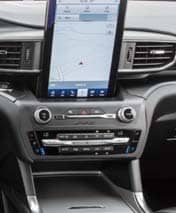 Although the Explorer brings lots to the table in terms of packaging, with adult-friendly second rows and a preteen-sized third row, we're flummoxed by the poor quality inside. The Explorer feels built to a price far below its sticker, with mismatched plastics and, on the XLT and Limited models, exposed wires just above the phone shelf and beneath the infotainment screen.
Ford's pricing structure is disappointing. Our base XLT stickered for $43,415 as tested, a price where competitors will sell you, near-loaded models. Our Hybrid Limited and ST stickered for $58,570 and $59,520, respectively, and neither had the quality to demand such a sky-high price.

Our advice? To Ford: Step up your quality or lower your prices. To consumers whose boxes are otherwise ticked by the Explorer: Don't pay sticker. As for us, as Cortina said, "Is this really what we've been waiting for, Ford?" Christian Seabaugh
Honda Passport
PRO Huge, useful interior package • Great value • Five-star safety rating CON Ho-hum exterior • Unremarkable driving dynamics • Not very stylish
If the Honda Pilot is a pair of blue jeans, the new Honda Passport is jorts (jean shorts, for you olds out there); both have the same width and wheelbase, but the Passport is 6 inches shorter overall and thus has two rows of seats to the Pilot's three.

The Honda Pilot, Ridgeline, Odyssey, and Passport share the same American-made 3.5-liter V-6 engine, albeit in slightly different states of tune. In our Passport Elite AWD tester, this naturally aspirated V-6 is good for 280 horsepower and 262-lb-ft of torque, leading to a 0–60 time of 6.6 harmonious seconds.
"The engine emits a lovely melody with smooth and satisfying shifts from the nine-speed auto," Priddle said, commending the Passport's sole transmission option. Editors generally agreed that the transmission is better in the Passport than it is in other applications.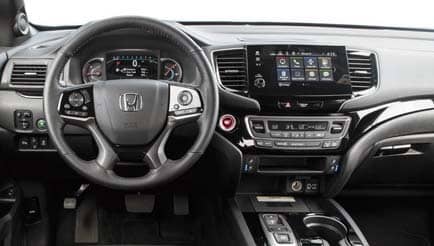 Evans took it even further: "All the sloppiness and clunkiness have been purged."
Where the Passport unquestionably shines is in packaging. Honda claims it has a class-leading passenger room and interior volume, and it certainly looks and feels that way on the inside. "The huge, fold-flat second-row seat means you can park and take a nap in the back, even if you're 6 feet tall," Rechtin said.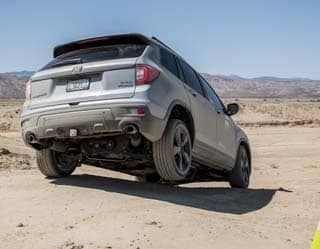 "Bland" and "lacking emotional appeal" were how a couple of SUVOTY judges described the Passport, noting bolder players in the competitive set. These judges may not care to be seen in jorts, but they couldn't deny the Passport's off-road capability, safety and value.
You can read up to 3 premium stories before you subscribe to Magzter GOLD
Log in, if you are already a subscriber
Get unlimited access to thousands of curated premium stories and 5,000+ magazines
READ THE ENTIRE ISSUE
January 2020