THE REAL-LIFE CRAZY CARS THAT INSPIRED THE ORIGINAL HOT WHEELS
Motor Trend
|
September 2020
If you're a subscriber to the MotorTrend app, over the past few weeks you may have seen our new original series, Hot Wheels Life Size, in which NASCAR and NHRA racer Nicole Lyons gets behind the wheel of—er—life-size versions of some of Hot Wheels' wackiest toy cars, including Twin Mill, Bone Shaker, and the Darth Vader car.
But back in the 1960s, when Mattel was creating the original Hot Wheels models, they did it the other way around with cars like the Custom Camaro based on actual vehicles. What makes the Original 16 lineup of Hot Wheels launched in 1968 both groundbreaking and fascinating, though, is that even the ones that look crazy enough to have sprung straight from the febrile imagination of a toy designer are based on actual life-size cars.
So here they are, the real-life crazy cars from the 1960s that inspired some of Hot Wheels' iconic Original 16.
Deora
The real-life Deora was built by Detroit customizers Mike and Larry Alexander and based on the homely Dodge A100 forward-control pickup launched in 1964. The radical cab-forward design was the work of GM designer and custom car enthusiast Harry Bentley Bradley. There were no doors. Entry to the slammed cabin was via the front; the hinged windshield— from a 1960 Ford—and custom lower panel move to provide access.
The 225-cubic-inch slant-six engine was moved rearward 15 inches, making it almost mid-engine, and the radiator and gas tank moved to the pickup bed and are covered with a hard, fixed tonneau. Although the Deora project was officially sponsored by Chrysler, which leased it to tour auto shows in 1967 and 1968, it featured a surprising number of Ford parts. The rear window was from a 1960 Ford sedan, the side exhaust vents were 1964-1/2 Mustang taillight bezels, and the ingenious taillights, hidden under a wood veneer panel across the rear and only visible when reflected in the angled chrome strip underneath, were sequential turn signal units from a Thunderbird.
The Deora won nine trophies, including the coveted Ridler Award, at the 1967 Detroit Autorama, by which time designer Bradley had left GM to join (of all places) Mattel, where he designed the Hot Wheels Original 16.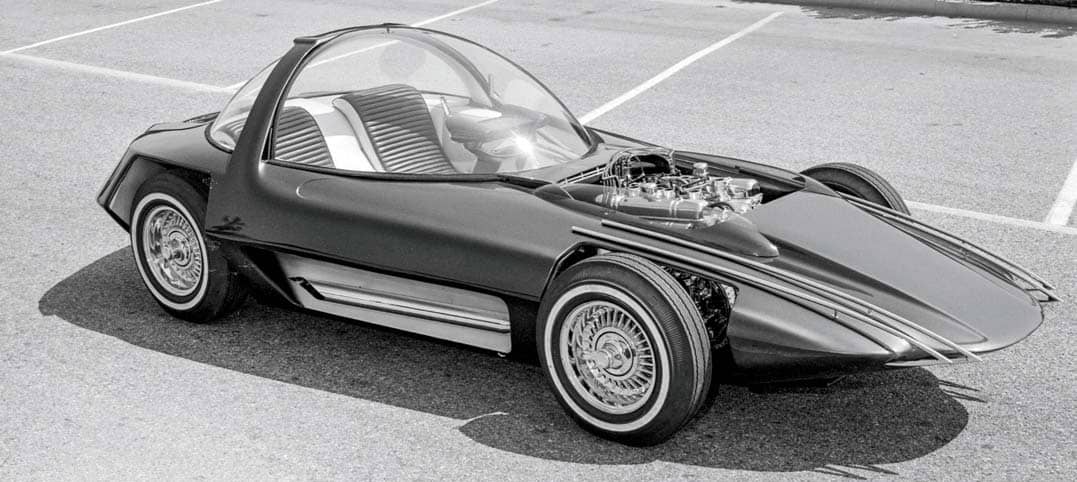 Silhouette
The bubble-top Silhouette was perhaps the most futuristic-looking of the Original 16 Hot Wheels lineup. But it was in fact based on a real-life custom hot rod of the same name built in Monterey, California, by Kansas-born customizer Bill Cushenberry in 1962. He created the edgy, minimalist, scratch-built bodywork—said to have been sketched by industrial designer and custom car creator Don Varner—from hand-hammered 20-gauge steel.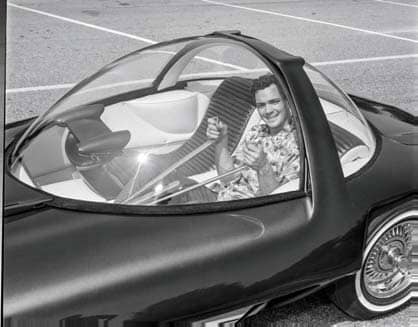 You can read up to 3 premium stories before you subscribe to Magzter GOLD
Log in, if you are already a subscriber
Get unlimited access to thousands of curated premium stories, newspapers and 5,000+ magazines
READ THE ENTIRE ISSUE
September 2020