Dodge Vs Ferrari
A screaming, smoke-filled filing from the (almost) 800 club.
There's an old joke: You ask, "What's the difference between an elephant and an ant?" The mark answers, "I don't know, what's the difference?" You reply, "Come on, you don't know the difference between an elephant and an ant?"
News flash: The Ferrari 812 Superfast is a much better automobile than the Dodge Challenger Hellcat Redeye. It just is. I'm mentioning this because Ferrari— like Rolls-Royce and, to a lesser extent, Lamborghini—has this infuriating prohibition against comparison tests. This forbiddance is particularly annoying because modern Ferraris are so good. This 812, the 488, both flavors of Lusso, the new Portofino—I've driven them all, and all are wonderful. Nine times out of 10, the prancing horse would mule-kick the competition in the teeth, and that 10th time would be close. So, to reiterate, this ain't a comparison test, but if it were, the Ferrari stomps the Redeye like an elephant squishes an ant. Chiaro? Prego.
What are you reading then? We car freaks are either living in or just about to enter the end times as far as internal combustion engines are concerned. The automotive world is going electric, and you can't stop progress. You can, however, toss two fourth-quarter Hail Marys to illustrate just how good our kids ain't gonna have it.
The Superfast produces 789 horsepower, and Dodge's super-torquey (707 lb-ft) über Hellcat generates 797 ponies. With the exception of ultra exotics like the 1,479-hp Bugatti Chiron (price tag: starts at $3 million), these two bellowing monsters are the most powerful street cars available for purchase. Both machines are a celebration of what we'll miss most when they're gone: big, loud, screaming, thumping, grin-inducing, pupil-dilating, chest-compressing, mother-loving, gasoline-burning engines.
The question then becomes, what's it like to drive two cars that possess (within rounding errors) 800 horsepower? More fun than you're imagining, I promise.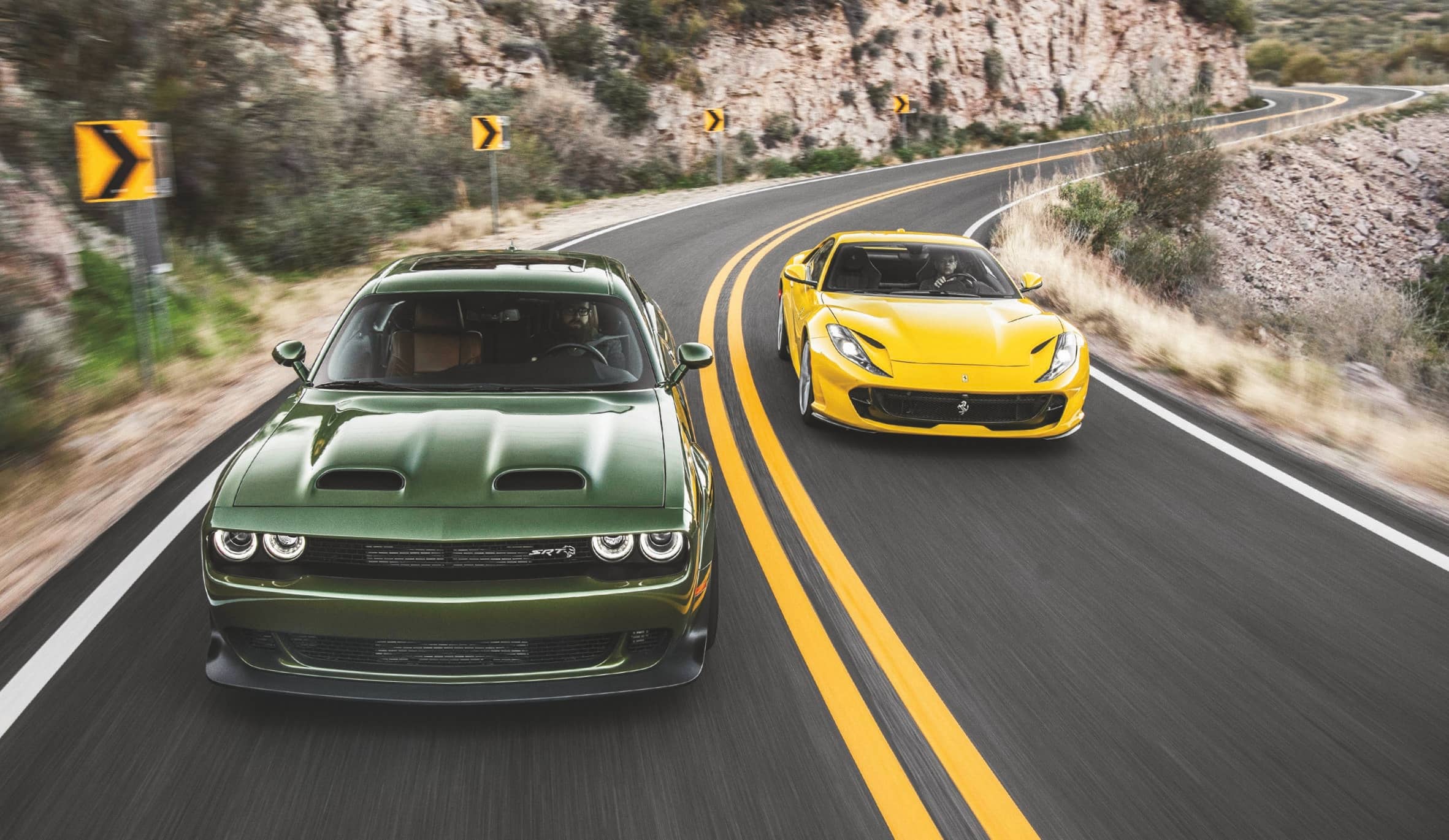 Since the initial Hellcat Challenger with 707 hp and 650 lb-ft of torque was released, the reviews have read essentially like this: "Great gobs of power, Batman, but what the Hellcat needs is better steering, handling, grip, and brakes. Oh—and it could lose some weight."
To Dodge's eternal credit, its answer to that near-unanimous, near-ubiquitous criticism: Add more power! (I love that.) Even if nothing good happens in terms of instrumented testing. The Redeye's 0–60 time actually increases when compared to the Widebody Hellcat Challenger, and although its quarter-mile time drops by a tenth, that's not something I'd brag about or spend money on. The figure-eight time also shaves a tenth. Braking is greatly improved—104 feet from 60 mph versus 112—so there's that. Did I mention the Redeye is 32 pounds heavier than the 4,489-pound Widebody Hellcat?

You can read up to 3 premium stories before you subscribe to Magzter GOLD
Log in, if you are already a subscriber
Get unlimited access to thousands of curated premium stories, newspapers and 5,000+ magazines
READ THE ENTIRE ISSUE
May 2019