Bring the family
Motor Trend|August 2020
TESLA FINALLY BUILDS AN SUV PRICED AND SIZED FOR THE TYPICAL AMERICAN HOUSEHOLD
Meet Jim and Dorothy Average. They're the Average household. He's 5-foot-9. She's 5-foot-4. They have 1.9 kids (daughter Emma is of the opinion that younger brother, Liam, is the 0.9), and they live in Lebanon, Kansas, the geographic center of the country. They spent the national average of $38,000 for a nicely featured version of their mainstream compact SUV.
Although there might be shares of Tesla stock in their 401(k), they have never seriously considered one of its fancy, big electric SUVs—especially one that starts at $86,000, can hit 60 mph in 2.4 seconds, or has rising, electrically powered double-hinge doors. Nor have they shopped a smaller electric sedan that seemed to focus more on performance than packaging. These cars might be the toasts of the coasts and terrors of the test tracks, but you won't find them in the Average driveway.
But at night, while sleeping their average seven hours, Jim dreams about Tesla's flagship Model S sedan while Dorothy drives a Model X and Emma heads off to college next year in a Model 3. Because these battery-powered cars are indeed dream machines. Then their alarm clocks go off, and it's back to reality. But today, perhaps we will experience a new reality.
That's because Tesla has finally developed the electric car—or rather, electric SUV—for the Average driveway: the Model Y.
What's that? You already want to know how much the Model Y costs?
This really matters, doesn't it? Which is why I've brought you the cheaper of its first two launch trims, called the Long Range. The pricier one is the faster Performance model, which Christian Seabaugh is right now explaining to a young couple in Santa Monica who have a Tibetan mastiff and work at Paramount and Upworthy.
This Tesla Model Y's base price is $54,190. Or, if you're willing to factor in Tesla's six-year estimate of energy savings—electricity is a lot cheaper than gas, and electric cars have about three times the energy efficiency—then the damage to your wallet shrinks to $49,890. And even less after any applicable state incentives (another $2,000 off in California's case, shaving it down to $47,890. Sorry, Kansas offers none). Best-case scenario, it's 12 grand more than your crossover.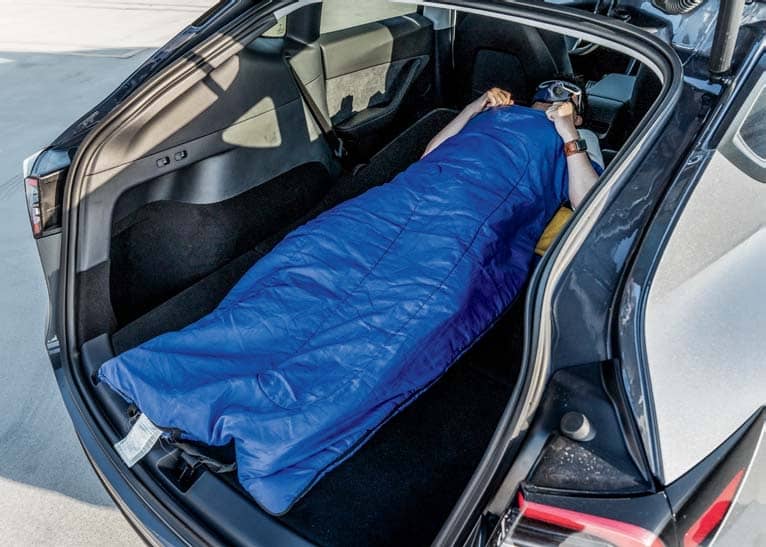 We understand if there's a bit of sticker shock. When the average cost of Emma and Liam's college educations is going to be $122,000 each, how can you justify a 50 grand crossover? Well, over a six-year payment plan, that's $166 more a month than that average $38,000 SUV. Not really breaking the bank to get a piece of the coolest new American-made tech on the block. (Don't forget, these are also higher zoom launch editions of this vehicle; more affordable ones always come later.)
So as they say in boardrooms these days, let's unpack this.
To me, the Model Y's appearance takes the concept of sibling resemblance to a new confusability, with virtually every bevel and crease of the Model 3's bodywork projected onto the Y. Some of the exterior's repurposed parts: the headlights, taillights, rear detail lights, door handles, and bezels for Autopilot cameras.
You can read up to 3 premium stories before you subscribe to Magzter GOLD
Log in, if you are already a subscriber
Get unlimited access to thousands of curated premium stories and 5,000+ magazines
READ THE ENTIRE ISSUE
August 2020