BREAKING PROTOCOLS
Motor Trend|July 2020
DOES THE FOUR-BANGER DELIVER THE SAME THRILLS AS THE INLINE-SIX?
Although the third-generation Toyota Supra (A70) was the first to incorporate a turbocharged engine, it was an inline-six setup, which the model was known for, bringing 230 hp and 246 lb-ft of torque—a true sports car for the mid-1980s. And the A80 Supra of the '90s, with its JZ inline-six (with and without turbo) became the stuff of legend. Clearly, the Supra and an inline-six are inseparable.
After a 21-year hiatus in the United States, the Toyota Supra returned with its fifth generation, offering polarizing styling, sensational but quirky drive manners, and a powerful l-6 engine sourced from BMW. But things have changed for the 2021 year model. For the first time ever, Toyota is breaking the protocol by offering a Supra with a four-cylinder turbo engine.
Shattering a tradition like this by a brand known for staying in its lane is bizarre. But Toyota saw an opportunity. By partnering with BMW and splitting the costs of co-developing the Supra and Z4, Toyota had access to BMW's dynamic 2.0-liter turbo-four engine, which would broaden the appeal of (and pricing accessibility to) its halo car.
Toyota already sells the four-cylinder Supra in Europe and Asia, but this is the first time it reaches U.S. soil, where it will slot between the performance-oriented Toyota 86 and the more powerful turbo-six Supra. U.S. pricing is under wraps, but in Germany the turbo-four carries a 15 percent price break.
But making a downmarket version of a performance car is risky, in that it can dilute the brand promise of the vehicle. It's not often that habits are broken in this industry, so we asked ourselves one question: Does the four-cylinder Supra do its predecessors justice?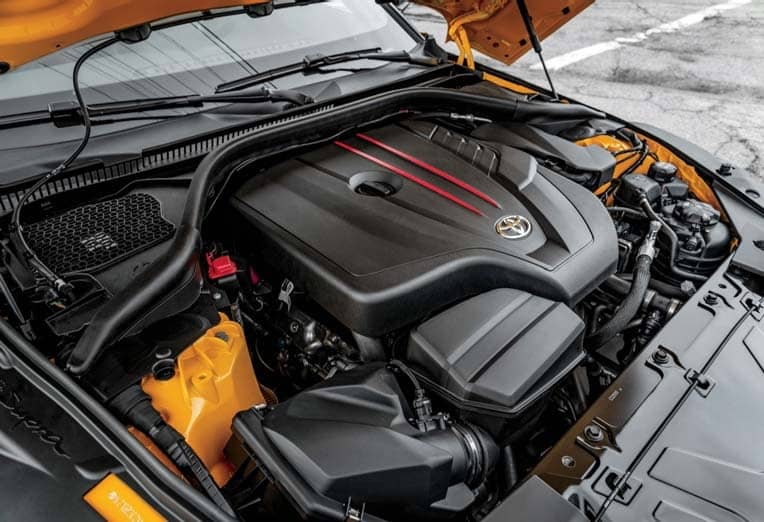 Like the 3.0-liter l-6, the turbo-four mill came from BMW. Shared with the current BMW 3 Series and Z4 sDrive30i, the 2.0-liter turbo-four produces 255 hp and 295 lb-ft and is mated to an eight-speed automatic that sends power to the rear wheels. International markets also get a lower-output four-cylinder option, but we Yanks only get the more compelling variant. In sad news, no manual transmission is coming any time soon.
You can read up to 3 premium stories before you subscribe to Magzter GOLD
Log in, if you are already a subscriber
Get unlimited access to thousands of curated premium stories and 5,000+ magazines
READ THE ENTIRE ISSUE
July 2020