All That GLITTERS
Motor Trend
|
September 2020
BIG MONEY, BIGGER POWER, AND HYPERSPEED FUN IN THE SUN
The shapes of these machines, especially in these colors, make children jump and squeal with joy—while most adults wish they weren't quite so self-conscious so that they could do the same.
Because you're wondering, oh yes, some grownups act like kids around these things (yours truly first and foremost). This trio truly is a collection of rare, exotic beasts. Each one represents a topless version of its respective company's near-pinnacle performance car.
I say "near" because McLaren just unveiled the 765LT, Mercedes-AMG makes the GT R Pro, and Porsche, well, you just know there will soon be a GT2 RS that makes this car seem like a snail. Plus, all three manufacturers are in the hypercar business, to varying degrees (P1, Senna, Project One, 918 Spyder).
The question, then, is, "Why?" Why would an automaker take a perfectly good supercar and hamstring it by removing rigidity and adding weight? That's the question you'd ask before you'd spent a few days driving this shimmering trio around some of Southern California's greatest roads. After doing so, the only question is, "Why the hell not?"
I'm going to asterisk this comparison test at this point. First of all, we still can't test cars, so I don't have any objective numbers to point you to. Sorry. Also, yes, we should have had the McLaren 600LT Spider instead of the 720S Spider, as the former's base price of $259,000 is much more in line with the other two than the latter's starting price of (yikes) $317,500. Don't even think about the as-tested price of (gulp) $372,750. However, there wasn't a 600LT Spider available. So we took one for the team and grabbed the only convertible Macca had on offer, the 720S Spider. The sacrifices we all make, right?
I'd also like to toss out a caveat for the AMG GT R Roadster. It's old. Say huh? True, the GT R Roadster is only about a year old. I'm talking about the platform itself, which goes back to 2014. However, that's only the current generation. The C190/R190 (C190 is Mercedes geek-speak for the GT Coupe, R190 means GT Roadster) is actually a modified version of the C197/R197 Gullwing, aka the SLS AMG. That chassis goes back to 2009, and the GT body-in-white is essentially the same structure but with 50mm lopped off the wheelbase.
I mention these caveats because the Porsche 992 Turbo S is brand-spanking-new. We know AMG will be introducing an all-new GT in the not so distant future. Please don't read this as me making excuses for the AMG, but more like when the SLS AMG was developed, 19-inch R-compound tires were cutting edge. The Porsche showed up on staggered 20/21s. The persistence of time and all that.
Intriguingly, these three roadsters do not follow a set template. The AMG is front-engine, the McLaren has a mid-mounted engine, and the 911's mill lives behind the rear wheels.
The GT R Roadster uses a racy, modified version of AMG's 4.0-liter twin-turbo V-8, called M178. You can think of it as a dry-sump version of the more ubiquitous M177, which is used in every other AMG with a V-8, including, confusingly, the GT 63. Its 577 hp and 516 lb-ft of torque flow down a carbon-fiber driveshaft to a seven-speed dual-clutch transaxle.
The 720S also uses a dry-sumped 4.0-liter twin-turbo V-8 that makes 710 hp and 568 lb-ft of torque, though there's one major difference—the McLaren uses a flat-plane crankshaft. Flat-plane V-8s rev quicker, are typically lighter, and make turbocharging (a bit) easier.
However, they vibrate much more (there's no inherent secondary balance like a cross-plane V-8) and tend to be more brittle. Great for race cars, problematic elsewhere. Like the AMG, the McLaren employs a seven-speed dual-clutch transaxle.
The Turbo S is different still, with its rear-mounted 3.8-liter twin-turbo flat-six producing 640 hp and 590 lb-ft of torque. Like the other two, the Porsche has a dual-clutch transaxle for a transmission (a transaxle is just a combination of a transmission and a differential where driven axles exit the case, as opposed to forces being sent down a driveshaft to a differential), with eight forward gears instead of seven like the other two entrants. The Porsche drives all four wheels, whereas the others are both RWD. The AMG and the Porsche have all-wheel steering, and all the cars have carbon-ceramic brake rotors, but only the Porsche has four seats, even if two of them don't actually work.
As for performance, all are lunatic-quick. Let's look at comparables, as your real estate types love to say. The McLaren 720S coupe hits 60 mph in 2.5 seconds and runs out the back of the quarter-mile in a startling 10.1 seconds at a blazing 141.5 mph. That last one is 0.1 second off the AWD 887-hp Porsche 918 Spyder. Again, the 720S is the rear-wheel drive.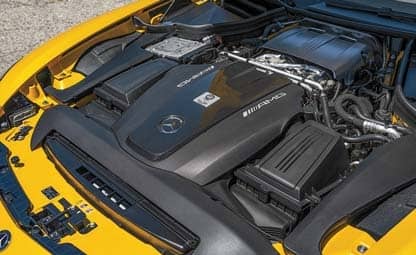 The 991.2 Porsche 911 Turbo S coupe— the previous-generation 911 that this one replaces—also hit 60 mph in 2.5 seconds before flying through the quarter-mile in 10.5 seconds with a trap speed of 131.8 mph. (We never tested a 991.1 or 991.2 Turbo S Cabriolet.) The nearly 10-mph difference in trap speeds proves the McLaren makes a lot more juice than that old 580-horsepower Porsche. As Top Gear America co-host Jethro Bovingdon says, "All McLarens make 800 horsepower." The McLaren we tested also weighed 390 pounds less than the porkier Porsche, 3,167 vs. 3,557 pounds.
As for the AMG GT R, the coupe version weighs 3,680 pounds, hits 60 mph in 3.4 seconds, and runs the quarter in 11.3 seconds at 129.0 mph. The McLaren and Porsche are two of the quickest cars we've ever tested, but the 992 Turbo S will be quicker than the old one, and the Spider version of the 720S will be (a touch) slower.
You can read up to 3 premium stories before you subscribe to Magzter GOLD
Log in, if you are already a subscriber
Get unlimited access to thousands of curated premium stories, newspapers and 5,000+ magazines
READ THE ENTIRE ISSUE
September 2020