2021 Toyota Supra 3.0
Motor Trend|July 2020
Being first in inline doesn't always get you the best seat in the house
The 2021 Toyota GR Supra 3.0 is the car Toyota ought to have launched last year. There, I said it.
If you're one of the well-heeled among us who paid an excessive dealer markup on a 2020 Toyota GR Supra Launch Edition, well, sorry. Patience is a virtue and all that. The 2021 Supra 3.0 is more powerful, yes, but more important, it's more rewarding and just plain better to drive both around town and on a good winding road than the debut model.
Before we get too far into what changes Toyota made to the 2021 Supra and why they make it so much better to drive than the 2020 Supra, it'd be a worthwhile endeavor to look at what was wrong with the first year of fifth-generation Supras. The Supra's 12th-place finish at our 2019 Best Driver's Car competition was largely due to its poor suspension tuning.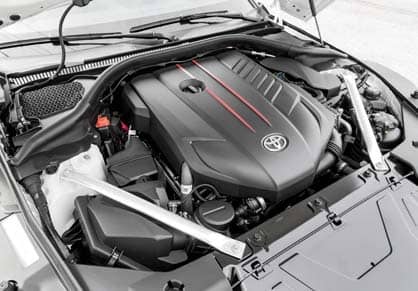 On anything but a glass-smooth road or racetrack, the 2020 Supra was a rolling example of Isaac Newton's third law of motion, which, to save you a Google, states that every action has an equal and opposite reaction. In the Supra's case, every bump, touch of the wheel, or brush of the throttle or brakes had the rear and gyrating up and around the rear axle. The secondary oscillations then caused the front end, as international bureau chief Angus MacKenzie so eloquently put it, "to follow every single contour like a bloodhound on meth." That even Randy Pobst—a two-time Daytona 24 winner and three-time World Challenge GT champion—had a "moment" in the Supra says it all.
You can read up to 3 premium stories before you subscribe to Magzter GOLD
Log in, if you are already a subscriber
Get unlimited access to thousands of curated premium stories and 5,000+ magazines
READ THE ENTIRE ISSUE
July 2020