RAISING THE STANDARD
Mini Magazine|February 2020
The Cooper Sport was great from the factory, but after restoring his, Paul Gershon couldn't help but add a few extra special touches…
There is no doubting that the Classic Cooper Sport, with its raft of factory-fitted upgrades, was a very desirable variant when it left the production line. Desirable, although as with any Mini there was still plenty of scope for modifying and personalisation. The feature car, a late 1999 model, belonging to motor trader Paul Gershon who, with his son Troy, owns and runs Different Class Cars in South Woodford, is a perfect example of how to take the factory product and enhance it.
"I already owned a nice Mini which my son and I had used on one of the Italian Job runs, and which was used by the last owner on the 40th commemoration of the film in 2009," reveals Paul. "It was in great condition and good to drive, but I started thinking about getting another Mini, one that I planned to have brought up to concours condition."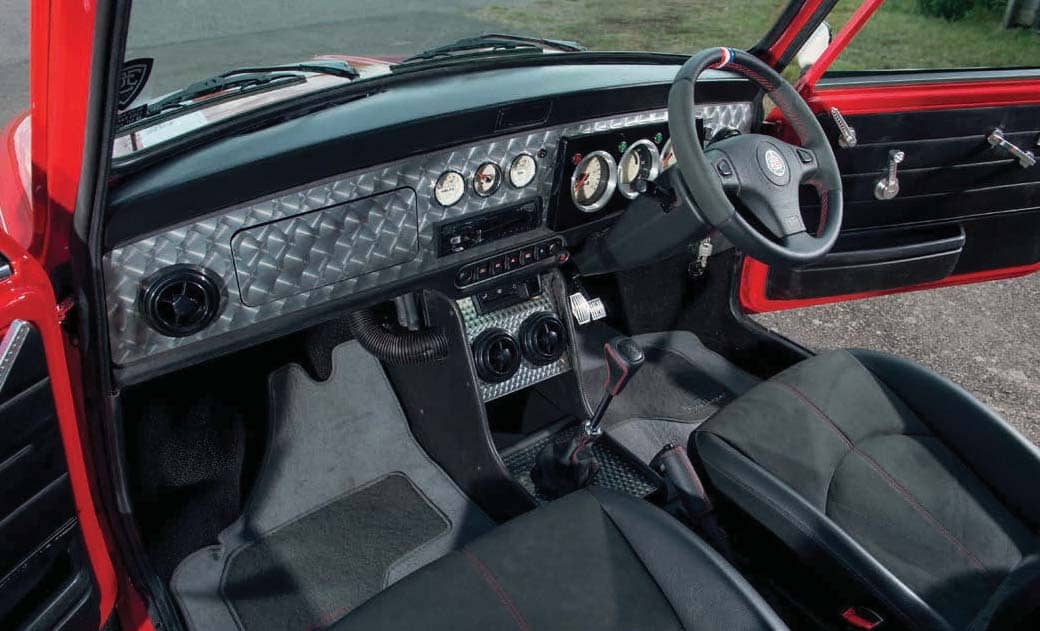 "I started looking for a suitable car, and eventually found this Cooper Sport, which I purchased from its lady owner in 2015. It had been the dealer's demonstrator. Although she'd owned it for approximately 16 years from new, it had only covered 29,000 miles which was a real bonus. The advert also stated that it was in excellent condition and that it had benefitted from a part restoration.
"It drove really well, but to be honest, although it certainly looked nice, on closer inspection the bodywork wasn't quite as good as described. Nonetheless, I was very taken with this Cooper and ended up buying it. I then drove it all the way from Yorkshire to London. It didn't miss a beat."
FULL ON
Even though it didn't miss a beat, Paul planned to upgrade the mechanicals a smidge, although the first thing on his to-do list was to have the Cooper stripped, repaired and rebuilt to better than new.
Having been around Minis for quite some time, Paul reckoned that the bodywork would need more than just TLC. However, when the car was stripped and the bare essentials exposed, he was rather taken aback at just how much reparative work would be required. And, he hadn't quite factored in quite how long the work would take.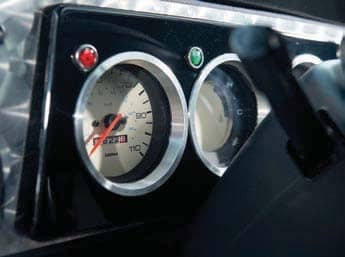 "My mechanic, David Phillips, stripped and rebuilt the Cooper," explains Paul. "During the strip-down he uncovered a significant amount of rust. To cut a long story short... a four-year nut and bolt restoration story in fact. Richard, who was working with David at the time and who has superb metalworking skills, had to replace the floor pans, sills, A-posts, front panel, subframes and much, much more. In essence, I ended up with an almost new car."
"But, although it looks new, you'd never know that the car has been apart. Richard, who is meticulous and takes so much care with his work, spent many months fitting the replacement panels, ensuring that their alignment and panel gaps were perfect. Indeed, I suspect that they fit even better than when the car was first made."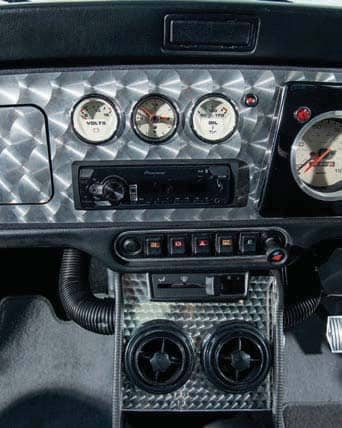 "The only deviation from standard and even this modification is very difficult to spot is that the inner arches/ structure have been subtly modified ensure that the 8x13 inch wheels I'd chosen, didn't catch."
"Richard doesn't do paintwork though. So I took it to Auto Crash in Forest Gate where it was painted by KP in its original colour, Solar Red. Then the various cavities were flooded with Waxoyl."
You can read up to 3 premium stories before you subscribe to Magzter GOLD
Log in, if you are already a subscriber
Get unlimited access to thousands of curated premium stories and 5,000+ magazines
READ THE ENTIRE ISSUE
February 2020