iGloble making waves with cutting-edge Predictive Analytics
The SaaS platform by iGloble Software Solutions for connected vehicles enhances operational efficiency, reduces overheads and predicts a number of scenarios to diminish downtime for fleet owners and increase RUL. Dr. Amit Shekhar, Founder & CEO, iGloble Software Solutions, talks to Sarada Vishnubhatla about what gives iGloble a distinctive edge in predictive and prescriptive analytics.
Headquartered in New Delhi and with a presence in Pune in India, Hong Kong, and the US, iGloble Software Solutions has developed an open architecture SaaS-based Connected Platform that offers various modules that enable predictive analytics scripted solutions across multiple verticals. These solutions offer operational and engineering efficiencies, cost reduction, safety and security management. iGloble's iotaSmart Solutions are driven by artificial neural networks (ANN) as part of Artificial Intelligence (AI) and Machine Learning (ML) by creating a digital twin that can be used by fleet owners and operators, tier-1 manufacturers and OEMs in virtual designing, testing and simulation.
Data derived from various types of IoT devices installed in vehicles is managed, cleansed and transformed into a format that is analyzed using master data management, a technology-enabled discipline that works with business and information technology. The elements or variables are simulated for predictive analytics, and the output pushed onto customized the dashboards for decision making with the goal of lower down time, optimized fuel consumption, mapping and predicting driver behaviour, for enhanced safety and reduced operational costs. The data is also used to calculate the remaining useful life (RUL) of components the vehicle as well as for virtual design and testing.
Dr. Amit Shekhar, Founder & CEO, iGloble Software Solutions, shared says "There are a few companies which talk about artificial neural networking or ANN. Many offer diagnostics but what they actually do is pick up data from the CAN and merely publish it. As an innovative company, what we do is that we also get DTC or Diagnostic Trouble Codes along with engine parameters like RPM, speed, engine load, AT and ECT to offer prediction and prescription. This is where AI comes into the picture and the data can be used to build models as well as offer forecasting. Our domain knowledge helps us to merge modelling and AI into one and give more analytical data information so that our customers are able to reduce cost of operations by between 6 to 10% annually."
The relevant decisions - that need data on idling fuel consumption, emissions, torque, speed and time, operational costs predictive maintenance, carbon footprint, driving score, risk and safety – are all driven by the ANN. iGloble has over 3000 vehicles using their iotaSmart network currently.
Dr. Shekhar adds: "We are focused on connecting vehicles into a single intelligent network across the globe. What sets us apart from our peers is that we capture data every 1 to 3 seconds unlike most of others who do it every 10 to 15 seconds. Every second of data reading and analysis enables us to offer predictive maintenance and solutions for failures. We also provide early diagnosis of vehicle problems using OBD devices besides the basic solutions such as geo fencing, remote locking and unlocking, engine cut-off, and fuel level measurements."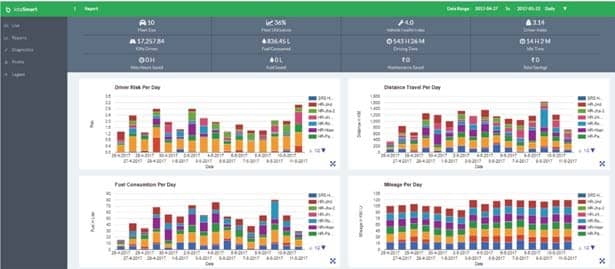 iotaSmart Solutions
You can read up to 3 premium stories before you subscribe to Magzter GOLD
Log in, if you are already a subscriber
Get unlimited access to thousands of curated premium stories, newspapers and 5,000+ magazines
READ THE ENTIRE ISSUE
August 2020