Volvo Buses Driving Future Innovations
MOTORINDIA|April 2020
Akash Passey, Senior Vice President, Volvo Bus Corporation, is a man to be reckoned with. Having had the privilege to kick-start a hitherto unknown premium bus brand in India at the dawn of the century, he has been instrumental in making Volvo Buses a big hit in the domestic bus industry, making the brand synonymous with luxury and safe bus travel in common man's lexicon. With over 25 years of experience, he is currently responsible for business performance of the Swedish bus maker in the international region covering Asia Pacific, Africa and the Middle East, China, CIS countries and India. In a detailed interview with MOTORINDIA, he tells Dhiyanesh Ravichandran that Volvo Buses has always been a global pioneer of tomorrow's technologies since day one, and will continue to set new benchmarks on safety, environmental care and quality in every regional market it operates
Volvo Buses is one of the world's largest manufacturers of city buses and coaches. In this new decade of 2020, could you tell us about your global presence? Which are the top leading and emerging markets that are quite promising for the brand at present?
I have been responsible for the international division of Volvo Buses for over seven years now. During this period, we have made good strides all across globe. We have already made our presence felt in Europe and, to some extent, in the Americas as well, and in recent times we have had immense success in moving into different parts of the world in a vibrant manner. On the whole, I would say we are in a dominant position in most of the leading cities of the world, with a healthy 30-50% market share in public transport, city bus, and long-distance segments. Prominent among them are Singapore, wherein almost 70-80% of the double-decker population is that of Volvo.
We have recently supplied some 50 hybrids as well; Australia with over 40% market-share in city buses, Hong Kong with over half of the double-decker market share – even more promising for us with the city's recent transition to Euro 6. Some 700+ buses with Volvo moniker will hit the roads in Dubai and Abu Dhabi in the UAE this year as part of the run-up to World Expo 2020 scheduled in July this year at Dubai. We are posting good businesses in markets like South Africa, Morocco, and India. More specifically in India, we have a stronghold in the premium segment with almost 90% market share, along with a bit of the city bus segment as well. Over the years, we have also grown immensely in South East Asia, Oceanic, Middle East and African regions, while a continued focus is also on CIS countries, including Russia.
How is the Indian market weighing up at present for Volvo Buses, considering the host of disruption and challenges including that of prolonged market slowdown and BS-VI transition?
India is the world's second-largest bus market in terms of demand volume. I have a strong emotional connection with India, being a person of Indian origin and having the privilege to establish the Volvo brand here. I can say with confidence that the Indian bus industry has come a long way. At present, the local automotive industry including commercial vehicles is going through one of the toughest phases in recent times. We would like the business to pick up at the earliest and therefore our focus right now is more on sustenance. That said, the BS-VI emission is coming to effect at this critical juncture.
I appreciate the government's bold initiative to leapfrog from Euro 4 to Euro 6-equivalent emission norms, which fits into Volvo Buses' agenda. Although we make products compliant to different emission norms ranging from Euro 3 to Euro 6 across the globe, a majority of them are turning out to be Euro 6-compliant. In that respect, BS-VI in India is a good thing – it's a high-technology and a much cleaner proposition than what we have seen so far. Sophisticated technologies will play a much bigger role in BS-VI vehicles. We at Volvo Buses have already been engaged in doing the same for over six years with global expertise and so we are ready with new vigour and shall take it forward in a good way.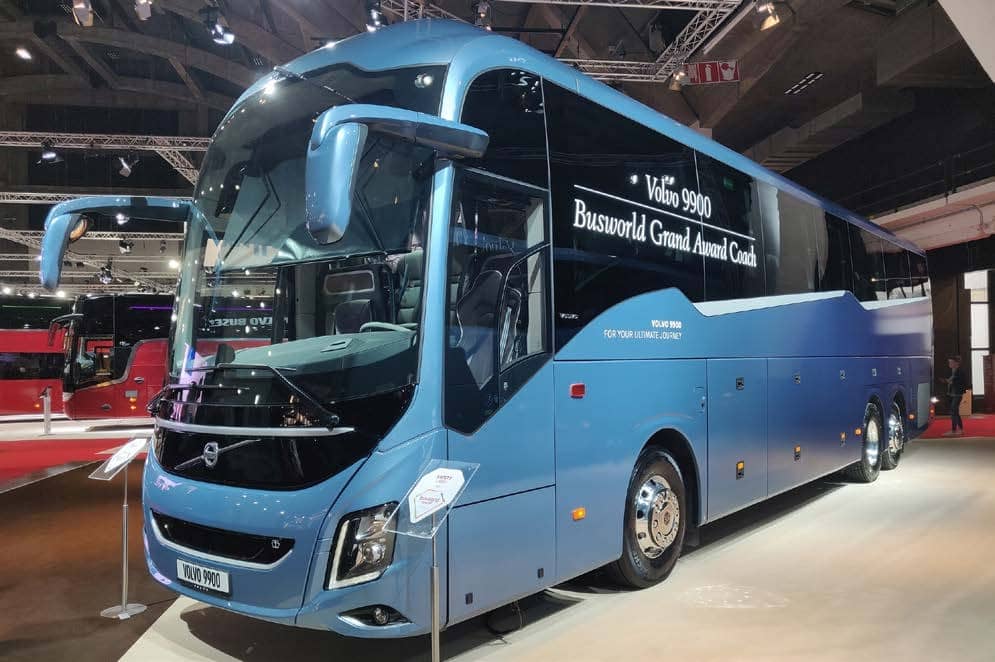 You can read up to 3 premium stories before you subscribe to Magzter GOLD
Log in, if you are already a subscriber
Get unlimited access to thousands of curated premium stories and 5,000+ magazines
READ THE ENTIRE ISSUE
April 2020