Agility-Advantek-Hexagon partnership steps on the 'gas'
Aspiring to make a shift away from diesel towards gas fuels for long-distance transportation, a tripartite alliance is ready with a host of tailor-made natural gas solutions for cars and commercial vehicles to start with. They consider converting the existing short-range buses to meet long-range requirements with their CNG systems as an immediate priority to kick-start the transition with a concurrent retro-fitment and OEM approach. Other segments including long-haul trucking and premium passenger cars are to follow suit
The global automotive industry is finally on road with natural gas. It has become a clean and economic alternative to the woes of conventional fuels and the shortcomings of pure electric mobility. Although natural gas is not new for the automotive industry, it is only in recent times that this space is receiving fresh attention and much-awaited innovation from the leading industry players. The Indian market is no exception, despite having come a long way ahead in adopting natural gas as one of the staple fuels for vehicles in our country. At the forefront of this emerging progression in natural gas solutions is Agility-Advantek, a strategic alliance to provide compressed natural gas (CNG) products and services to the Indian commercial vehicle market.
Early this year, the partnering companies came up with the country's first long-range CNG bus under a programme led by Indraprastha Gas Limited (IGL) with a driving range of more than 1,100 km, thanks to its light-weight Type IV composite gas cylinders and sophisticated fuel systems technology. "One of the core objectives of this partnership that emerged in 2018 was to offer a complete 360-degree green fuel technology and experience to customers in India. We are aces in our respective areas, but an integration of ideas and synergies is what we looked at to offer innovative and effective solutions in an emerging and disruptive space," says Ravindra Vasisht, Regional Director, Agility India.
While the US-based Agility Fuel Solutions is a global supplier of clean fuel solutions for commercial vehicle fleets and OEMs for more than two decades, Advantek Fuel Systems is known for the development and integration of a wide variety of alternative fuel systems for transportation and industrial applications for over 15 years in India, along with its robust service network across the country. Yet another uniqueness of this partnership is the value addition from Hexagon Composites, a Norwayheadquartered global supplier of lightweight transport modules for gases, and the parent company of Agility Fuel Solutions.
While Agility Fuel Solutions manufactures Type IV composite cylinders and systems used for medium and heavy-duty commercial vehicles, the Type IV cylinders for light-duty CNG systems of Agility-Advantek are sourced from Hexagon Purus, a subsidiary of Hexagon Composites. Together as a group, they constantly carry out innovation in tanks to make them lighter and efficient. These are about 70% lighter than conventional steel tanks that are common in the market right now, which enables the customers to add bigger or more cylinders to extend the fuel storage capacity in their vehicles. "As of now, we have begun with the complete assembly of our CNG solutions in India except for the composite cylinders. Once the market gains enough traction, we will localise tank manufacturing as well," Vasisht reveals.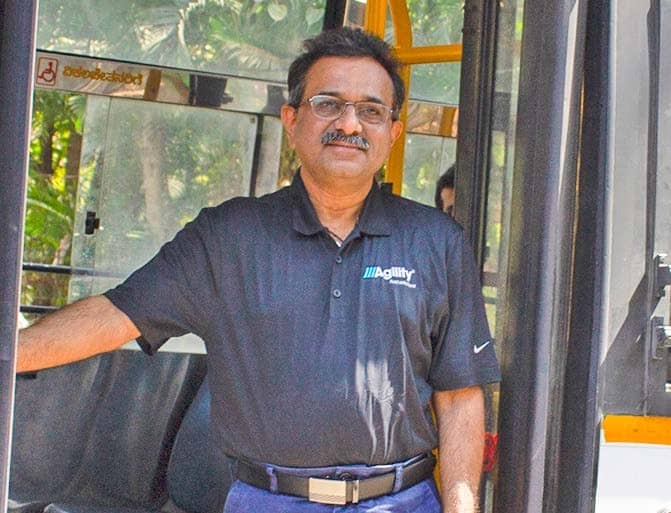 CNG: The 'Low-Hanging Fruit'
You can read up to 3 premium stories before you subscribe to Magzter GOLD
Log in, if you are already a subscriber
Get unlimited access to thousands of curated premium stories, newspapers and 5,000+ magazines
READ THE ENTIRE ISSUE
August 2020