Shades Of Grey
MOTOR Magazine Australia|June 2020
Picking from the many fast SUVs has never been harder, but this high-riding hit-out could be more a black-and-white affair
There is good reason we find ourselves here. And I'm not talking about where I am standing, which is before a long drag strip and between two souped-up Germans with enough performance technology to dazzle your revhead uncle. I mean, how did we get to the point where $150K and the desire for a fast medium-size SUV summons a long list of choices, all capable of frightening any muscled-up rear-drive sedan? Or where the record for the fastest SUV Nurburgring lap is something you can even recall? It's 7:42.2, by the way, for an Audi RS Q8.
Wind time back a couple of decades and the overlap between performance driving and SUVs stood separate as black and white. Buying habits have changed that. The SUV's popularity has forced manufacturers to mix the historically exclusive concepts in chase of the status-seeking or speed-craving niche. And as this test is about to prove, the results are still fanning out in many shades of grey.
Within that spectrum are the newly updated Mercedes-AMG GLC63 S and Porsche Macan Turbo. Admittedly, we hoped a third contender would join them. BMW's X3 M was due to weigh in after clobbering the Jaguar F-Pace SVR and Alfa Romeo Stelvio Q in a recent comparo, but we were told none were available at the time of test. So word on the segment's true champ will have to wait.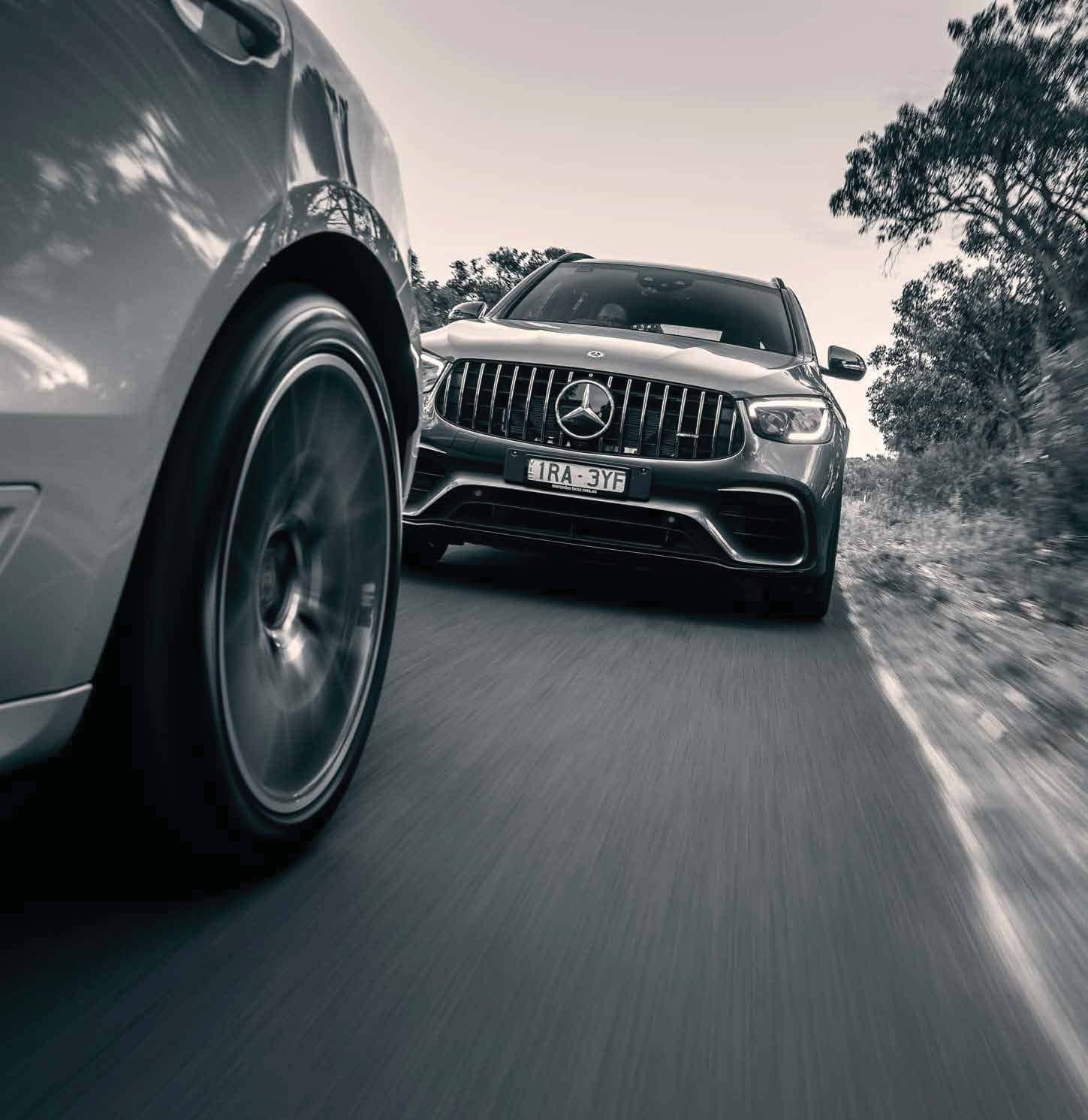 We're still in for fireworks. Yes, watching an SUV romp around the Nurburgring is still unnerving, a bit like watching a tamed lion put out its paw for a human to shake. However, the GLC63 S did just that after seven tense minutes and 49.3 seconds in 2018, claiming the then-record lap for an SUV.
Powering it to such fame was, of course, the veritable twin-turbo V8 that AMG dishes out in all its uber-muscle cars. It comes in the C63 S's M177 wet-sump guise, with single-scroll BorgWarner turbos helping push 375kW and 700Nm through its 4.0 litres. A nine-speed wet-clutch automatic transmission manages the grunt, assisted by the E63's all-wheel-drive system (sans rear-drive Drift Mode, sadly – or possibly sensibly).
AMG's tweaked the exterior for 2020 with relatively minor changes. It has ditched its old C-Class-like headlights for newly shaped units that hug a gaping 'Panamericana' grille. Then, on top of a new colour and wheel design, there's a fresh infotainment system inside while new AMG Dynamics chassis electronics watch your every step. And/or misstep.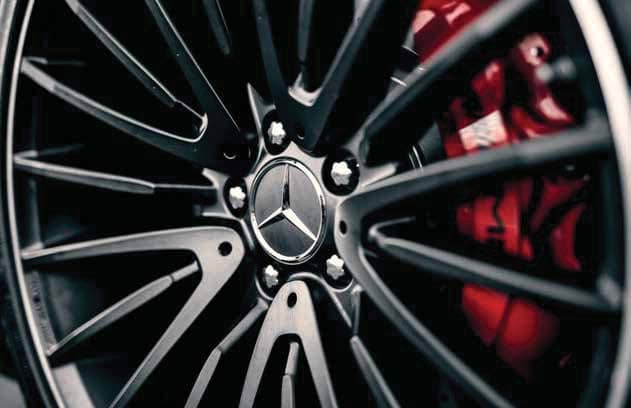 There is one more, and very important, change we'll mention later, but first let's meet Porsche's updated Macan Turbo. The big news here is the Turbo has welcomed a 2.9-litre twin-turbo V6 pinched from the Panamera range. It's best known in Audi's RS4 and RS5 models, but as far as Porsche is concerned, it's its own engine. It's smaller, though the turbochargers are coupled within the vee, boosting response and helping extract 30kW more than the original 3.6-litre twin-turbo V6.
Porsche has added some tweaks to bolster its appeal, like whopping 390mm/356mm brake discs that feature a tungsten carbide coating said to quicken response and reduce wear. The front and rear ends are also remodelled. But there's a feeling, still, that even with 324kW and 550Nm in total the Macan is outgunned in this company.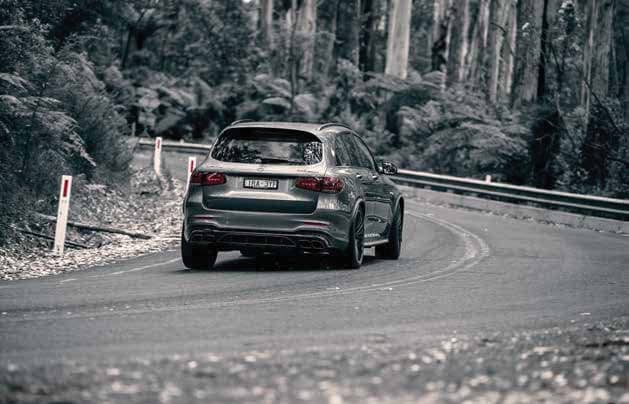 You can read up to 3 premium stories before you subscribe to Magzter GOLD
Log in, if you are already a subscriber
Get unlimited access to thousands of curated premium stories and 5,000+ magazines
READ THE ENTIRE ISSUE
June 2020