SNAPPY DRESSER
MOTOR Magazine Australia|May 2020
THE NEW CAYMAN GT4 LOOKS THE PART AND IS BUILT TO BE DRIVEN, SO WE GIVE IT SOME STICK. SADLY, LITERALLY
YOU EXPECT TO EXPERIENCE all sorts of sensory assaults after a long, hard drive. The nose-wrinklingly acrid smell of brake pads, the ring-ting-ding three-piece of hot metal contracting and expanding, and the sight of feathered tyres and spots of fluid overflow. However, those spots are now slowly but surely spreading into an unusually large stain on the tarmac. It's also red-tinged and slightly oily to touch. Coolant.
Identifying the cause doesn't require the detective skills of Horatio Caine, because it's still embedded in the radiator. A piece of wood has ricocheted off the front splitter, punched through the protective wire mesh and wounded the Cayman. Game over. The nice people at Porsche are very understanding, though understandably want to know what I hit. Sadly, I've no idea; something substantial enough to flick up and over the GT4's ground-scraping snout, yet not big enough to register from behind the wheel.

It's the last time the car will move under its own power today, but thankfully everything bar the static photography is done and to get to this point has meant covering 60km of unrelenting mountain road. It should have provided ample opportunity to get beneath the skin of Porsche's latest motorsport division product, but instead I'm left with as many questions as answers, for reasons that will become apparent.
Rewind a couple of hours and the Cayman GT4 is waiting at Porsche HQ. With the paperwork signed and keys handed over, it's time to hit the road. No keyless entry and go here, but inserting and turning a key feels appropriate in such a focused car. Compared to Porsche's latest tech-laden interiors (911, Cayenne, Panamera), the Cayman's feels a bit dated, but pleasingly so with the right mixture of digital (infotainment touchscreen with smartphone mirroring) and analogue (wellsited buttons for major functions).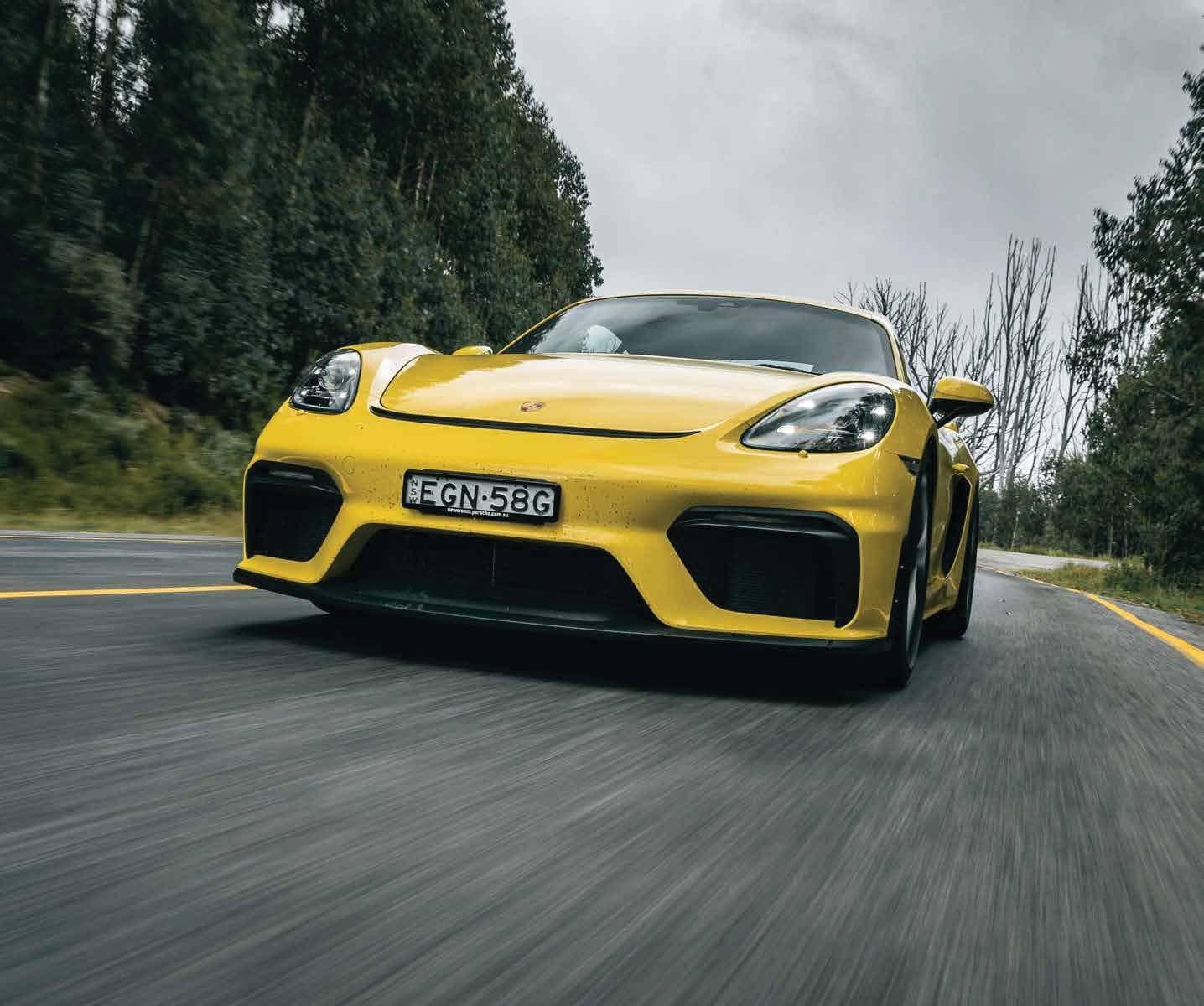 The first surprise is the every-which-way electric seat adjustment, enabled thanks to the fitment of optional Adaptive sports seats that account for $5150 of the $23,730 of extras fitted to this test car. None are particularly essential, the seats, contrast stitching ($6160), Bose audio ($2470) and LED headlights ($2320) accounting for most of the spend, the rest is trinketry like yellow seat belts ($570), high-gloss black model designation ($540) and Alcantara sun visors ($860). Of course, if you really want to go silly, there's always a pair of 'special colours' (Miami Blue and Crayon) at $6750, sport bucket seats for $11,250 and $16,620 carbon-ceramic brakes.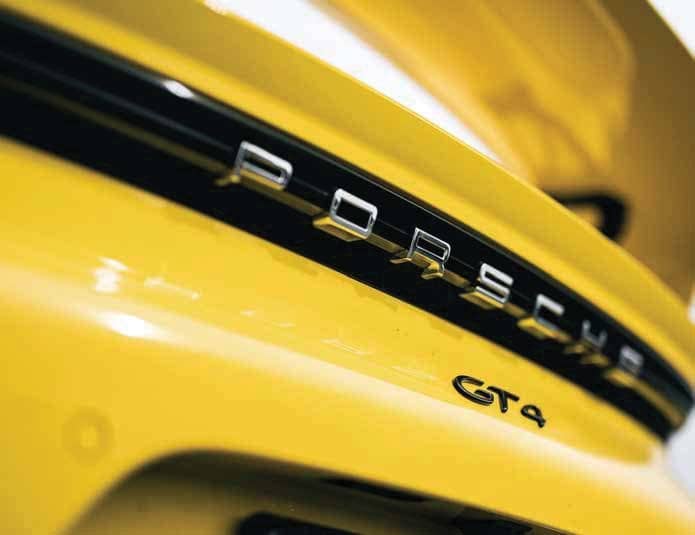 The seat sinks lower and lower and lower until my bum must be virtually on the floor, but when I turn the key nothing happens. Oops, too many automatics recently. Dip the clutch, try again and the 4.0-litre flat-six growls into life. Like its 981-series predecessor, the 718 GT4 uses a large-capacity naturally-aspirated six-cylinder to produce power, but despite similar capacities the two engines are unrelated.
You can read up to 3 premium stories before you subscribe to Magzter GOLD
Log in, if you are already a subscriber
Get unlimited access to thousands of curated premium stories and 5,000+ magazines
READ THE ENTIRE ISSUE
May 2020