Monsters Inc
MOTOR Magazine Australia
|
August 2019
THREE TAKES ON THE MODERN MUSCLE CAR COUPE BUT THERE CAN ONLY BE ONE ULTIMATE
INTIMIDATION COMES in many forms. Threats, blackmail, crowded shopping centres, the middle seat in economy, Mount Everest, an 800-horsepower Mustang. You could probably chuck a Chevrolet Camaro ZL1 in there too, because few people are going to feel instantly at ease with a seriously supercharged V8 sending shockwaves to its rear tyres, and it doesn't make me any less of a man to admit it. If you had to name a muscle coupe destined to expand the testicular mass of anyone behind the wheel, it's one of these Yank brutes.
Punters keen on this type of testosterone boost must be chuffed you no longer need to head Stateside to feel the burn. Thanks to HSV's converting talents, Chevrolet's ultimate Camaro is now right-hook-ready and perfectly poised to pick up where the GTS-R W1 left off at a somewhat eyebrow-raising $159,990. And, thanks to the column-shifting expertise of Mustang Motorsport, the thrill of a Shelby-enhanced Mustang Super Snake is also ripe for the taking, even in completely bat-shit crazy 'Wide-Body' form.
Without the full plumping treatment, the Shelby Super Snake is already a formidable 169 big ones. But if you want the Wide-Body booty, that's another $35K right there. And if 700hp (522kW) isn't worth getting out of your recliner for, there's an 800hp (596kW) alternative for $12,290 more, complete with additional wail courtesy of a Whipple supercharger. And on our test car (the first of two – keep reading), let's not forget painted pearl-white gloss stripes ($11K), a torsen differential with 3.73:1 ratio ($5K) and $1950 worth of leather and suede interior alterations that transform this Mustang into a virtual $239,930 caricature of itself – albeit a hugely intriguing one.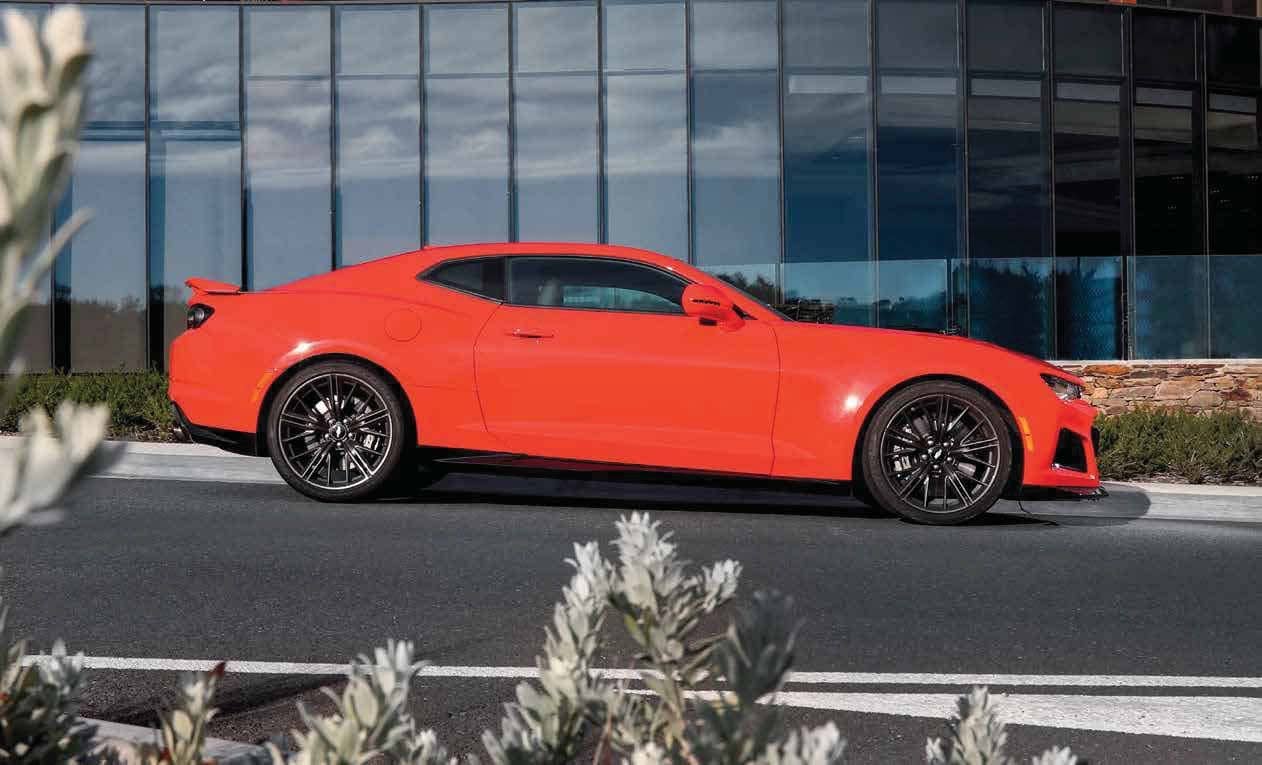 Alongside the berserk Camaro and bad-to-the-bone Mustang, Mercedes-AMG's updated C63 S Coupe almost seems a bit girly, as well as a bit of a bargain at $165,900 stock, or $191K as you see here, yet it remains the global benchmark for mega-tough V8 performance coupes. Such is the popularity of AMG's bullish twin-turbo tearaway that it's more 'off the rack' than its limited-volume American rivals, though what you lose in exclusivity you definitely gain in refinement and allround polish – especially this latest version with its smoother personality. But is that enough to make your heart race and your sphincter tighten?
Having lived with a 2015 C63 S sedan for almost a year, it's the politeness of AMG's latest weapon that strikes me first on a dawn blast to the edge of Melbourne. The way the sedan used to buck and bitch-slap over concrete road joins had already been partially alleviated in the original C63 S Coupe, but this version is even less abrasive, and surprisingly supple when the dampers are set to Comfort.
Apparently the 2019 C63 S also gets synthesised induction noise pumped through its Burmester stereo speakers, but I can barely notice it. What is abundantly clear is just how liveable and all-round glorious this AMG coupe has become in its older years. It mixes bark with bite so damn well, and even though there's still a tonne of coarse-surface road noise – "That's how you know good tyres," my old man used to say – it's clear this is definitely the designer version of bad-arse.
Pulling up next to our red Camaro ZL1, the diamond-white AMG looks almost demure. At 4831mm long and 1905mm wide, the flagship Chevy is a vision-filler, and the ZL1's aggressive cooling and aero package, garnished with guardfilling forged-alloy 20s in dark graphite make it appear almost Batman-esque. Where the C63's rear end elegantly tapers, the ZL1's swells right to the edge of its Coke-bottle hip line, its taillights doing a stellar interpretation of a '68 Camaro's.
And then there's the Wide-Body Super Snake. With an extra 2.5 inches (63.5mm) of front track and a whopping four inches (101.6mm) at the back, Shelby's burliest baby makes even the ZL1 look understated. It's so frigging in-your-face it's hard to believe the Wide-Body is even street legal (it is), and this car's optional '800hp' package means it packs the grunt to at least partly explain its unhinged appearance. But first, the ZL1.
After the velvety sheen of the AMG, the Chevy immediately feels lumpier, chunkier and less forgiving. It similarly features adaptive damping, in this instance via magneheteorical units, and in standard Tour mode the ZL1 initially doesn't feel completely sorted. Its steering seems a bit vague, as if it missed out on an early-morning caffeine hit, and its vast 285/30ZR20 front tyres tend to tramline over uneven surfaces.
You can read up to 3 premium stories before you subscribe to Magzter GOLD
Log in, if you are already a subscriber
Get unlimited access to thousands of curated premium stories, newspapers and 5,000+ magazines
READ THE ENTIRE ISSUE
August 2019