Mighty Mouse
MOTOR Magazine Australia|June 2020
Fear and excitement are two sides of the same coin in the fastest mini ever
There are only a handful of cars which can relay the precise difference between heads and tails as they run over a coin. The Mini JCW GP does not only happily oblige, it even hammers through the exact denomination and the year that particular piece of money was minted.
Although anybody can install dampers filled with lead and springs that barely spring, the BMW subdivision will in addition suggest diehards fit ambidextrous Hankook semi-slicks named Ventus TD, for Track Day. The 225/35 R18 tyres, marked by an artsy swoosh pattern, are allegedly made of rubber, but could also very well be Edwardian liquorice stored in the open since the King passed away in 1972.
If suppleness is a prerequisite for dynamic well-being, the absence thereof might explain why our Anglo-German batmobile lives in the twilight zone between trick and treat. Just leaf through the bible of absolute automotive no-gos, and the vices are all there in abundance: steering fight, torque steer, waywardness at any speed, marginal ride comfort, man eventually succumbing to machine. But you know what? We wouldn't have it any other way. Because it is simply impossible not get a kick out of this doped Mini in Voldemort livery. A rather rough daily driver, the $63,900 limited-edition model is headed for Australia, 65 out of the 3000 global units reserved for the great southern land.
Introduced in 2014, the Mini III sits on an evolution of the second-generation platform which was in turn based on the first post-Rover model designed by Frank Stephensen. To prepare what began life as trendy urban runabout for such a colossal upgrade to GP specification, the body structure, chassis and driveline had to be practically reinvented. For a start, there are now four separate cooling circuits protecting the health of the engine, crankcase and transmission. A high-performance fan and a modular coolant storage-and distribution system assist in coping with high loads and critical temperatures. With the exception of all-wheel drive, the Mini GP shares its powertrain with the BMW M235i. Special engine upgrades include multiple reinforcements, a bespoke intake and exhaust, larger sump and bigger rear muffler which switches from tenor to bass in sync with revs, gear and throttle aperture.
Torsional stiffness isn't normally an issue for a run-of-the-mill three-door hatch. Add 55kW to the already brawny 170kW JCW pack, however, and you are in a different dynamic ballpark altogether. Engine and transmission mounts were beefed up, rubber bushes either stiffened or replaced by metal ball joints, a rear subframe and a front strut brace also added. Furthermore, the engineers dialled in more uncompromising kinematics and elasto-kinematics, lowered the ride by 10mm, widened the track, reprogrammed the steering and altered the calibration of springs, dampers and anti-roll bars. By increasing camber all-round, the chassis tricksters set out to enhance handling, road-holding and steering response.
Fitted with large eye-catching wheel arch flares made from recycled matte-black carbon fibre shavings found in the i3 and i8 waste bin, forged four-spoke lightweight rims, and a rear wing inspired by the boxy turbojet housings of the supersonic Concorde aircraft, the gunmetal tarmac peeler is all muscle and zero body fat.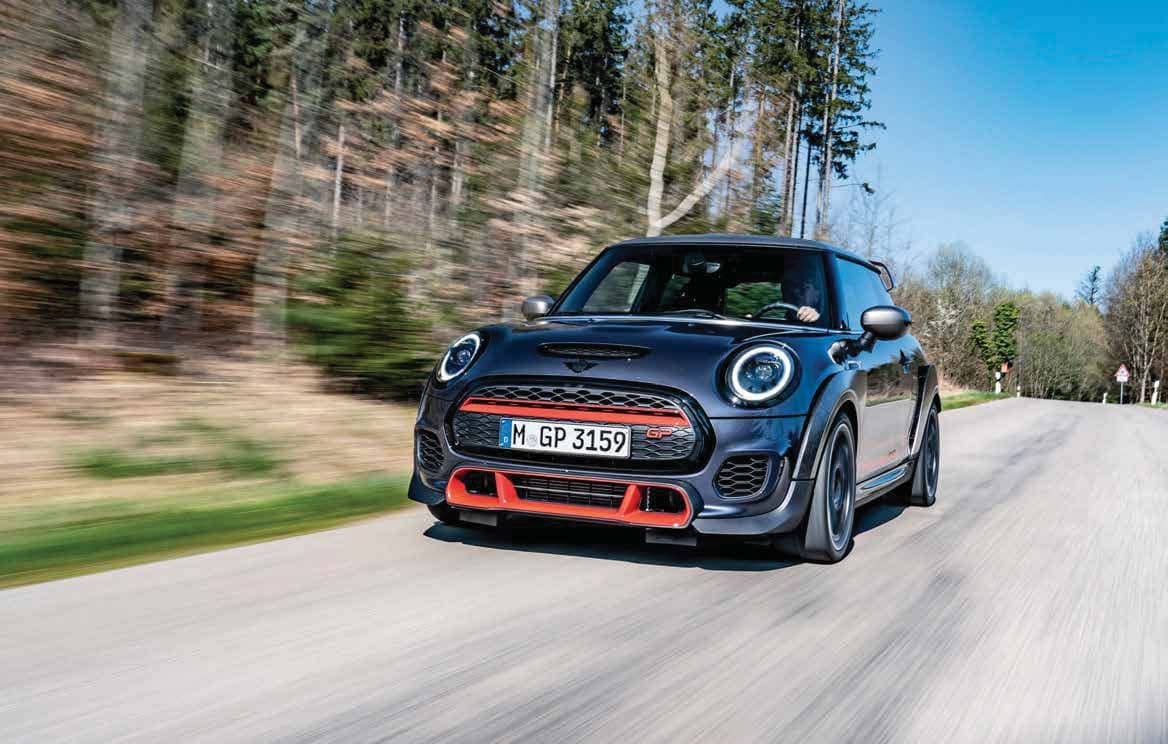 You can read up to 3 premium stories before you subscribe to Magzter GOLD
Log in, if you are already a subscriber
Get unlimited access to thousands of curated premium stories and 5,000+ magazines
READ THE ENTIRE ISSUE
June 2020