Black Magic
MOTOR Magazine Australia|July 2020
The 288 GTO started a dynasty of mindbending ferrari hypercars, we get ourselves reacquainted
Before you drive a Ferrari 288 GTO, it's likely you'll ponder various things. Will it be as fierce as everyone says it is? Will it spit me backwards out of a roundabout when all of its 294 forcefully induced kilowatts hit? Will it turn out to be a thinly-disguised track car? Will it feel like a 308 on steroids? All of which makes the actual first impression – that of a lean, striking beauty – a bit of a surprise.
You can understand the nerves. After all, not only is this a Very Expensive Car, but it's rare too. Just 271 were ever built, and this is probably the only one in black and one of a handful in right-hand drive. So it's a very special version of an already very special car indeed, one born out of Maranello's wish to compete at the top of Group B competition. It also sired a line of Ferrari hypercars that persists to this day.
This car's follow-up, the similarly twin-turbocharged F40, might be heralded as the first hypercar due to its 323km/h full whack, but they're almost common. To understand why this car is so much more special, we've taken a suitably epic car to suitably epic driving roads in Scotland's Southern Uplands. A fitting location, given the crisp cool air is prime for the 288's twin turbos. Time to bring a bedroom poster to life.
Twist the key a full 180 degrees, thumb the rubber-covered start nodule and eight angry cylinders bark into life. The pedals, gathered together near the car's centreline, are pretty firm underfoot. Bold action with the throttle averts a stall and we're off, finding gears through the gate. It's already warm, but it still takes an assertive hand to move a rather long linkage quickly. That, and some wheel speed… which, unsurprisingly, is very easy to come by.
Explore the lengthy throttle travel and a bad-tempered growl rises along with the hairs on the back of your neck. We're quickly up to 3500rpm and then a much harder, faster snarl erupts as the tachometer winds towards the 7800rpm redline, overlaid with a high-pitched turbo whistle. The thrust is immense, but if you're planning for it, it's not too frightening when it arrives. So what about that most 1980s of things, turbo lag? Yes, it's there as a tiny pause after you change up, but use the gearbox's nicely grouped ratios to full effect and it's easy to keep it on the boil. One cannot let revs drop below 3500rpm and then expect response as if at 6000rpm.
We're starting to quicken the pace, but any twitch from the chassis only happens when the dry road changes in surface. Nonetheless, this lovely looking machine clearly has the potential to bite. Both track and wheelbase are around 10cm longer than the 308's, which proportionally speaking is a greater increase in track – far from reassuring if you ever do lose it. If a fast bend suddenly tightened on you, or you indulged in too much throttle, it would take luck and skill in that order to get things back in line.
This intimidation factor is partly down to weight, or lack of it. This car doesn't use particularly large tyres for something packing 294kW and 496Nm, they're specifically 255/50s at the back, 225s at the front, on 16-inch wheels. And it weighs 1160kg (dry), 250kg more than a Golf GTI of the same age, or 125kg less than a 308 GTB Quattrovalvole. Cornering takes very little effort as there isn't much mass to shift. The lovely steering helps, feeling as light as it is accurate. It's a quick ratio too, though slower than intended for competition. Today, it hasn't been necessary to move the wheel through more than 30 degrees until we take a twisty side-road and find the almost Alpine climb to Meggett reservoir. Back down on the main road, it's time for a breather.
Although ultimately intended to compete in Group B's stillborn track-racing offshoot, the 288 GTO's convoluted roots lie in the better-known world of Group 4 and Group B rallying. Following on from the Lancia Stratos, Ferrari created the wide arched Group 4 308 GTB/4 prototype, which completed initial testing at Fiorano in 1976 before the Scuderia outsourced the project to rally preparation specialist Michelotto of Padova, which developed 308 GTB rally cars mainly campaigned by Charles Pozzi.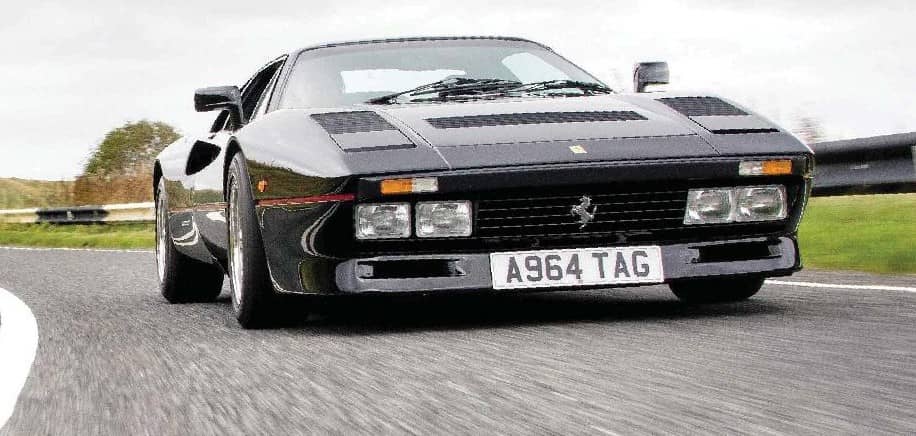 You can read up to 3 premium stories before you subscribe to Magzter GOLD
Log in, if you are already a subscriber
Get unlimited access to thousands of curated premium stories and 5,000+ magazines
READ THE ENTIRE ISSUE
July 2020