BULL RUSH
MOTOR Magazine Australia|June 2020
LAMBO'S REAR-DRIVE BABY OFFERS OLD-SCHOOL DYNAMICS THAT NEED TO BE TAMED. AND ONE HELL OF AN ENGINE
LOW IN THE SEAT, bottom of the dashboard stretched far out ahead, I'm ripping over the Pennine Hills that run north-south towards the top of England like a spine, a huge hunk of engine out back helping adjust attitude and smear number 11s over the road. There are great peals of V10 thunder on every downshift. It's pre-lockdown in the United Kingdom, the day before they'll close the pubs. For a few more hours, driving for the sake of driving is still okay, and I've got my hands on a supercar worthy of the last-ever gallon of fuel: the new Lamborghini Huracan Evo RWD.
It is a last gasp of naturally aspirated, V10, rear-wheel-drive awesomeness, the better-to-burn-out-than-fade-away supercar you'd gun 'til the last drips of 98 sputtered through its fuel lines and then abandon with the melancholic euphoria of knowing no-one, anywhere, could ever do that again. Or at least until we're told it's safe to leave home again. Time's ticking. Where to go? Who to see?
I point the Lambo north, back home to the Lake District, to see family at a visiting-hours distance, to run it hard over the roads I drove when I first got my licence, and to explore those that weren't much further afield but that I never quite reached.
Climbing aboard, there's the intimidation I always feel in a Lamborghini, that tingle of fear its brilliant rivals have dialled back as they've become more usable. Our car's manually adjusted carbon-backed seats are deep, while the nose tapers to a spear-like point, muscular haunches fill the side mirrors, and the slatted rear screen has all the rearward visibility of a Velux roof window. It's like lying down on an arrow drawn tight in an archer's bow. Flick up a faux (but appropriate) missile switch cover, press the red starter button and that V10 barks rambunctiously awake. It's terrifying – and I'm still in a car park in Bedfordshire.
There's even more intimidation here than there is in other Huracans, this being the RWD, the one Sant'Agata dubs the purest of the line, closest in spirit to its also-rear-wheel drive GT3 racer (though the upcoming Super Trofeo Omologato range-topper will steal that crown). And yet the Evo RWD costs from $384,187, which is like two-for-one loo roll in the context of the $75K more expensive Huracan Evo and similarly expensive Ferrari F8 Tributo. Lamborghini would probably prefer that we don't mention the new Audi R8 RWD – an even more affordable but very different car.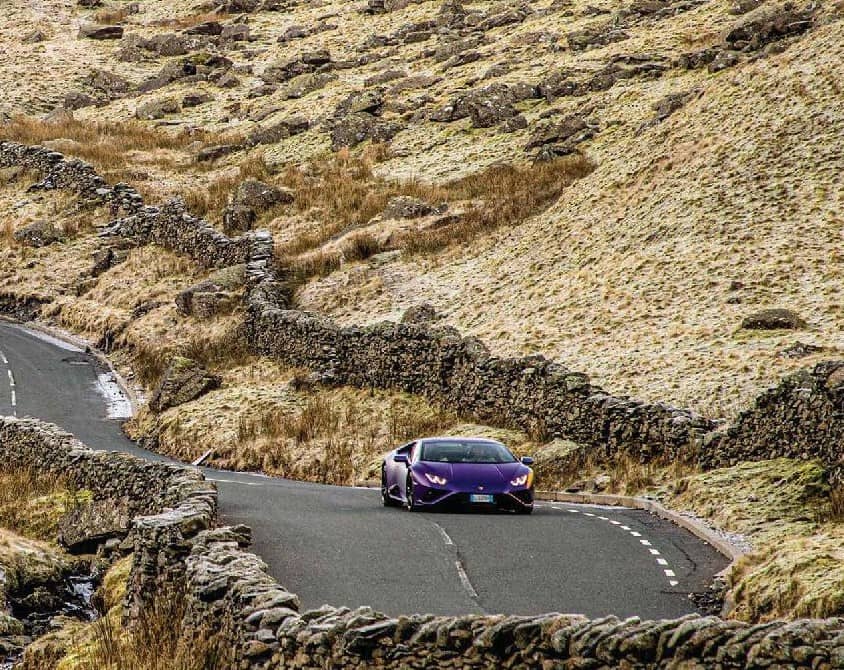 The starting point is last year's Huracan Evo, from which Lamborghini deletes all the stuff you're supposed to covet, including all-wheel drive, rear-wheel steering, and the near sentient Lamborghini Dinamica Veicolo Integrata system, an electronic brain that predictively governs the suspension, steering, all-wheel drive and so on. (Confession: Lamborghini has also adjusted the bits of the design it can cost-effectively tweak, but I can't tell, even if I do adore that it looks like a pimped stealth fighter in matte Viola Mel.)
It's why this Huracan is 33kg lighter at 1389kg without fluids (we'd have guessed closer to an 80kg saving, but we'll get to that), with the majority of those kilos shorn from the front axle, shifting the weight distribution from 43/57 per cent front-to-rear to 40/60. Another bonus.
But this significant de-contenting also removes some of the stuff keen pedallers might crave, to stop this entry-level Lamborghini getting ideas above its station: the magnetorheological adaptive dampers and Dynamic steering fitted to our test car are now options, while our car sticks with the standard 19-inch alloys and cast-iron brakes. The regular Evo gets 20-inch wheels and carbon-ceramics thrown in. In part, the latter account for why the RWD isn't another 40-50kg lighter but, again, you can option it all back in.
You can read up to 3 premium stories before you subscribe to Magzter GOLD
Log in, if you are already a subscriber
Get unlimited access to thousands of curated premium stories and 5,000+ magazines
READ THE ENTIRE ISSUE
June 2020