ALL THE KING'S HORSES
MOTOR Magazine Australia|May 2020
DOWNSIZING? HYBRIDISATION? NOT HERE. IN 12-CYLINDER FLAGSHIPS FROM BENTLEY AND ASTON MARTIN, WE BRING THE NOISE TO THE ALPS
THE GOTTHARD TUNNEL is the most direct route between Airolo in the far south of Switzerland and Goschenen, 20km north. It's way below our feet as we watch evening traffic stream towards its southern entrance on the floor of the valley, its walls sheer mountainsides. We could hop in the Bentley Continental GT Convertible and Aston DBS Superleggera Volante, bound downhill, then sit in a straight line on the A2 north. In the dark. With lorries and fumes. The sat-nav thinks we should.
Pah! One hundred years ago, when Bentley was newly established and Aston only six years old, there was no tunnel, only the Gotthard Pass, carved over the Alps by men with pick axes braving conditions that might have given Edmund Hillary a wobbly lip. Today it's the longer, more perilous option, but it also happens to be a giant beanstalk of a road that stretches to the heavens and cool evening air above.
Given we're driving 12-cylinder convertibles built for grand touring and glancing back a century in the rear-view mirror, it feels appropriate to take the longer, older way back to tonight's hotel, to drive faster but arrive later and celebrate automobiles that stand as the very last of their kind.
Sat-navs off, roofs down, the Aston roars away in gunpowder crackles of exhaust flare and spikes of turbo boost, the Bentley a more dignified kind of very rapid progress with its torque curve like a stiff upper lip and stoic all-wheel drive.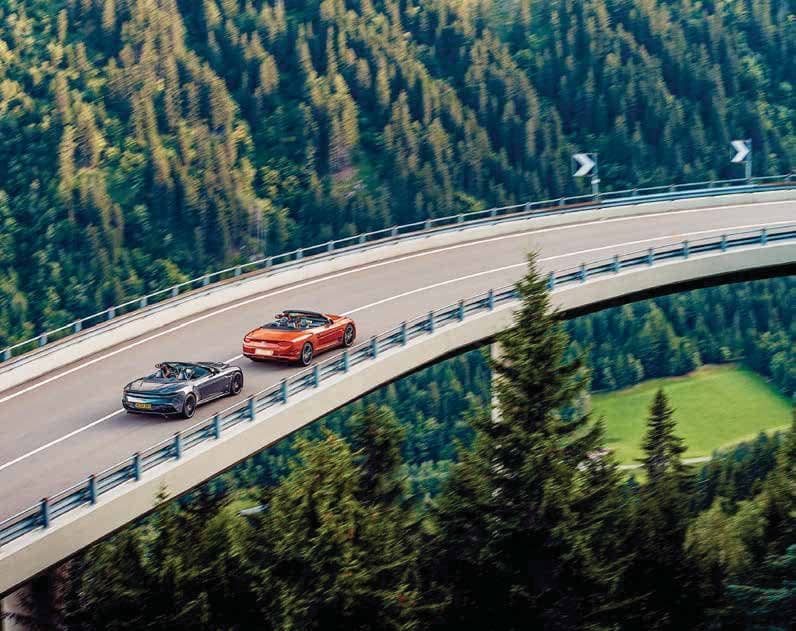 It's a reminder that for all their conceptual similarities, what we have here are two quite different takes on the convertible GT. Yes, the DBS and Continental are produced by two of the most storied of British luxury marques, both cosset and pamper with exquisite leatherwork and thickly insulated fabric roofs, and both are over-specified with 12-cylinder twinturbo engines that turn zero into 100km/h in a whisker over 3.5sec and blow past 320km/h. But in philosophy as well as execution? Definitely different. Two days exploring Switzerland will crystallise their strengths and weaknesses.
The Aston DBS Superleggera Volante, based on the V12 DB11 AMR, cherry-picks three iconic names from Aston's past: the DBS initials returned for the V12 coupe last year after an eightyear sabbatical; Volante is a posh way of saying you can remove the roof; and Superleggera is a reference to Italian coachbuilder Carrozzeria Touring Superleggera and its lightweight tubular spaceframe/aluminium body construction, and recalls a collaboration that began on the DB4.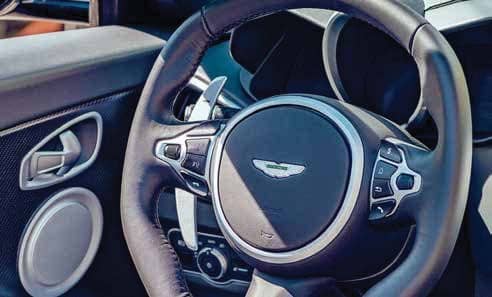 While the DBS isn't particularly leggera at around 1890kg, there is an all-new carbonfibre body, with a gobbier look and swept-back headlights like a DB11 on a rollercoaster, as well as up to 177kg of downforce (just 3kg less than the coupe). The composite also helps drop 72kg over the DB11 AMR when coupe models are compared (there's no AMR Volante thus far), though a DBS Volante is 170kg chunkier than a coupe.
Don't fret too much, because Aston has given its 5.2-litre V12 a vigorous working over to yield a total of 533kW and 900Nm, some 63kW and 150Nm more than a DB11 AMR, then toughened up the transmission with a carbonfibre prop and thrown in the hand grenade of a shorter final drive to lower the overall gearing.
The first time you accelerate hard you'll probably depress the throttle three-quarters of its travel and reflexively back off in awe – all the Aston's weight, the drag as it cuts through the air, the friction bound up in its rotating masses, all of it is apparently cast aside in one torque-laden, giddy seam of acceleration. Exposure does little to lessen the impact of this car's any-gear, any-speed urge – 80 to 160km/h in fourth is gone in 4.2 seconds!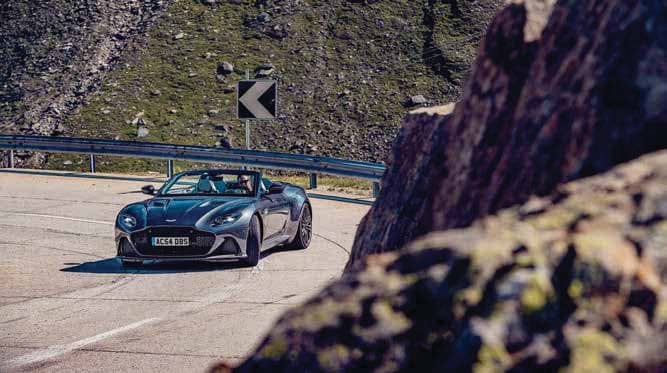 Thankfully, there are decent odds on mortals containing this cultured violence courtesy of a significantly revised Matt Becker Who Used To Work At Lotus™ chassis: 5mm lower than DB11, with extra camber front and rear, retuned steering and brake-based torque vectoring, plus larger 21-inch wheels with 10mm-wider tyres over carbon-ceramic brakes.
Bentley's convertible version of the third-generation Continental GT produces 467kW and 900Nm from its twinturbocharged W12 and wears a smart aluminium body that can only apologise profusely that it still weighs 2414kg, even if it is an impressive 80kg lighter than its predecessor, and its body five per cent stiffer.
So the Bentley is less powerful and much heavier, but it's a more opulent kind of GT – this much is obvious from a more upright and formal design that's given spectacular definition by super-formed aluminium panels with crisp creases like a perfectly ironed shirt, and the jewel-like detailing of its headlamps, a grille like stately home gates and the test car's optional 22-inch alloys.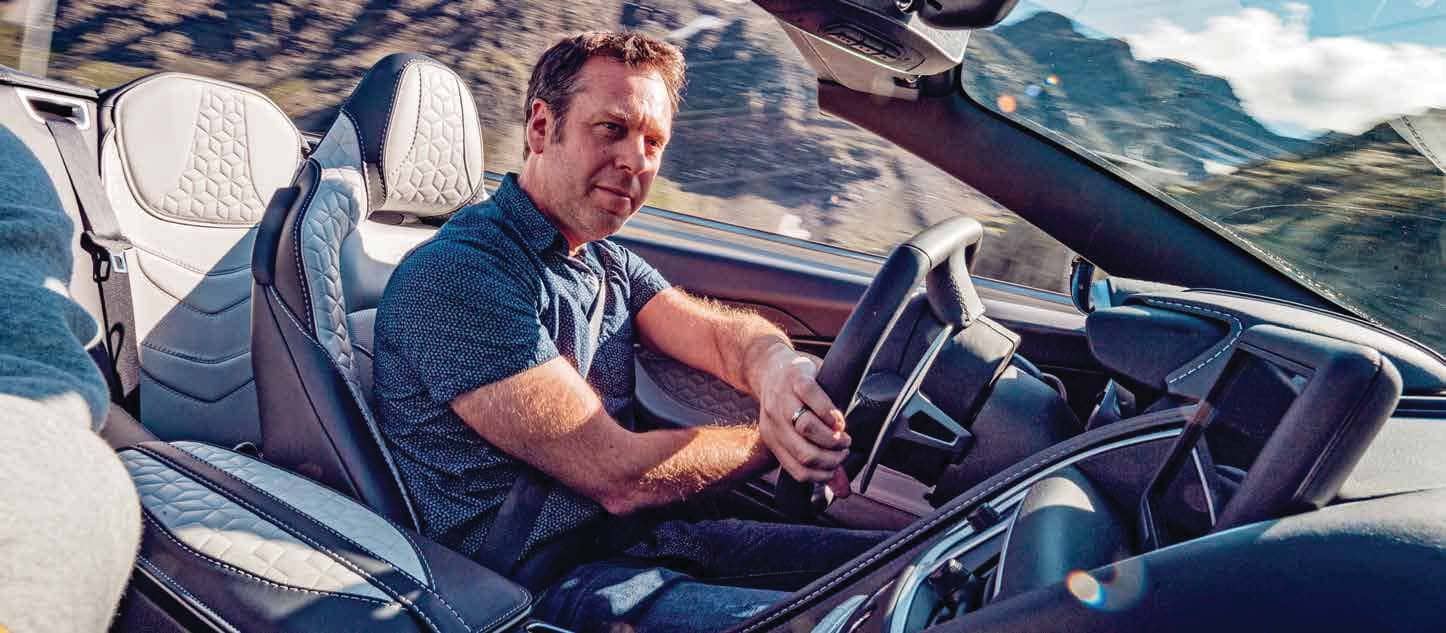 The aesthetic sophistication is complemented by engineering that puts an emphasis on comfort and luxury but doesn't overlook dynamics; air springs with 60 per cent more air volume than the previous model, a 48-volt antiroll system that removes the compromise of rigid anti-roll bars, active all-wheel drive that can apparently recognise a good driver and give them more freedom to play (and vice versa), huge 10-piston front brakes with 420mm discs, and an endless list of driver-assist acronyms to take the stress out of holding a steering wheel.
You can read up to 3 premium stories before you subscribe to Magzter GOLD
Log in, if you are already a subscriber
Get unlimited access to thousands of curated premium stories and 5,000+ magazines
READ THE ENTIRE ISSUE
May 2020