Meant To Be
Land Rover Monthly|December 2019
This 1956 Series I Mountain Rescue ambulance is probably the only one of 25 built that survives. It's a remarkable vehicle with a fascinating story. Nick Dimbleby reports
YOU need to meet my mate Mike," my recently-acquired brother-in-law Graham kindly told me at his wedding to my sister Caroline. Mike, it transpired, was involved in a very special Land Rover project, and having heard a little bit more about it from Graham, it seemed that I did indeed need to speak to Mike. I hadn't planned on talking Land Rovers on such a family day, but when they are a passion and you live, sleep and breathe them, they tend to find you, even when you're not looking!
Mike, you see, is a person who also lives for his Land Rovers. His partner Maryana is similarly afflicted, and when you add their friend John Allen into the mix, you're really in a whole heap of Green Oval trouble. Mike is an electrical engineer by trade, but he's also a pretty handy metal fabricator. Maryana manages the workshop of a family-owned garage, while John is one of those people who just gets stuff done. His father was a design engineer at Rolls- Royce Aero, so he's spent his life surrounded by engineering, parts, technical drawings and tools.
This trio was the perfect combination to take on a project that would see most people heading for the door: restoring a hedge full of Series I bits including a coachbuilt back body that was once an aluminium-bodied RAF ambulance. Having
The ambulance interior was completely rebuilt from scratch, including full length 'elephant hide' seats made by Undercover Covers of Birmingham served its useful life in the military, it was turned into a family camper during the 1960s, then – having been parked up in 1969 – lay dormant outside for 46 years in a garden just outside Penzance. When you see the photos of what the trio started with, it's a wonder that they started at all.
The vehicle itself (chassis number 870-6-00013) started life as a Land Rover 107in 2.0-litre petrol, built at Solihull in late February 1956 and despatched on March 1 to Bonallack & Sons Ltd (Coachbuilders), of Basildon, Essex, where it was converted into the first of a new generation of Land Rover ambulances for use by the relatively recently formed RAF Mountain Rescue Service (MRS).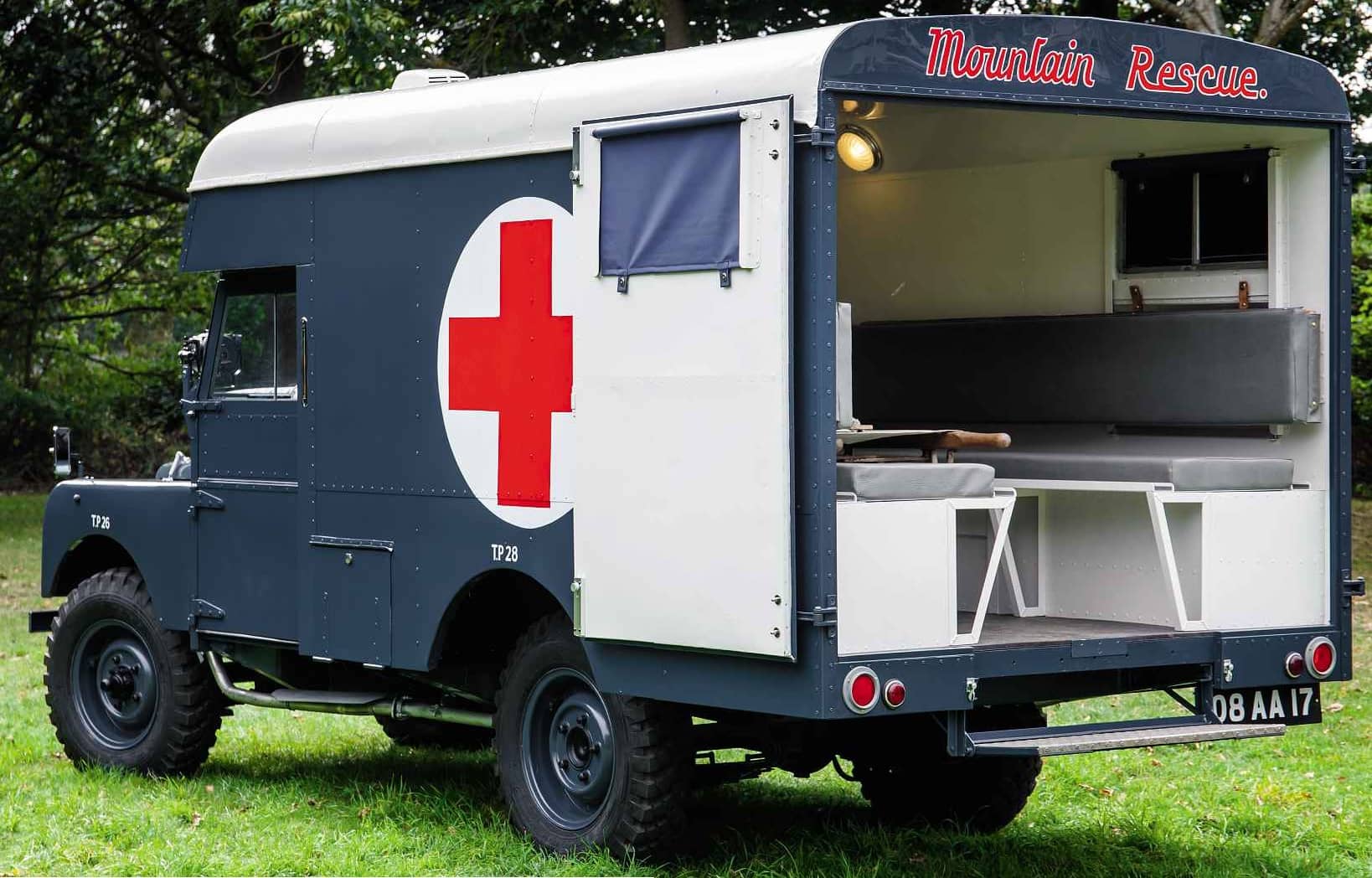 The MRS has its origins late in the Second World War, when teams of doctors and searchers (under the lead of Flight Lieutenant 'Doc' Graham) were formed at RAF Llandwrog in North Wales, RAF Millon in the Lake District and Harpur Hill in the Peak District to find and rescue injured pilots and aircrew from downed planes in the neighbouring hills and mountains. Initially, these teams used US-sourced Jeeps and Humber, however post-war, as they reached the end of their useful life, the Air Ministry chose the relatively new Land Rover to replace them.
By now, the MRS was relatively well established, with a new base at RAF Valley on Anglesey, and another nine teams at RAF bases around the UK and abroad, most notably in Cyprus and Sharjah in the Middle East. The long-wheelbase Land Rover, with its specially designed coachbuilt body, was designed to do the job of both the Jeep and the Humber. An order for 11 vehicles was placed with Land Rover, with the handmade coachbuilt aluminium body produced by Bonallack & Sons.
The vehicle on these pages is one of this first batch of eleven, and – as far as we know – is the sole survivor of this and the subsequent batch of 14 Series I ambulances that was ordered in 1957. Further military Land Rover ambulances would be based on the Series II LWB chassis, so these 25 107in ambulances are the only Series Is known to have been made with this type of body.
You can read up to 3 premium stories before you subscribe to Magzter GOLD
Log in, if you are already a subscriber
Get unlimited access to thousands of curated premium stories and 5,000+ magazines
READ THE ENTIRE ISSUE
December 2019