The last is still AWESOME
Jaguar Magazine|Issue 201
THE LAST SUPERCHARGED V8 F-TYPE R CONVERTIBLE ON UAR AUSTRALIA'S PRESS FLEET. IT'S HARD TO SAY GOODBYE.
IT IS A LITTLE DIFFICULT TO COMPREHEND THAT THE ERA OF Jaguar's howling V8 F-TYPE AWD Convertible is almost at an end. When Jaguar Australia's James Scrimshaw asked if we would like to report on the last Convertible he would ever have on the press fleet we said 'yes', of course, but were shocked that the end of these spectacular sounding, and looking, Jaguars was in plain sight.It needs to be recalled though Jaguar Land Rover announced some years ago that by the end of 2020 all models would be available as either fully electric or an electric hybrid - but don't fret. The supercharged V8 Coupé remains. Jaguar Australia's James Scrimshaw explains. "There will be no more F-TYPE R AWD Convertibles as of the model-driven here. This is an Australia only decision, but the 2021 Model Year F-TYPE R AWD Coupé is available in Australia. It produces a whopping 423kW - the same as per the 2020 Model Year F-TYPE SVR! There is no SVR F-TYPE as of the 2020 model, but instead the 2021 F-TYPE R AWD Coupé is more hardcore. It is closer to the 2020 F-TYPE SVR in spec, apart from the big rear spoiler."

We are all familiar with the F-TYPE which comes with everything including an appealing four-cylinder variant, so exactly what does this R Convertible bring to the party to make this car a civilised beast? More power alone won't cut it with the discerning collector, they want a little fairy dust such as bespoke materials, a different sound system and more.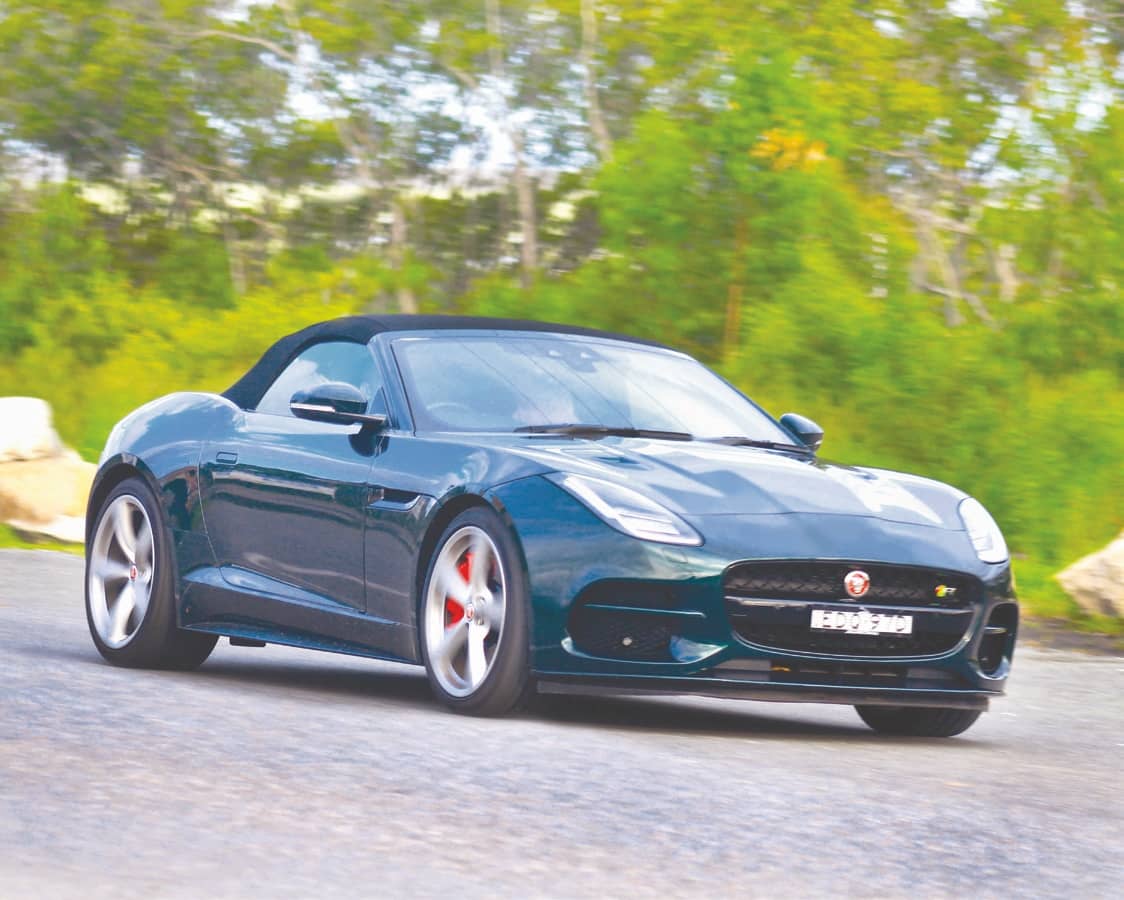 The supercharged 5.0 litre V8 develops 420kW (564bhp) and 516lb ft of torque, the latter figure is too much for a manual transmission. That is why it's mated to an eight-speed auto gearbox. It's enough to give this F-TYPE supercar territory performance figures.
And as for the four-wheel-drive system which can accompany this F-TYPE, purists need not fear; it's still rear-wheel drive mostly, with power sent to the front wheels when needed as part of an adaptive-dynamics system.
The titanium quad exhausts, with valves that open at 2500 rpm to enhance the noise, emit a brilliant sound more akin to splintering metal than what you might anticipate.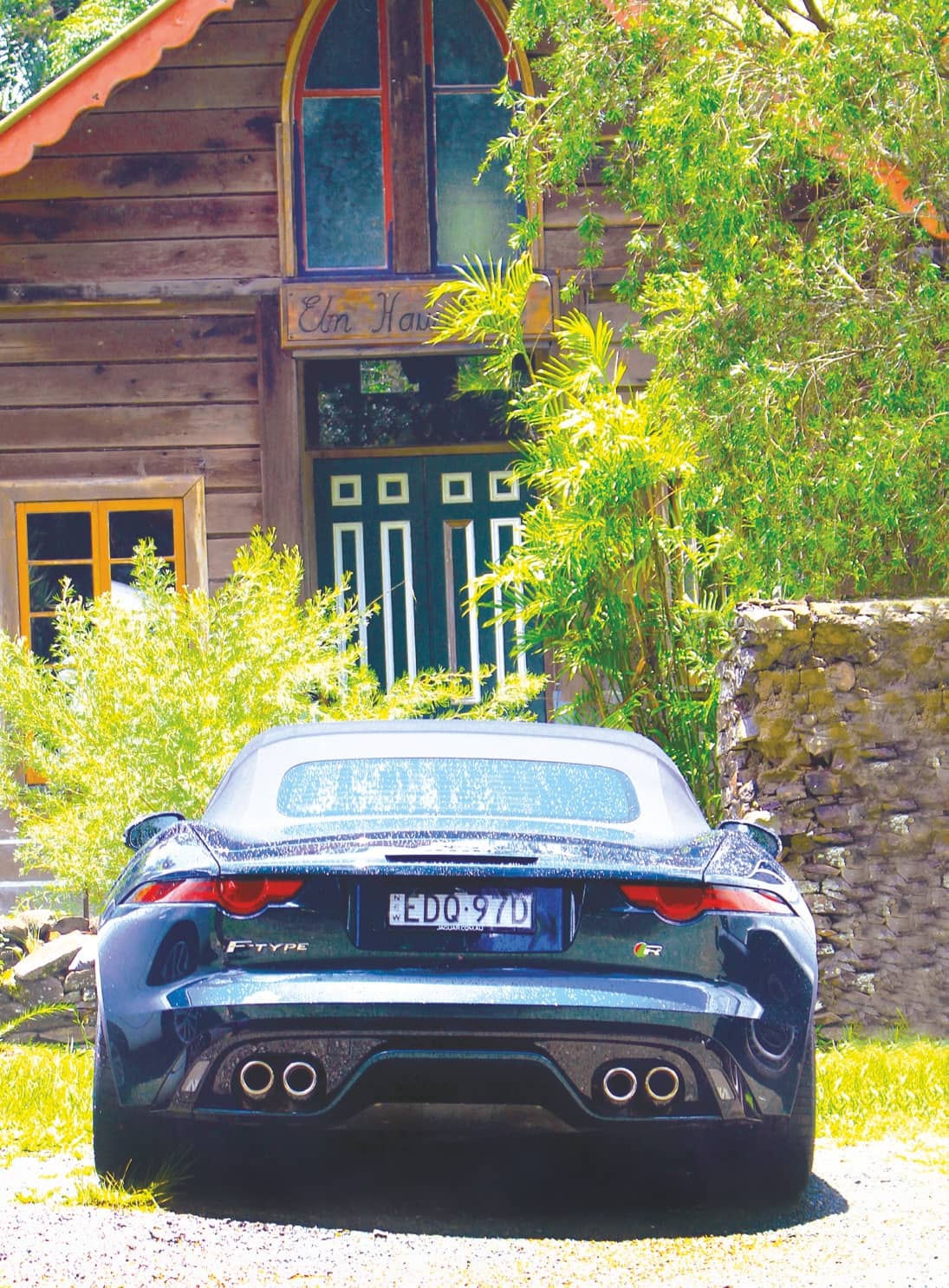 The blindingly quick shift gear changes do as the name suggests, especially with the aluminium paddles behind the steering wheel. The car's steering actions are precise and the aerodynamic latest bumper, front splitter, flat underfloor, rear diffuser and active rear wing which springs up automatically above 113 km/h (70 mph), all help to push you flat to the road through the corners.
What about that fairy dust? Now retired Design Director Ian Callum and his team kept the exterior design changes to muscular aerodynamic additions. The interior consists of quilted leather on doors and seats, an up-dated steering wheel and those aluminium paddle shifters plus accelerator.
You can read upto 3 premium stories before you subscribe to Magzter GOLD
Log-in, if you are already a subscriber
Get unlimited access to thousands of curated premium stories and 5,000+ magazines
READ THE ENTIRE ISSUE
Issue 201