TRIPPY FISHY
Hot Rod|May 2020
The Latest Masterpiece from the Super Stock Legends
In 1968, Chrysler commissioned Hurst Performance to build about 50 1968 "BO29" Plymouth Barracudas and 50 1968 "LO23" Dodge Darts powered by the 426 Hemi engine. These purpose-built A-Body Mopars were intended to compete in Super Stock drag racing, and featured lightweight seats, fiberglass body components, a large hood scoop, lightweight side glass, and no sound deadener. According to Mopar expert Jim Kramer, Chrysler ended up building 72 BO29 Barracudas and 83 LO23 Darts between February and May 1968.
Those 155 Hemi cars were instantly all the rage in 1968 Super Stock drag racing competition, and their popularity has continued to grow at the racetrack over their 52-year run. NHRA has designated the SS/AH class as the home for all Super Stock '68 Hemi Barracudas and Darts. Of course, the real-deal BO29 and LO23 cars are too valuable to race, so most of today's SS/AH cars are clones.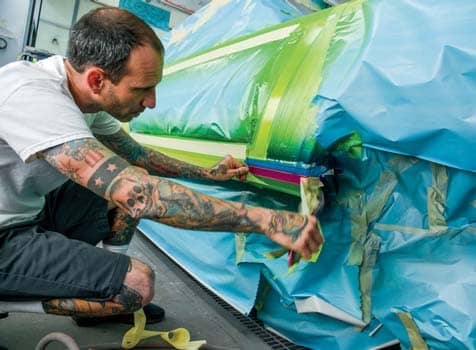 The present-day premiere event for SS/AH class is the Dodge Hemi Challenge at the U.S. Nationals in Indianapolis, at Lucas Oil Raceway, prior to and during Labor Day weekend. A total of 27 SS/AH cars were assembled in 2018 for the 50th Anniversary celebration of the Hemi A-Body cars. Bucky Hess was in attendance with his new ride, "Psycho Kuda". Psycho was packing a potent 426 Hemi built by three-time NHRA World Champion Pro Stock driver Jason Line, a state-of-the-art SS/AH chassis built by Phil Mandella at PMR Race Cars, and a spectacular '70s style paint job by Bucky's son, Travis "Tuki" Hess. Unfortunately, Bucky lost in the third round in 2018. He actually began speaking to humans a scant two weeks later.

The Psycho Kuda arrived at the 2019 Dodge Hemi Challenge at Indy stronger and more prepared for battle. But again, problems persisted. Lazy 60-foot times and other problems hindered his effort, resulting in another third-round loss. Knowing that Bucky was still intent on winning, Jason offered to take the Psycho Kuda down to KB Racing for intense testing, flogging, and research in order to make the car more competitive.
You can read up to 3 premium stories before you subscribe to Magzter GOLD
Log in, if you are already a subscriber
Get unlimited access to thousands of curated premium stories and 5,000+ magazines
READ THE ENTIRE ISSUE
May 2020