Jamie Johnson Asks…Do Similar Duration Cams All Perform About the Same, or Differently?
Hot Rod|April 2020
QUESTION My favorite article is "Affordable Horsepower: Building a Low-Buck Small- Block" at HotRod.com. I like it because it shows how to get cheap, usable horsepower with lots of beautiful torque.
I have a 355 in a 1979 Z28. From what I'm told, it has Speed Pro [pistons]; a 222/230-degree, 0.480/0.480-inch-lift cam; 305 heads with streetable porting; headers; intake; and a 650-cfm Edelbrock carb. I would like to copy your engine setup from the article, but I have a cam question for you. The Summit K1105 cam choice is where I'm lost. It has a range of 2,400–6,000 rpm, yet it gave great numbers in such a usable range. How can this be?
There is a different cam (Comp PN 12-321-4) with similar specs but a 1,500–6,500 rpm range; will this be better, worse, or the same? Is it worth using this different cam?
ANSWER To get our readers up to speed, for a $1,073 outlay (in 2010 dollars) reader Johnson's referenced top-end conversion used a stock 350 pulled in the boneyard for $150 (including core charge) that, in its ultimate form, made 418 hp at 5,500 rpm and 444 lb-ft of torque at 3,800 rpm. Torque production exceeded 400 lb-ft from 2,800 rpm all the way to 5,500 rpm. Key parts included Summit's K1105 flat-tappet hydraulic cam and lifter kit, and Procomp aluminum cylinder heads, rocker arms, dual-plane intake, and gaskets.
I'm going to take you at your word that you want to duplicate as closely as possible the article's build, including the heads, intake, and the carb; and not reuse your existing top-end parts. Procomp heads have been rebranded Speedmaster, and remain quite affordable. Still close analogs to the 2010 castings, they're currently offered with 59 or 64cc chambers (instead of the 70cc volume in the original article). That raises static compression ratios about ½ to 1 point, always a good plan with cooler-running aluminum heads and larger cams.
The complete cam specs for the two cams which are the subject of your inquiry, as well as two additional modern upgrade grinds with similar durations, are in the Cam Specs table on page 76. Your two cam choices have similar intake/exhaust duration at 0.050-inch tappet lift, but different advertised durations. Summit's cam has a tad more intake valve lift than Comp, but 0.027-inch more exhaust valve lift; in fact, Comp's grind has less exhaust lift than intake lift which, by old-school standards, is uncommon. Also note the lobe separation angle (LSA) for each cam is different: a wide 114 degrees for Summit, a tight 109 degrees for Comp. The opening/closing points, the overlap, and the claimed rpm range are different for each cam; therefore, the cams won't perform the same. To get the lowdown on this very complex subject, we spoke with Comp Cam Valvetrain Engineering Group Manager Billy Godbold.
We'll start by telling you which commonly available specs are not reliable for a meaningful comparison. Sorry to disillusion everyone: Any cam's published "rpm range" is not reliable, especially across different manufacturers. Even within the same manufacturer, the engine's bore, stroke, rod ratio, cylinder-head flow, displacement, valvetrain weight, carburetor size, and more can affect the cam's real-world rpm operating range.
Relying on advertised duration as a basis for comparison is no better. First, different manufacturers rate the published advertised duration at different amounts of tappet lift. As Godbold puts it, "Each manufacturer uses a different Ouija board." Comp pegs advertised duration for its flat- and roller-tappet hydraulic cams at 0.006-inch; Summit doesn't publish that value. Second, the initial momentum of the cam base circle (valve seat) really depends on the lobe profile's design intent—intensity versus smoothness, for example—and is evolving as valvetrain technology evolves.
Modern lobe profile opening and closing rates can be quick, slow, or variable, as required to best match today's valvetrain parts and ensure max performance and valvetrain stability. Advertised and 0.050-inch duration are just two arbitrary points on the overall lobe shape and fail to account for subtle shape differences. This calls into question the practice of picking a cam based on so-called "intensity," or the difference between advertised duration and 0.050 duration. "Because modern, sophisticated lobe profiles may not have a constant opening and closing velocity," explains Godbold, "Even if you know for sure the advertised duration is at the same lift value, comparing advertised and 0.050 duration and choosing the cam where the advertised duration is closer (has less spread) to the 0.050 duration, can no longer be relied on in all cases."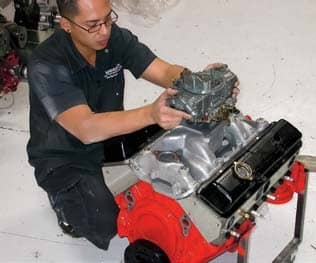 You can read up to 3 premium stories before you subscribe to Magzter GOLD
Log in, if you are already a subscriber
Get unlimited access to thousands of curated premium stories and 5,000+ magazines
READ THE ENTIRE ISSUE
April 2020