Cadillac Rescue
Hot Rod|August 2020
Reviving a '60s 390 Cadillac Engine
Sometime in the early '50s, inside a dimly lit mechanic's garage, a pushrod was rolled between grease-stained fingers. "I'll be darned," was uttered through seasoned lips as a technological advance that would soon carry through the 21st century was observed for the first time: the pushrod. Today, we're spoiled by overhead valves that move huge breaths of air and tickle 8,000-plus rpm with relative ease, but when the standard performance hardware of the day was a flathead engine, that simple, effective pushrod had to seem like a wild leap into internal combustion future.
Cadillac's first entry into the overhead valve world was a 331ci V8 launched in 1949, and it was a huge leap in automotive innovation. Those 331 cubic inches quickly grew to 365ci, and then 390ci as America's passion for pushrod-activated power swelled.
Advanced features such as shaft-mount rockers, an improved oiling system, and five bolts per cylinder clamping the head in place allowed these early Cadillac engines to pave the way to performance.
It wasn't long before hot rodders figured out the merits of the Caddy. They were quick to add blowers, cams, headers, as many carbs as would fit, and send their Caddy-powered machines to the salty lanes of Bonneville and hallowed grounds of early drag strips across America.
We at HOT ROD thought it would be a welcome break from the monotony of LS big-block and small-block builds to put together something from the past, our past—an engine that helped shape the modern mills that power our hot rods of today. So we found a Cadillac 390 core and got to work.
Our 390, a 1961 model-year block, represents what was once a pinnacle of speed equipment, and we wanted to resurrect it in the spirit of that era. That meant a flat tappet cam, multiple carbs, and dripping with chrome. We collected all the bits and pieces including an Isky Racing camshaft, brand new Stromberg big-bore carbs, an Offenhauser intake, and a set of custom JE forged pistons and headed down to L&R Engine in Santa Fe Springs, California, to get the block machined. Once it was bored, honed, hot tanked, and the crank polished, we set to work on the resurrection.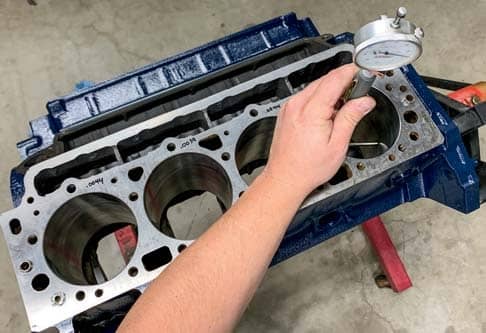 Sources
ARP Bolts; 800.826.3045; arp-bolts.com
JE Pistons; 714.898.9763; jepistons.com
Isky Racing Cams; 310.217.9232; iskycams.com
Sanderson Headers; 800.669.2430; sandersonheaders.com
Speedway Motors; 800.979.0122; speedwaymotors.com
Stromberg 97; 011.44.1473.811700; stromberg-97.com
Pertronix; 909.599.5955; pertronix.com
Powermaster; 630.957.4019; powermastermotorsports.com
Egge Machine; 562.945.3419; egge.com
L&R Engine; 562.802.0443; lnrengine.com
Trend Performance; 586.447.0400; trendperform.com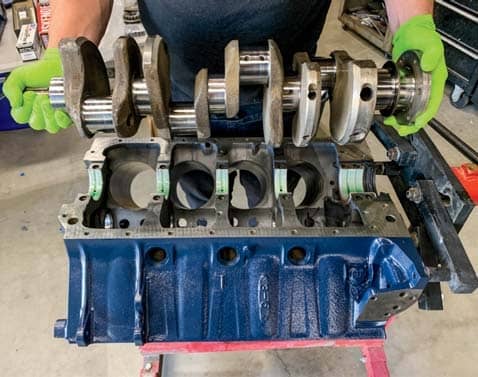 You can read up to 3 premium stories before you subscribe to Magzter GOLD
Log in, if you are already a subscriber
Get unlimited access to thousands of curated premium stories and 5,000+ magazines
READ THE ENTIRE ISSUE
August 2020