Build a 501-Inch Ford Big-Block Torque Monster
Hot Rod|June 2020
In the five decades since Ford's "Lima" series V8 first debuted with 460 cubic inches under the hood of the 1969 Lincoln Continental Mark III, the mighty canted-valve big-block has earned a solid reputation for durability and ease of modification. Though factory high-performance development maxed out in 1971 with the 370hp 429 CJ-R, you don't need a rare muscle car core engine to get plenty of power.
Ford 429 and 460 blocks share the same 4.36-inch bore diameter but juggled stroke to get 429 (3.59-inch stroke) or 460 (3.85-inch stroke) cubic inches. Any healthy 429 or 460 block can be made into our 501 with a 0.0305-inch overbore and 4.3905-inch bore diameter. That said, be aware that Ford 429/460 blocks come in three different deck heights: 10.3000 (1968–1970½), 10.3100 (1970½–1971) and 10.322 (1972-up). Each subsequent deck height increase lowered compression by roughly ½ point as Ford entered the smoggy '70s. Be sure you know which deck you've got before ordering parts to avoid piston-to-head contact and unwanted compression ratio errors. Our 1971 block has the 10.3100-inch deck height which was machined 0.010 inch.
Thanks to the fact Ford started stuffing 460s into pickup trucks and Lincoln luxury barges in the smog-'70s, there are millions of available core engines out there just waiting to be poked and stroked into top-notch street and strip performers. And thanks to Edelbrock's Power Package Top End kit, the usual guesswork associated with selecting the right combination of heads, cam, and induction has been eliminated. Let's watch as Donnie Wood and Steve Chmura of R.A.D. Auto Machine transform a 460 into a stump-pulling 501ci stroker with over 500 lb-ft of torque from 2,300 to 5,300 rpm.
And thanks to the substitution of the heavy cast-iron heads and manifold with light aluminum, the end result weighs about the same as an all-iron 351, so it won't hinder rearward weight transfer onto the slicks, or sink the front axle into the mud, as the case may be!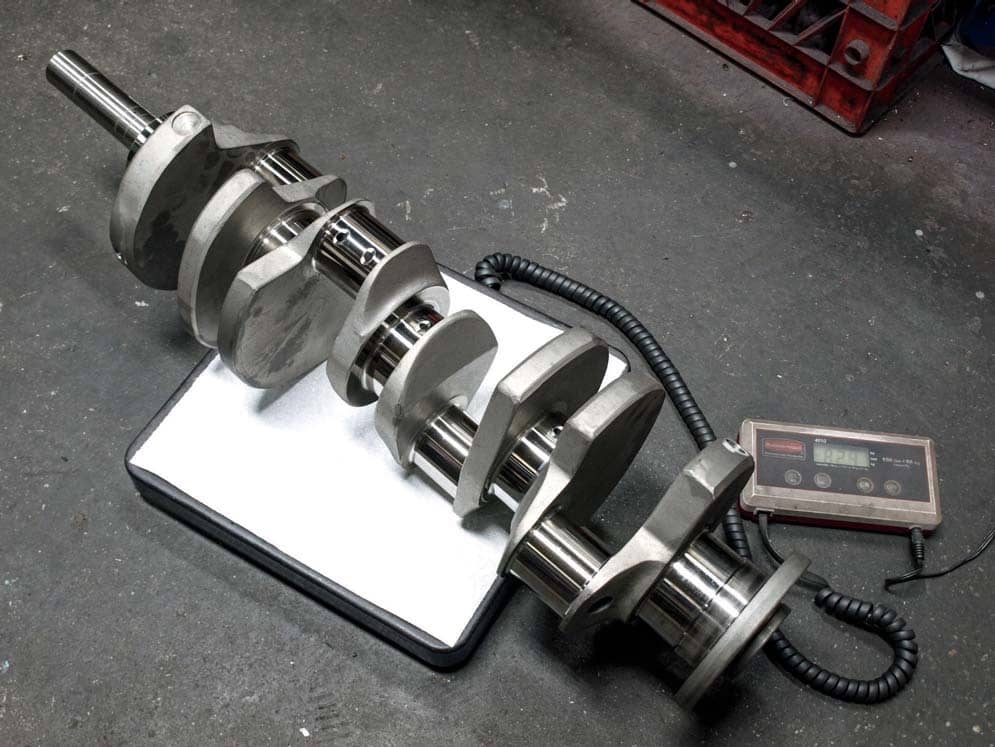 01] The Eagle stroker kit (PN 15015) includes crank, rods, pistons, rings, and bearings. The 4340 forged steel crank (82.2 pounds) accepts automatic transmission flexplates and manual transmission flywheels and pilot shafts. The 4.140-inch stroke is 0.290 inches longer than a stock 460, and 0.550 inches longer than a stock 429.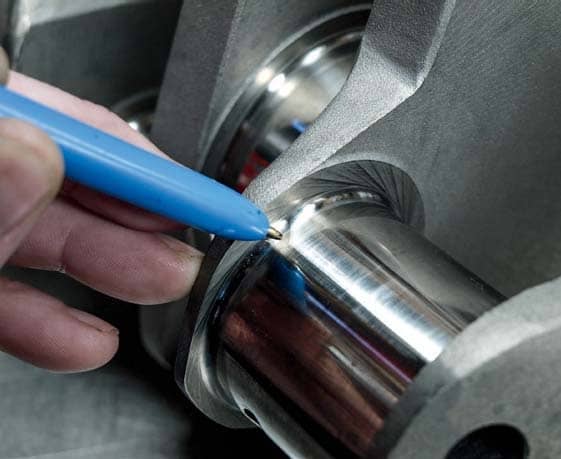 02] The pen points to the radiused transition between the rod journal and counterweight cheek. This premium feature eliminates stress risers which form at the abrupt 90-degree unions found on stock crankshafts. The bob weight works out to 2.185 grams, similar to a Chevy big-block.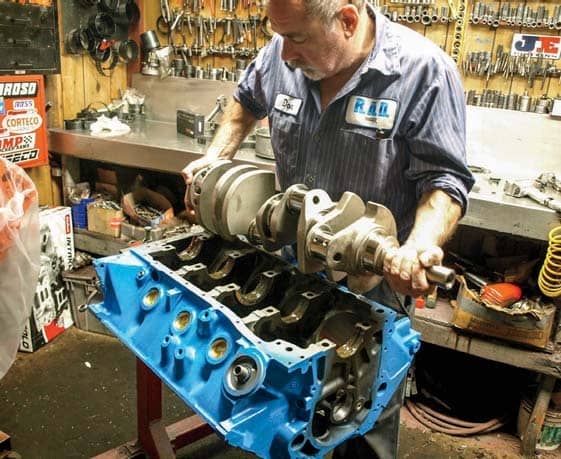 You can read up to 3 premium stories before you subscribe to Magzter GOLD
Log in, if you are already a subscriber
Get unlimited access to thousands of curated premium stories and 5,000+ magazines
READ THE ENTIRE ISSUE
June 2020