Backstage Past Part 10:1963
Hot Rod Deluxe
|
January 2020
This Glendale, California, photo session produced the Bob D'Olivo (behind camera, right) transparency that became one of HOT ROD's most-artistic covers.
Ever the perfectionist, Petersen Publishing Company's longtime lead photographer still regrets one oversight: "Looking at the 'chromes after the shoot, I thought a bunch of decals on the window would have been a nice touch—Mooneyes, Isky, Edelbrock." Big Bob also revealed that the convincing wooden prop was custom-built by Randy Holt Sr., Robert E. Petersen's brother-in-law. HRM Editor Bob Greene (squatting) is shown directing cover models Bob Runyon, proprietor of Runyon Marine and Automotive, and Bill Johansen. This previously unseen scene was captured by another staff photographer, Pat Brollier.
BEST YET.
Starting in 1955, employees whose Petersen Publishing Co. duties involved cameras were required to submit a brief description and location for each roll or batch of exposed film turned in for processing. Someone on the small lab staff assigned each roll a file number and transferred the information by hand onto one line of notebook paper inside of a three-ring binder. After that particular strip of film dried, technicians cut it into sections for folding into a number-matching paper sleeve for filing behind locked doors, accessible only to department head Bob D'Olivo and a handful of trusted lab workers. Whoever shot the film got back a numbered proof sheet, only, from which to order prints for publication. Not even editors expected to ever see actual negatives.
Even after Xerox machines became commonplace in Petersen's early Hollywood buildings, nobody bothered to photocopy the only set of directions to millions of B&W negatives stored since D'Olivo initiated the archiving system with his own film of Palm Springs road racers (including five action shots of a nondescript Porsche entered by an unknown newcomer, name of Dean).
Miraculously, the full set of irreplaceable binders survived a disruptive series of corporate buyouts (beginning with Robert E. Petersen's 1996 sale) and headquarters relocations to serve all of us today—and those who follow—forever, if they're as lucky as HRD readers. Ironically, the internal thieves who repeatedly raided the storage drawers for a decade after D'Olivo retired recognized the benefit of leaving such handy guidebooks on the shelf for future reference.
Thomas Voehringer, the full-time archivist employed by today's publishing company, has spent a decade transferring those handwritten film-log entries onto a digital spreadsheet that enables the extensive research required for HRD to give an entire year its due in Backstage Past. Something gets lost, though, in the translation from fountain-pen ink in the individual styles of lab workers—including staff photographers D'Olivo and Pat Brollier, who assisted with processing, drying, and printing between photo shoots. Their handwriting conjures visions of the people, places, and things yet to be revealed during processing. The destinations recorded in 1963's frayed binder read like a rundown of every gearhead's fantasy automotive events—and then some; e.g., the year's very first entry, from January 2, is a single roll Brollier labeled "Pete's Landslide." As those 12 negs were among the personal film Mr. Petersen pulled upon leaving, we're left to wonder about his New Year's surprise. The same day, Brollier dropped off film from a "Teen Show" at pioneering L.A. rock station KFWB. The next week, those two guys were mingling with Hollywood celebrities and NASCAR drivers at one of Pete's legendary press parties.
Before the end of January, 1963's film log had added Tex Smith's AMBR-winning XR-6 roadster; '63-model Grand Prix, Valiant, Galaxie XL, Chrysler 300J, Avanti, and Riviera road tests; Hayden Proffitt's and Roger Penske's race shops; the Motor Trend-sponsored Riverside 500 stock-car race; Miss 500, Margie McNally (soon to be Mrs. Petersen), posing with the official pace car; acceleration trials on the sand in Daytona; a Jeep rally in Hawaii; Tom McMullen's Deuce roadster; a tour of Indy-car shops; a Top Fuel Dragster buildup; an intriguing Brollier entry reading, "KFWB—Wally Parks—Bobby Darin"; and two D'Olivo rolls described as "Bobby Boris Pickett—Monster Mash."
While we mere mortals were shivering through February, stuck indoors with months-old news in the latest PPC monthlies, the scattered editorial teams filling Pete's pages were enjoying sports cars at Riverside and Daytona; stock cars in the Daytona 500; hot rods, customs, and hot bikes in Oakland; NHRA's back-to-back Winternationals drags and car show; and road-testing the radical new Sting Ray, among the domestic and foreign vehicles thrust upon editors by automakers eager for Petersen's unrivaled exposure.
In March, while you were still praying for roads to thaw and tracks to open, those magazine guys were covering an unlikely road race near downtown Los Angeles; the press introduction of Mickey Thompson's second-generation Indy cars; the Atlanta 500; Sebring's 12 Hours; and the best dragster race of every season since 1959, Bakersfield's U.S. Fuel and Gas Championships. Closer to home, staffers simultaneously produced and documented a lavish send-off for ex-HRM Editor and longtime PPC editorial director Wally Parks, whose fast-growing National Hot Rod Association was demanding its president's full attention.
So went the rest of 1963, during which roaming staffers carefully wound nearly 3,000 B&W rolls into medium-format cameras, allowing just 12 compositions between reloads. On average, our editorial ancestors were shooting four rolls every hour, 24/7/365, in exotic automotive locales where millions of followers could only dream of ever "working." Alas, we have room for less than one-tenth of 1 percent of those approximately 35,000 images. Nearly all our selections are outtakes, published neither at the time nor ever since. Collectively, these 32 photographs suggest 1963 was the best year yet for enthusiasts and photojournalists alike.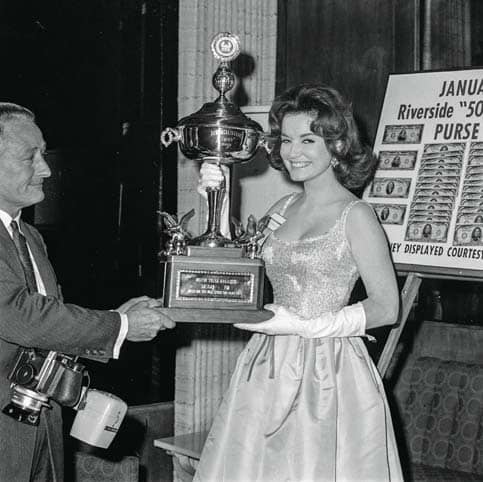 Try as he might, the would-be thief wrested neither the trophy nor the bills—including two-each $10,000 and $5,000 notes (left row)—from a protective queen at January's Riverside 500 press party. Margie McNally was the New York model engaged to host Bob Petersen, the founder of event-sponsor Motor Trend magazine and an original investor in Riverside International Raceway. The playful photographer is Pat Brollier, an amateur shutterbug and fulltime barber prior to accepting a life-changing position offered mid haircut by customer Bob D'Olivo.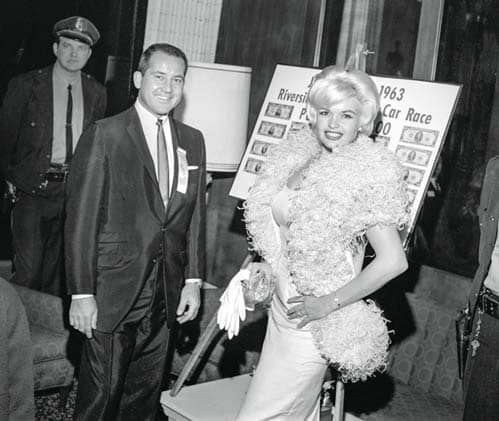 When it came to glamorous gal pals, Hugh Hefner had nothing on bachelor Bob Petersen (center). "Pete" greeted actress Jayne Mansfield between the pistol-packing duo hired to keep all $66,245 in currency (equivalent to $551,000 today) in place during January's press party. The biggest chunk was destined for Dan Gurney, who soon won the first of four straight and five total Motor Trend 500s (1963-1966; 1968)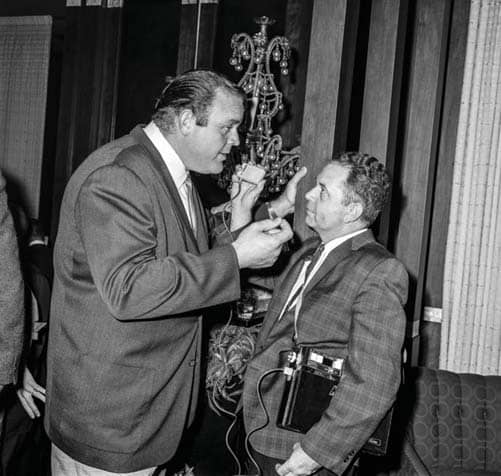 Celebrity partygoers included one of TV's biggest stars, literally. The gentle giant who portrayed Hoss Cartwright on Bonanza also campaigned serious SCCA sports cars (with average-sized drivers). None of our usual Hollywood sources recognized the guy lugging the portable tape recorder. "Whoever he is," cracked D'Olivo, "he should never stand next to Dan Blocker!"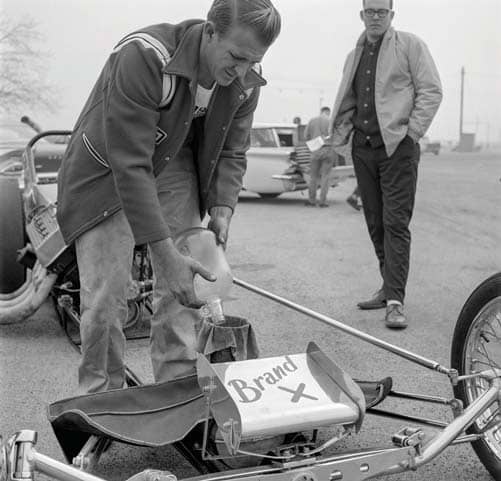 You can read up to 3 premium stories before you subscribe to Magzter GOLD
Log in, if you are already a subscriber
Get unlimited access to thousands of curated premium stories, newspapers and 5,000+ magazines
READ THE ENTIRE ISSUE
January 2020