Climbing Mountains With Motorcycles
HEAVY DUTY Magazine|May - June 2020
Royal Enfields in Nepal
When asked to climb mountains with a motorcycle, just say yes...
Living just 10 blocks from the juncture of the Great Plains with the Rocky Mountains in Colorado, I'm no stranger to tall peaks and riding the twisties. However, where snow-crested pinnacles rise to sheer majesty above 20,000 feet as they do in the Himalayas, it's entirely another story.
And so is getting through packs of bikes at which, I consider myself an expert (always in search of making a better photo.) The bar rises to a new level on the roads of Nepal. There were perils to mountain riding and getting through traffic I never knew existed. I found myself knee-deep in river crossings, scrambling up rocky inclines (without off-road experience), and on narrow paved highways (hardly paved or highways). Crammed intercity buses raced straight toward me in what seemed like a game of chicken, only much more severe. I found myself jostling in dirt shoulders more than once to avoid head-ons. Considering all the risks, there was no question – the brain must fire on all cylinders all the time in these conditions. Now, doesn't this sound like the making of a great adventure!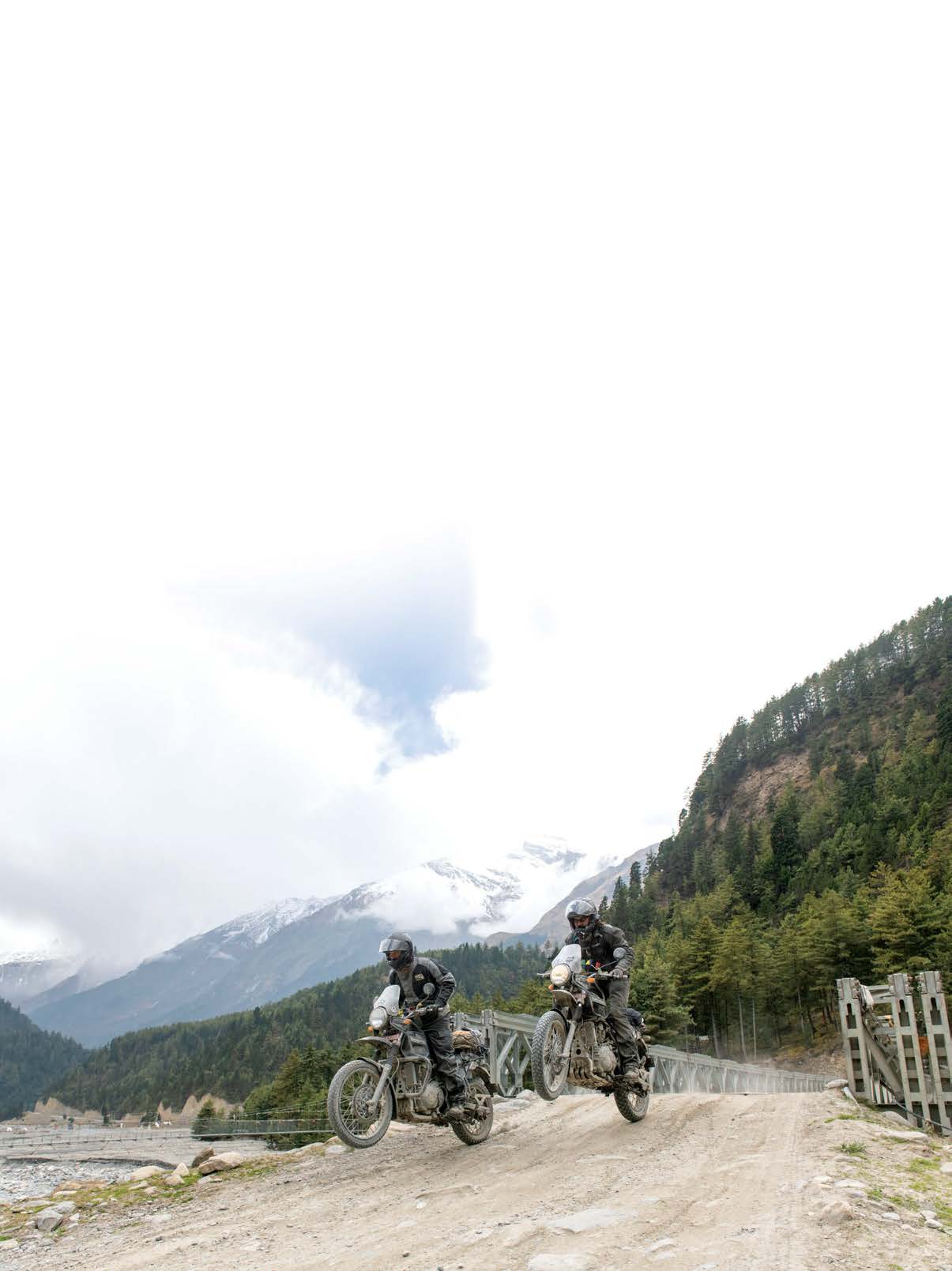 Let me explain that at the invitation of Bear Haughton and his Motorcycle Sherpa adventure company, I rode the proverbial "Stairway to Heaven" in Nepal, a country that is home to eight of the 10 tallest mountains in the world with the 29,000-foot (almost 9km tall!) Mount Everest at the top of the list.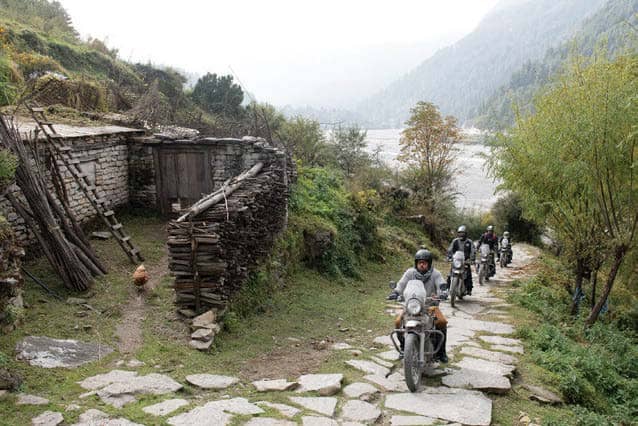 The group of riders included friends from the industry like Born Free's Grant Peterson, Round the World Doug, the "Mayor of Fun" Beanre', Kiwi Indian Mike Tomas, and the Twisted Oz Museum's Kelly Modlin. Then there were my favourite riding companions, my 31-year-old son Sean and best friend, Jonathan (who had the biggest smiles I've ever seen). Each of the 14 riders added something to the trip's personality. There were new friends like the bridge inspector Dave, who rode steady as can be, regardless that he could pop off his prosthetic leg at will (as he joyously did in the middle of the longest/tallest pedestrian/bike suspension bridge in Nepal). Then there were the three Canadian Amigos with their extraordinary brand of humour that kept everyone smiling.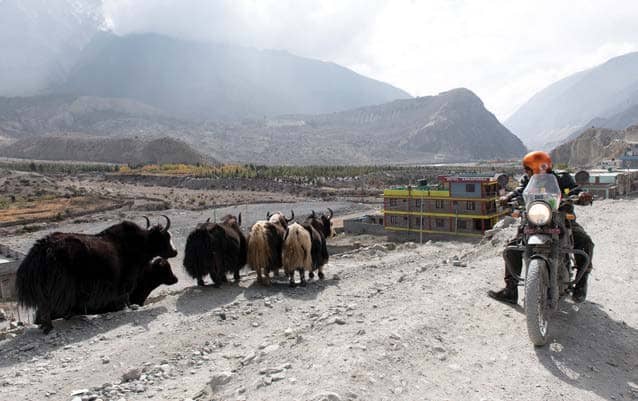 Months after this trip, in an unusual twist of fate, Bear and I were out riding a mountainous dirt road here in Colorado that reminded us both of Nepal, when he asked, "Hey Mike, why don't you run Nepal again?" Considering my motto is, "Just say YES", I had the incredible opportunity to ride the same route again, so this recollection is really the story of two trips.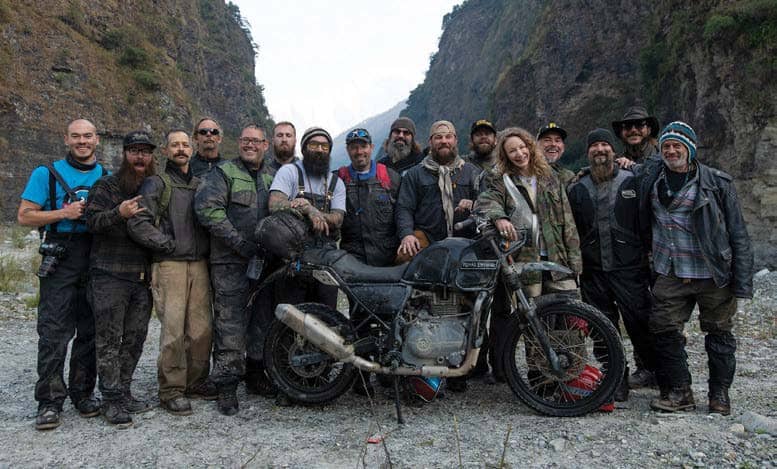 On the second trip, there was a different group of industry heavyweights like the podcaster Danger Dan, Led Sled's Pat Patterson, Mikey Revolt of LowBrow Customs, the Devil Chicken artist Chris Galley and a contingency from Biltwell.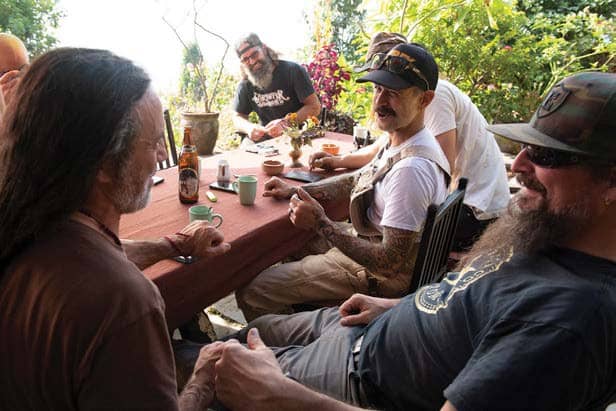 Fourteen riders made up this group as well, and I can say this is a perfect number. Just enough to have a variety of spice, but not so big that you didn't get to know each person well.
Riding a challenging route like this day after day, you found yourself depending on and trusting fellow riders, so much so that getting closer with old friends and fostering new friendships was inevitable.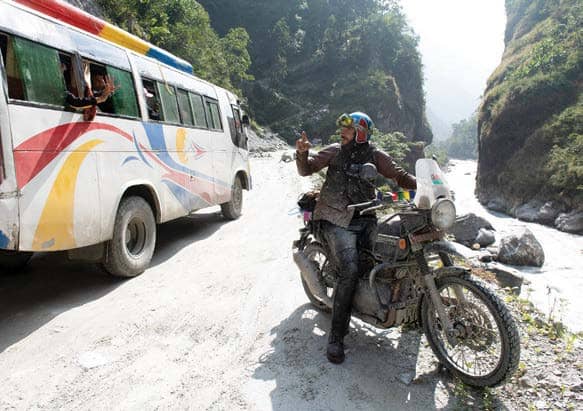 You can read up to 3 premium stories before you subscribe to Magzter GOLD
Log in, if you are already a subscriber
Get unlimited access to thousands of curated premium stories and 5,000+ magazines
READ THE ENTIRE ISSUE
May - June 2020