Overland Adventure East: Part 1
Four Wheeler|April 2020
Kicking off the multi-state adventure at Rausch Creek Off-Road Park
Some came to unplug from their everyday lives, others sought to explore an environment far removed from the one they called home. Either way, the 2019 TireRack.com Overland Adventure East was most importantly about the memories formed along the way. We know many 4x4 enthusiasts enjoy camping while wheeling, and some of us choose to extend those trips over multiple days while covering great distances, relying only on what has been packed into, on top of, or behind our rigs. Whether you call it a sport, your hobby, or way of life, overlanding can be described as self-reliant vehicle-based travel where the journey is the purpose—and from that was born Four Wheeler's Overland Adventure. From the stacks of applications submitted through fourwheeler.com, we selected 20 overland vehicles of various sizes, makes, and models, each equipped with true four-wheel drive, bearing unique sleeping accommodations, and hailing from all corners of North America to join us on our inaugural expedition into the East.
Call To Adventure
We crafted an adventure you likely would not experience by simply heading off into the backcountry on your own. Our journey not only included a tour of Rausch Creek Off-Road Park but also extended through scenic backroads covering the expansive Appalachian foothills, and concluded at the largest-ever Overland Expo East with a celebration banquet, raffle, and VIP camping on-site at the Expo.
And it got better. At the helm of the expedition was Rich LaRusso, an Off-Road Driving & Recovery Trainer certified by the International 4-Wheel Drive Trainers' Association who brought with him 10 years of off-road experience, loads of enthusiasm, and Tread Lightly! training. After long trail days came big appetites, so we made sure to appeal to each overlander's sense of taste each night with a smokin'-hot meal and dessert before everyone retired to the campfire circle.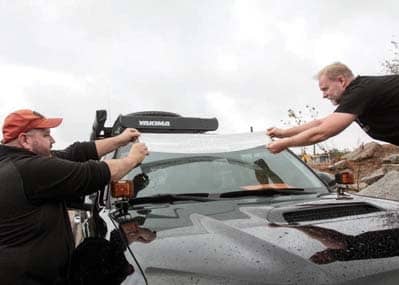 As the TireRack.com Overland Adventure East drew nearer, and the overlanders were preparing for adventure, some chose to take advantage of offers from the official event sponsors. Mamba Offroad Alloys outfitted a handful of participants with wheels for their rigs and trailers. Dee Zee Manufacturing, Dick Cepek Tires & Wheels, Hazard 4, and TireRack.com all stocked the giveaway table at Overland Adventure's celebratory banquet with everything from gift certificates to backpacks of swag. In addition to sponsoring the adventure, the folks from Dee Zee came along for the ride, bringing the company's own overland-equipped JL Wrangler, decked out with the company's accessories.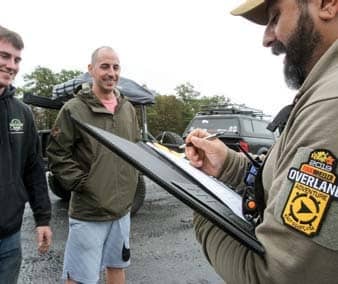 1 James Mallios and Austin Ganzermiller went through a full tech and safety inspection conducted by Rich LaRusso, the trail leader for Overland Adventure East.
2 Brandon Hinton (left) held the key to what was one of the most challenging parts of Overland Adventure East—affixing the vinyl windshield banner in the rain. His decal affixing tool made quick work of blinging out the glass on Joel and Marcie Lawrence's '15 Toyota 4Runner.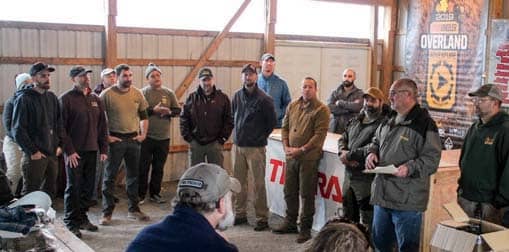 3 Ken Brubaker, editor of Four Wheeler, welcomed the group at the first driver's meeting.
4 A handful of participants braved the rain, lit a campfire, and camped at Rausch Creek after registration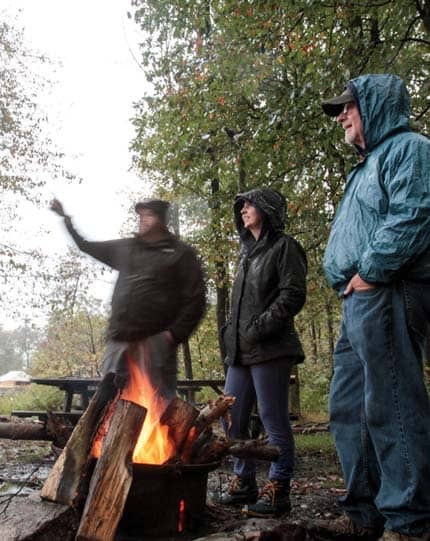 5 Joseph Polcari, of East Haddam, Connecticut, aired down the tires on his '81 Land Rover Series III Stage 1 Wagon, which carried him and his fiancé, Rebecca Reder, through the trails in style.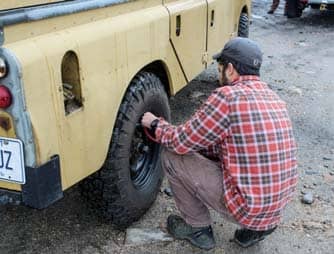 6 Bernie Gardula, manager of the 3,000- acre Rausch Creek Off-Road Park, opened the gates for registration and, unbeknownst to the participants, planned a VIP off-road tour of the property.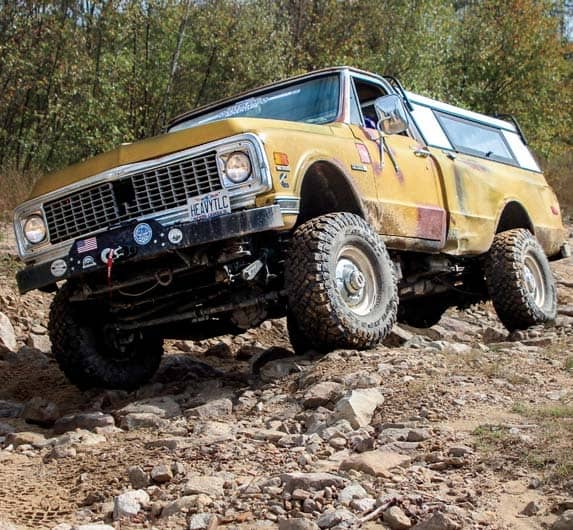 7 Ken and Charla Smith, of Taylors, South Carolina, used a dose of Cummins diesel power to roll through the trails in their '71 Chevy K20.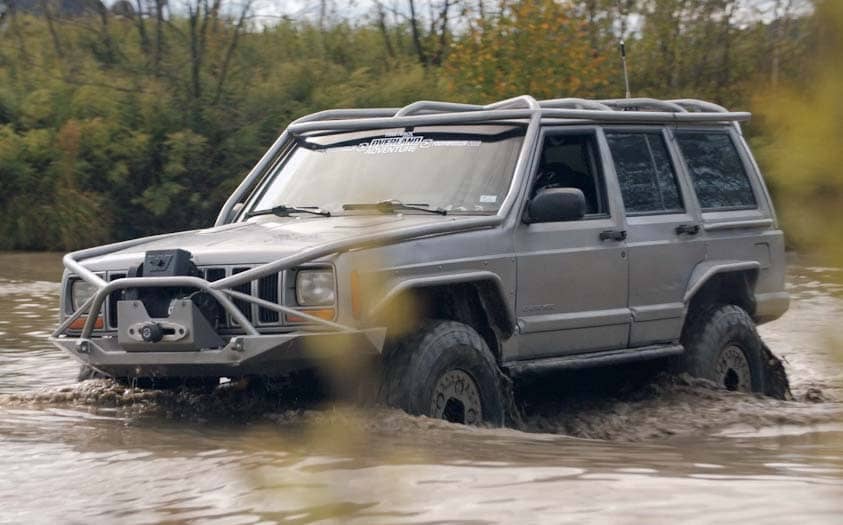 You can read up to 3 premium stories before you subscribe to Magzter GOLD
Log in, if you are already a subscriber
Get unlimited access to thousands of curated premium stories and 5,000+ magazines
READ THE ENTIRE ISSUE
April 2020