Major Dakota
Four Wheeler|July 2020
Tom Major's 2002 Dodge has a fullsize off-road appetite
"I've had this truck since high school," Tom Major told us when we met him on a lakebed in the California desert. He drove the '02 Dodge Dakota stock for quite some time, getting into whatever mud and rocks he could in central New Jersey, before significantly modifying the truck. After stockpiling parts and honing his fabrication skills, Tom was ready to give his rig the off-road chops it deserved.
Tom chopped the truck's frame from the firewall forward and rebuilt it using 4x3-inch, 3 ⁄16-inch-thick box tube. This allowed him to get rid of the Dakota's wide framehorns and also gave him space to mount the steering box he gleaned from a Ford Bronco, replacing the factory rack-and-pinion setup. Out back, Tom rebuilt the frame from the cab to the rear bumper, in the name of strength and corrosion removal. Other notable parts of Tom's Dakota include one-ton axles and coilover suspension front and rear, a stealthily relocated fuel tank, artful aluminum work in the bed and fenderwells, and an internal rollcage cleanly tied into the truck's frame.
While we found Tom and his crew testing their rigs on the desert trails of California; they told us the local private off-road parks of western Pennsylvania are where they spend their time on the trails, even though, as they described while glancing at the sheet metal on their respective rigs, there sure are a lot of trees in the way. Tom told us he plans on swapping his welded rear diff for another source of traction in the future as well as replacing the powerplant for something with a couple more cylinders. Continue on to see how Tom made his Dakota into the trail dominator it is today.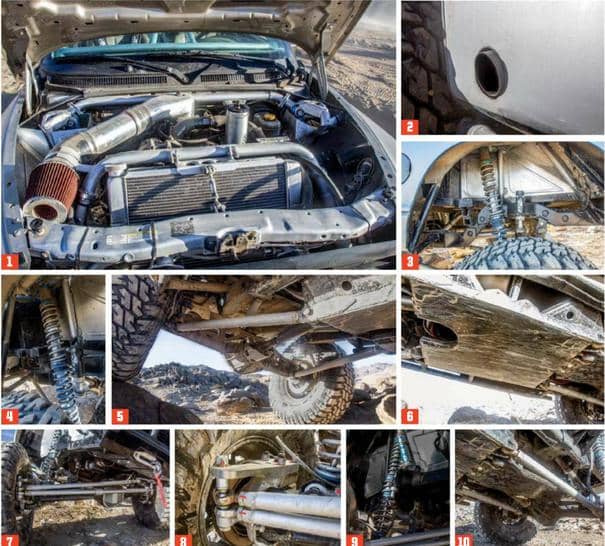 1-2 Until he opts for a V-8 swap, Tom has elected to keep the Dakota's Magnum 3.9L V-6, to which he added JBA headers, a K&N cold-air intake, and a cut and ported Kegger intake manifold. An aluminum four-core Summit Racing radiator and aftermarket electric fan keep the block cool while his custom 2.5-inch exhaust directs spent gasses to the rear of the truck where it exits forward of the rear wheelwell through the bed panel.
You can read up to 3 premium stories before you subscribe to Magzter GOLD
Log in, if you are already a subscriber
Get unlimited access to thousands of curated premium stories and 5,000+ magazines
READ THE ENTIRE ISSUE
July 2020