TRIUMPH SPEED TRIPLE THEN AND NOW
Fast Bikes|March 2020
You only have to take one look at these two models to see that a lot has changed over 20 years. But what exactly does two decades of development mean for Triumph's flagship naked bike? There was only one way to find out…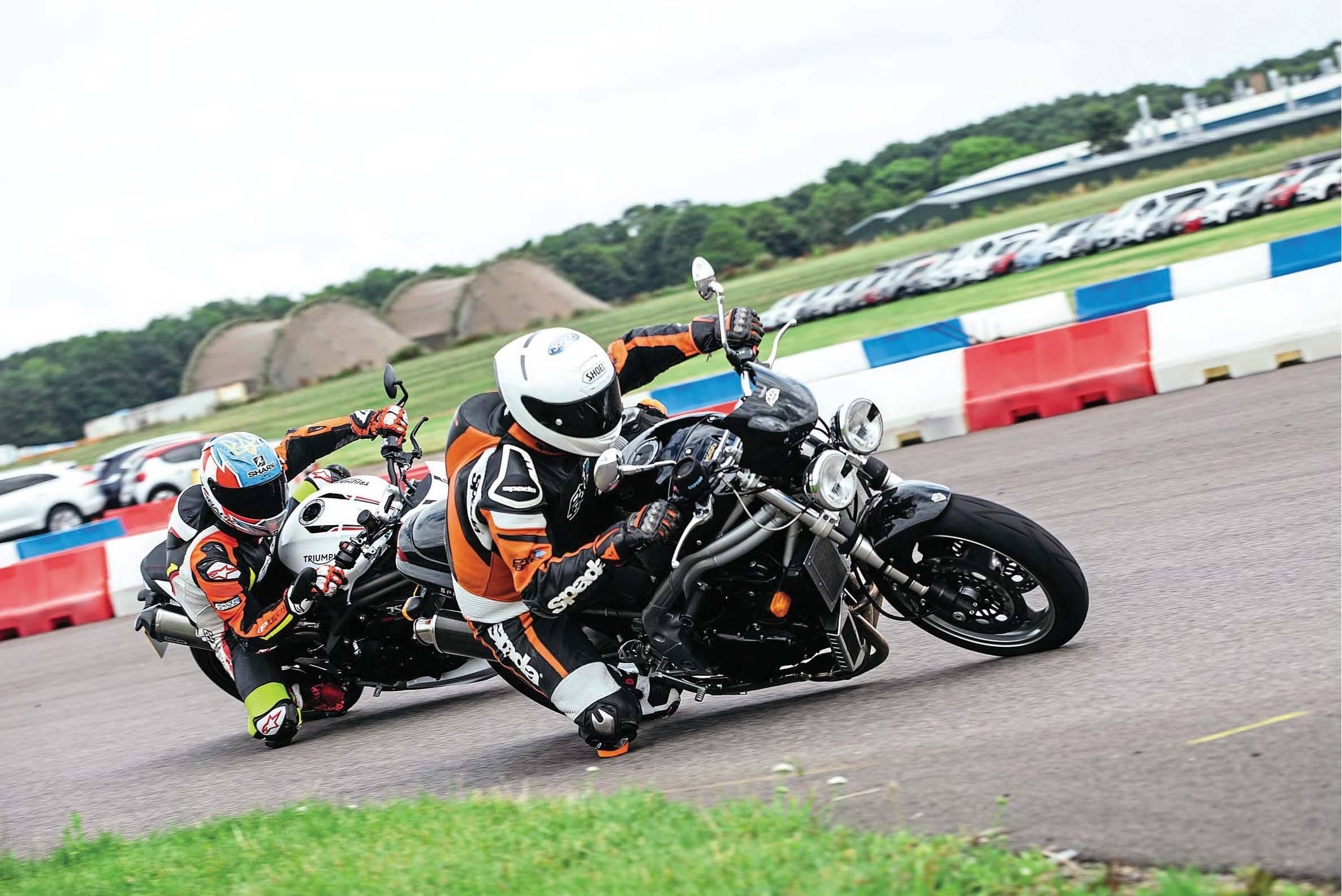 When the 955i came along, superseding the T509 with its 955cc engine, it was considered pretty cutting edge, with its fuel-injected engine and its 120bhp. It was a man's bike. Big, bulky and brutish it may have been, but under-seat cans and a single-sided swinging arm gave the Speed' the 'edge' that made it stylish as well as substantial. The more I looked at the thing, the more it struck me as a kind of halfway house between the modern and the retro; its aggressive stance wouldn't look out of place in a super naked line-up even today, but its twin round headlights are a real throwback to the days of old. The new Speed's twin headlights, whilst they seem to pay a loose tribute to those of the old bike, look sleek and modern. Conversely, whilst I know the under-seat pipes on the old bike would have been all the rage back in the early naughties, it's like nobody has told the latest Trip' that that kind of thing has long fallen out of vogue - its 2020 for Christ sake.

Before you even fire the old bike up you get a real sense of its size just from sitting on it. And its weight. It feels like a big, heavy lump, but the high and wide bars give it a really muscly feeling, as though sitting on it might make your bead grow faster. A simple turn of the key and press of a button was enough to spark the 955i's engine up, which was actually reasonably novel, after the faff of the 1050's keyless ignition system – which really is a pain in the arse. In my 20-odd years of motorcycling, I have never once heard anyone complain about a conventionally keyed ignition on a bike. Not once. So why on earth Triumph decided to break the mould with a key that you have to keep in your pocket, I do not know. So, to fire up the 1050, you have to remember which button to press to unlock the steering lock, then remember which button you have to press to start the engine, and it doesn't like to be rushed. You also have to remember NOT to leave the key on the garage windowsill and, provided you do put it in your pocket when you go for a ride, you have to remember which pocket you put it in when you get to the fuel station, rather than having it staring you in the face, as is the case on the 955i. It's a real nuisance.

Both bikes have a very distinctive three-cylinder whirr (it's all very 'Triumph'), but they do sound quite dissimilar. The 1050 has a smoother, slightly quieter tone with a slight whistle to it, whereas the 955i sounds a little lumpier and slightly more agricultural.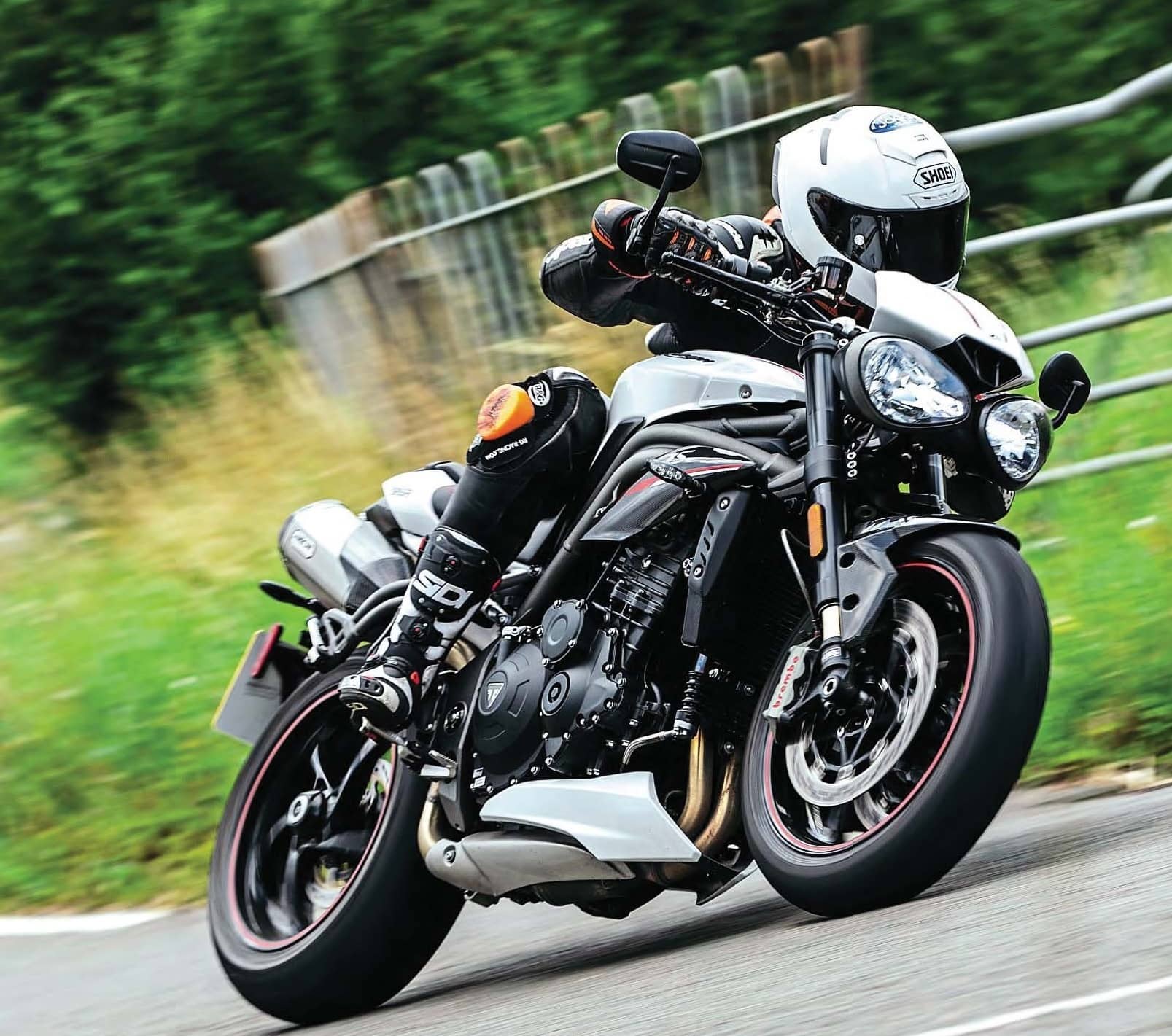 Once you have mustered the strength to heave the 955's heavy clutch in, the gearbox obligingly does its thing and before you know it, you're on your way. Slow speed riding isn't where the 955cc engine is most comfortable and although the gearbox felt mega solid, the engine seemed to jerk a little bit if you found yourself changing gear between about 2,000rpm and 4,000rpm. In all honesty, I'd put this down to the bike's early fuel injection system; the on/off/on throttle transitions were far from smooth and tended to upset the bike quite nastily if you rushed them. The 20 year newer 1050 had no such problems, whose fly-by-wire throttle gave an unrivalled sense of control.
Ground control
You can read up to 3 premium stories before you subscribe to Magzter GOLD
Log in, if you are already a subscriber
Get unlimited access to thousands of curated premium stories and 5,000+ magazines
READ THE ENTIRE ISSUE
March 2020