INTERNATIONAL APPEAL
Drive!|August 2020
Work Hard, Play Harder
THE APPEAL OF OLD AMERICAN WORK TRUCKS IS CONSTANTLY REACHING NEW LEVELS OF POPULARITY, AND BUILDERS ARE DIGGING FAR DEEPER THAN C10 AND F-100 MODELS WHEN CHOOSING WHAT TO RESTORE NEXT.
When it comes to old workhorses, the International Harvester brand was synonymous with tractors and trucks that were used day in and day out within the agriculture industry. Designed to work in parallel with IH's impressive lineup of heavy machinery, a selection of lighter-duty pickups was also available up until the mid-1970s and has proved to have made a lasting impact on today's truck fanatics.
John Peña of Spring, Texas, is just one of the big IH truck fans who we have come in contact with throughout the years. He has been an active seeker and builder of International trucks for years now, and through his years of restoring these not often seen pickup and utility models, he has come to be somewhat of a reliable resource when it comes to the historical significance behind the brand.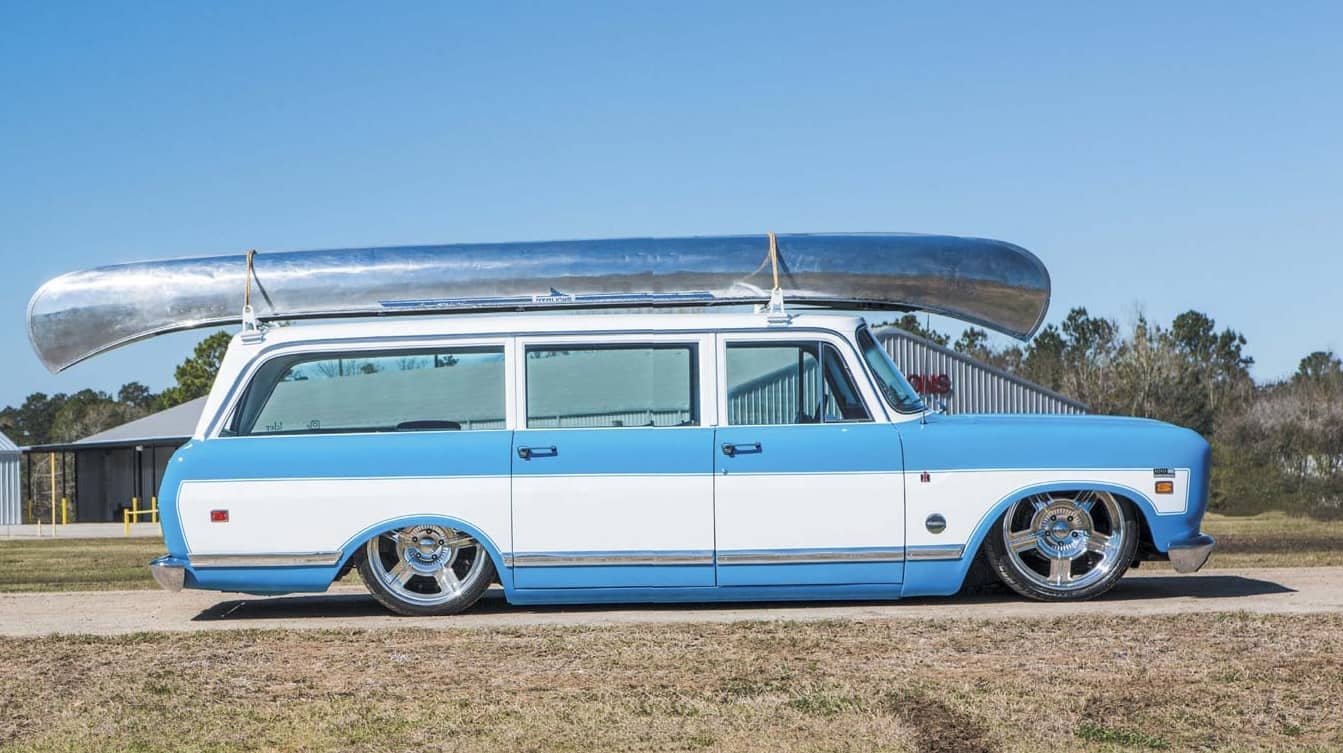 "I have been into International Harvester trucks for roughly 12 years now," John says. "Over the years I have put together a '66 IH and was really hoping to add to the collection with a '60s Travelall model, but locating one with a solid enough foundation to build upon was proving to be difficult to track down. I did know of a family member who wanted to part with a '70s model, which I ended up going with after searching high and low for years for the older version I was holding my breath for."
While there is something to be said for waiting for the exact thing you want to pop up, finding these old IH trucks is getting harder with each passing year. Knowing that, John happily took ownership of the '73 and began putting a plan of restoration into action. At first, the goal was to be content with a very mild build, which of course changed as the phases of the restoration progressed. As it sat, the Travelall was 99% original when John purchased it minus some general maintenance parts that had been replaced over the years. Even though the majority of the truck was original, it was no means in fantastic condition.
You can read up to 3 premium stories before you subscribe to Magzter GOLD
Log in, if you are already a subscriber
Get unlimited access to thousands of curated premium stories and 5,000+ magazines
READ THE ENTIRE ISSUE
August 2020