DISPOSABLE HEROES
Diesel World
|
November 2020
THE GRAY MARINE 6-71 IN THE HIGGINS BOAT
When we talk about a great or historic engine, sometimes we need to talk more about what it powered, because that's what made it famous. It's beyond argument that the General Motors 71 Series deserves a high spot on the list of the world's most influential diesels. Few of it's exploits are more memorable, or meaningful, than when it powered the World War II LCVP, Landing Craft Vehicle Personnel, the legendary Higgins Boat.
THE P-BOAT
Known to troops and sailors alternatively as the P-Boat, Peter-Boat, Vee-Pee or Veep, the 36-foot landing craft had it's origins in an early-1930s design called the Wonderboat. Developed by Andrew Jackson Higgins, it was not a landing craft, but a shallow-draft work boat. That design evolved into the Eureka, which was completed in 1937. It was a beachable, shallow draft workboat that drew the attention of the United States Navy and Marine Corps when they were looking to upgrade their amphibious operations.
In 1940, the Navy conducted trails of an assortment of landing craft and the Eureka came out on top due to it's combination of speed, simplicity, low cost and an almost uncanny ability to get itself on and off a beach. This early design was considerably different than the later LCVP in that it didn't have the now well-known bow ramp. The production model emerged in 1941 and was called the LCP(L) (Landing Craft Personnel, Large) and disembarking troops were required to leap off the sides. The "large" came from the fact that the original design was 30 feet in length and the updated production unit was 36.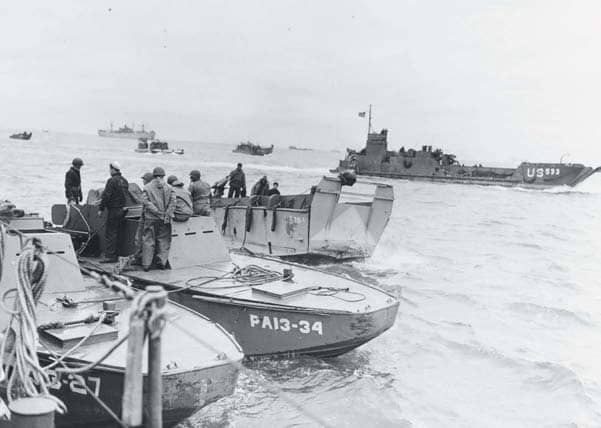 In 1941, the LCP(L) evolved into LCP(R) (Land Craft Personnel, Ramp), which had a narrow bow ramp to disembark troops more easily and a pair of machine gun tubs. Later in 1941, the more familiar full-sized bow ramp was developed and went into production as the LCV (Landing Craft Vehicle). It didn't take long to realize the LCV setup could lend itself to all tasks and so in 1942, with a few other tweaks, it became the LCV(P), the parenthesis later deleted.
You can read up to 3 premium stories before you subscribe to Magzter GOLD
Log in, if you are already a subscriber
Get unlimited access to thousands of curated premium stories, newspapers and 5,000+ magazines
READ THE ENTIRE ISSUE
November 2020