OLD SOULS
Cycle World|Issue 2 - 2020
Chasing fun, spirit, and freedom on five motorcycles that recall the essence of riding
You can go farther on many bikes, and faster on others. There are many motorcycles that would also give you greater comfort and convenience. But, I ask you, are you here to ride free on comfort and convenience? Nice to have, sure, but we are here for fun. And so are these five bikes. They represent pure joy and personality, the essential spirit of good times on two wheels. There is retro inspiration here, but these are modern motorcycles with ride-enhancing tech that generally runs unnoticed in the background while your smile leads you down the road.
What's particularly compelling here is that each bike represents a spiritual and cultural path related to the heritage of its manufacture and design. So even if the actual engineering that's created them is becoming more similar on the inside (see TDC, page 20), we are looking at great standard-style machines that bring the best of their national origins forward into modern expression.
That is, the inspiration for the Indian FTR 1200 S is American flat track; the Ducati Monster 1200 S channels the best of Italian superbikes; the BMW R nineT brings us classic German roadster vibes; and, well, the last two are slightly different. The Husqvarna Svartpilen does bring classic Swedish dirt bike/tracker vibes with its big single-cylinder engine and stylish number-plate-like bodywork, but it's obviously got more going on. And the Triumph Scrambler 1200 XC is sort of a modern interpretation of the TR6 Trophy, the do-it-all 650cc twin that dominated desert and scrambles racing in the 1950s and '60s. It's a bit of Britain, via the California high desert, with a dash of modern adventure bike.
This is normally where we say we gathered at our Irvine, California, headquarters after getting full performance numbers and running all the bikes on our in-house Dynojet 250i dyno, and then hit the road. Then we'd complain about lane-splitting for three hours to get out of the great Southern California sprawl. Which is exactly what we did: lane-split for three hours and complain about it. But since the time of our multiday test ride, the world as we knew it has ended as the novel coronavirus pandemic necessitated that we put human health before our freedom to roam, and we'll never complain about crowded freeways again.
The past few months have certainly made us appreciate motorcycling all the more. It's an individual activity that can be done in a (distanced) group. Adventure and movement are primal desires for most of us, and motorcycling is perhaps more perfect at satisfying these desires than anything else. Our ride to the Central Coast for a few days of roosting around on every kind of magnificent road could not have been better, and the further we get from having done it (and not getting out of the house much), the more perfect it seems.
We rented a big house in a small town called Los Alamos, a census-designated place that straddles US 101 south of San Luis Obispo and east of Vandenberg Air Force Base. Los Alamos is, thankfully, still a bit more rodeo than red wine, a town that echoes with California's history and hard work. But it's stepped forward enough that we could eat a killer meal midweek at an (the one) open restaurant walking distance from our rented pad described as an "Old West Relic built-in 1882."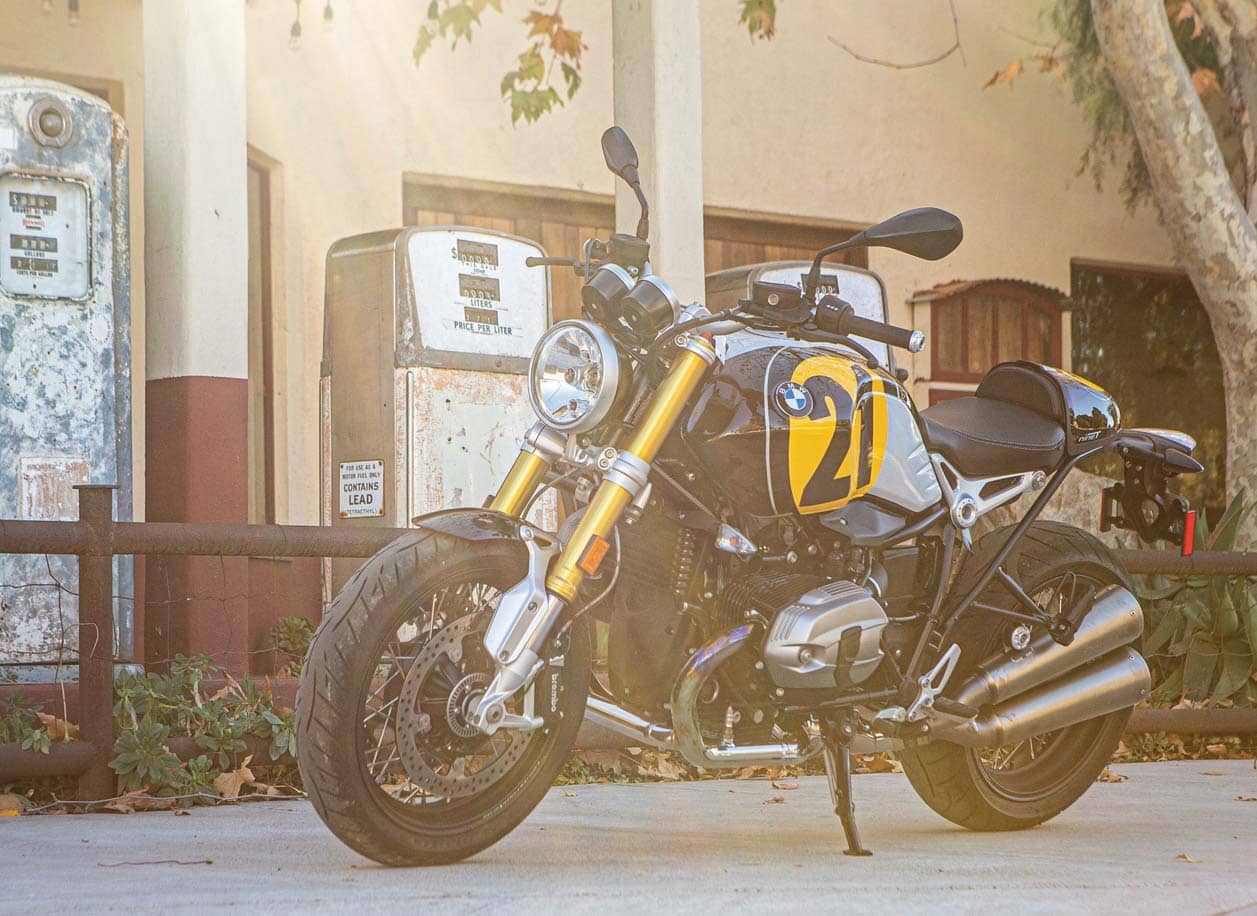 We rode north, west, east, and south on the kind of chilly winter California day that frosts the seats in the morning and makes you worried you might be too cold to have fun. And then it gets just warm enough as that classic golden light starts to beam through the oaks and light up the lush green grass of our rainy season.
Because I got gear to match, I began on the 2020 Triumph Scrambler 1200 XC. It's the more street-oriented version of the big Scrambler versus the XE, the latter of which has longer-travel suspension (9.8-inch front and rear versus 7.8), as well as a longer swingarm. We were perfectly happy with the XC's still-ample travel, and also its lower 33.3-inch seat height (it's 34.7 on the XE). Custom and Style Editor Morgan Gales added, with a smile, "We know it's a scrambler because the seat is brown." The seat padding, for that lean look, is also on the thin side, and for me, at least, was good for less than an hour before getting uncomfortable. Thankfully it was easy and comfortable to stand, due to the dirt-bike-like riding position and fat footpegs, giving the rider the altitude and perspective to survey traffic or trail, as required.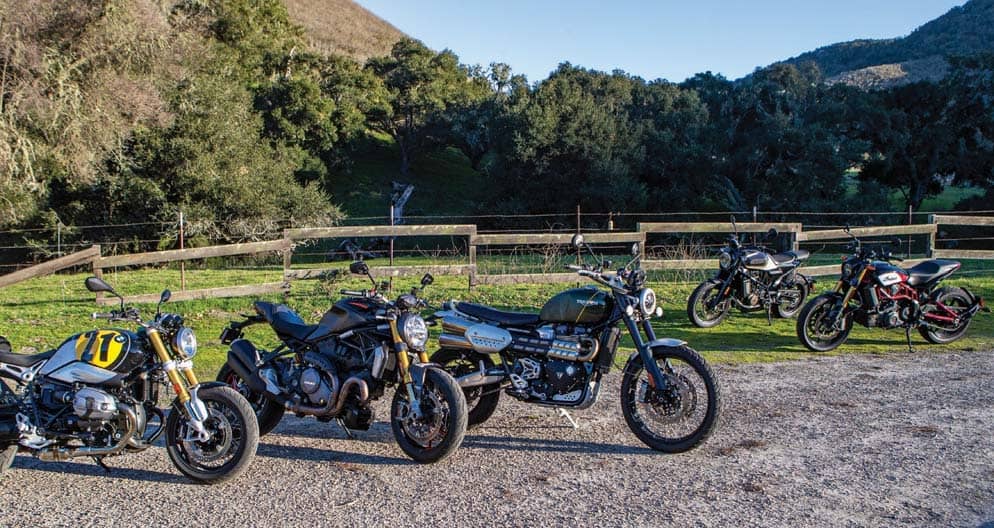 The downside was rightly pointed out by Road Test Editor Michael Gilbert. "The tall handlebar, flat seat, and medium-length fuel tank places the rider in the middle of the motorcycle, but there's enough windblast to make you wish for some sort of hump or step in the seat. I found myself constantly using my arms to pull myself back to the tank while on the highway."
None of these bikes is really a highway bike, so no big knock, but the other machines here did block wind better. No bike sucked up bumps more effectively, however: The compliant, long-travel Showa fork and Öhlins shocks give a comfortable ride and work well on unmaintained dirt roads. On asphalt, it isn't nearly as planted as, for example, the Monster 1200 S or R nineT, but it didn't keep us from dragging Scrambler footpegs on all these amazing, often rough, roads we were sampling.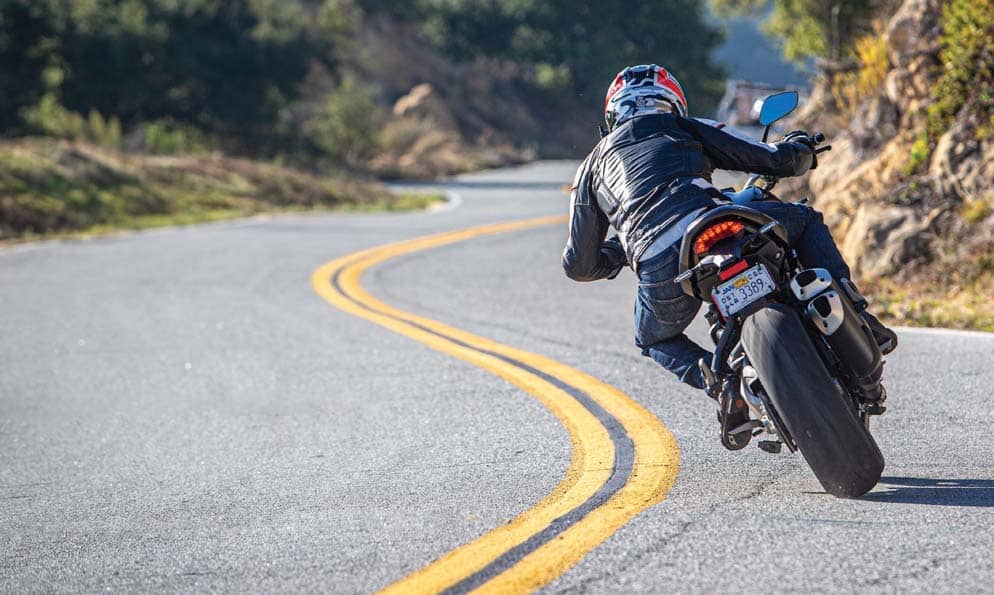 The 1,197cc parallel-twin has a 270-degree crank and counterbalancer, which brings a rhythm that's more like a Ducati than '69 Bonneville, but it sounds great, runs smooth, and makes 76 hp and 71.6 pound-feet, hurling its 475-pound measured dry weight along nicely. In broad terms, the customizable TFT display was really excellent, with a few cool layouts and easy switching among the five riding modes (one of which is the rider's custom setup), but the FTR 1200 S was a little easier to use and has a nice touchscreen.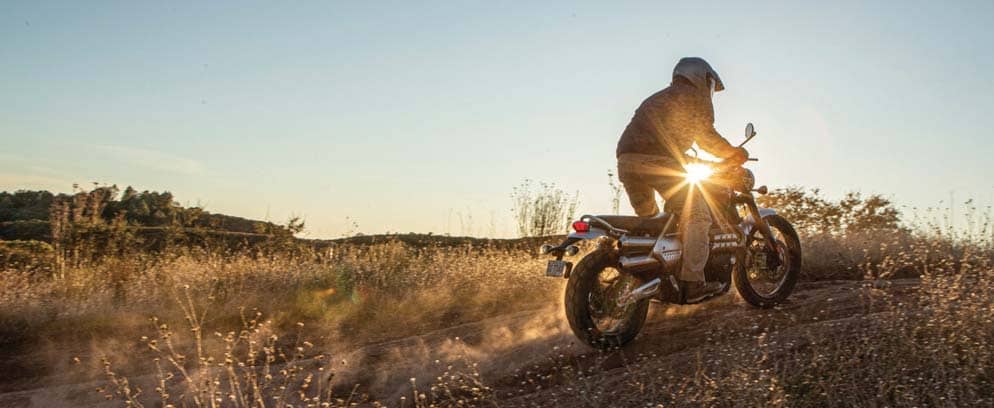 You can read up to 3 premium stories before you subscribe to Magzter GOLD
Log in, if you are already a subscriber
Get unlimited access to thousands of curated premium stories and 5,000+ magazines
READ THE ENTIRE ISSUE
Issue 2 - 2020