HONORABLE DISCHARGE
Cycle World|Issue 2 - 2020
Two class-leading EV motorcycles ride the short circuit to the future
There's a buzz within Cycle World headquarters lately. The hum of electric motorcycles charging during the workday can be heard in the halls as staff members have plugged into the merits of two-wheeled EV transportation. Whether zapping to and from work or effortlessly whistling about the greater Los Angeles area without so much as pulling a clutch or toeing a shift lever, EV bikes have proven to be a viable mode of urban transportation.
Enthusiasm has been recently supercharged with the simultaneous arrival of the 2020 Harley-Davidson LiveWire and Zero SR/F Premium, a pair of preeminent models within the segment and the natural makings of a heads-up comparison.
These full-fledged roadbikes are each endowed with chassis specifications, ergonomics, and styling well in line with a contemporary petrol-powered liter-class sport naked. Both feature comprehensive IMU-based rider aids with lean-sensing traction control and cornering ABS, and have selectable ride modes for Sport, Street, Rain, and Eco that tailor throttle response, peak power output, regenerative braking, and TC sensitivity. Both have a TFT dash display providing a wealth of info to monitor charging status, estimated range, state of charge, ride mode selection, and more.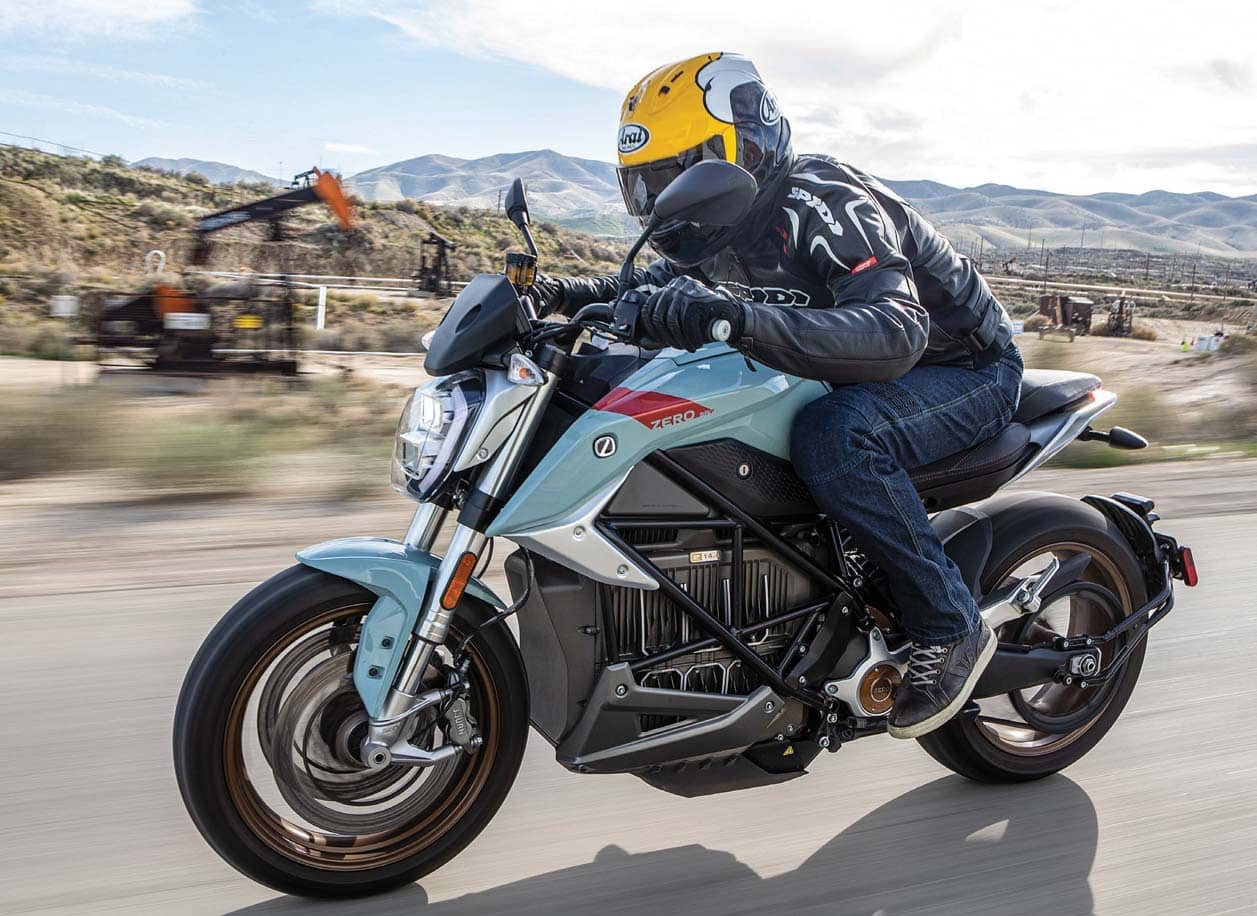 The physical size and load capacity of these bikes facilitates use of a larger lithium-ion battery pack than any EV motorcycle we've tested in the past. Each bike's power pack is encased in an aluminum heat-sink housing, lending a stylistic appearance along with the strength and rigidity to serve as a stressed member of the frame. Zero employs a tubular steel-trellis frame wrapping its 14.4 kWh Z-Force battery unit, while Harley's frame structure is composed of aluminum-cast members bolted to its 15.5 kWh Rechargeable Energy Storage System (RESS) that join at the steering head.
While both are propelled by an interior permanent magnet brushless AC motor, their powertrain configurations are fundamentally different. Zero's ZF75-10 motor is a passive air-cooled design mounted with its power shaft horizontally across the frame, using a final-drive pulley attached directly to the motor's shaft. The Revelation motor of the Harley-Davidson resides beneath the RESS in a longitudinal arrangement, features a liquid-cooling jacket, and employs a gear-ratio-reducing spiral-bevel-gear primary drive that transmits torque to its perpendicular countershaft/sprocket arrangement.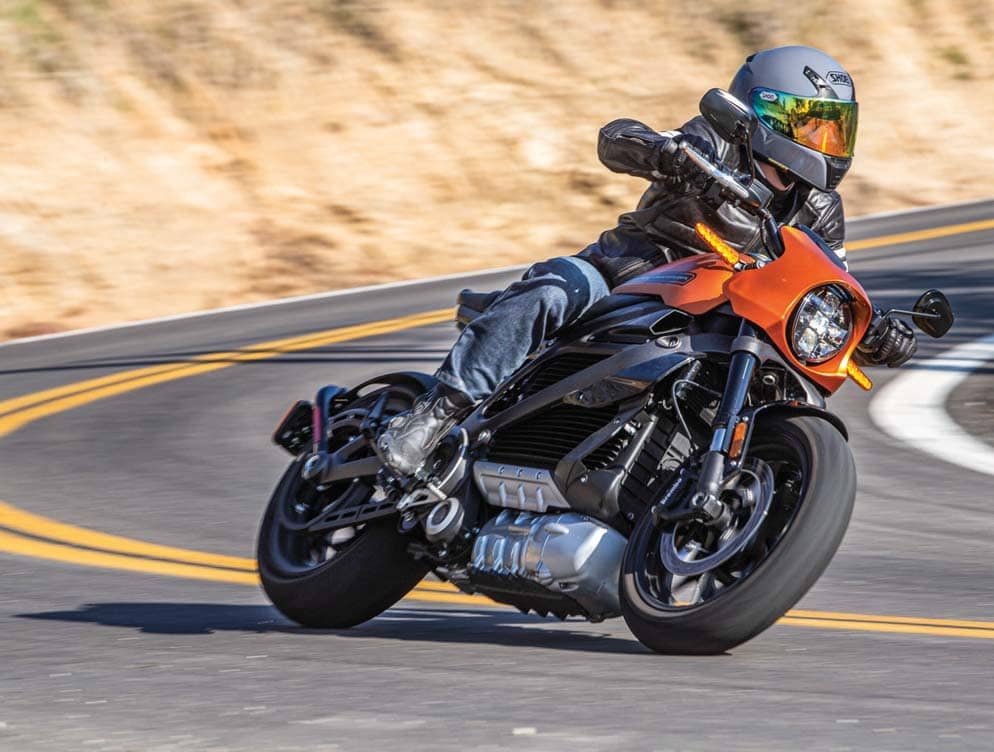 Measuring power output at the rear wheel on the Cycle World dyno revealed an interesting contrast in engineering approaches. Viewing each bike's peak torque value alone would lead one to surmise that the Zero's 146.5 pound-feet flat buries the 74.2 pound-feet of the Harley.
Not so fast, Buzz Lightyear.
First, note that the LiveWire motor spins beyond 14,000 rpm, while the Zero tails off around 7,000 rpm. Horsepower produced at higher revs mathematically equates to notably less torque than when the same horsepower value is produced at a lower rpm. Comparing the two at a dyno drum speed of 55 mph, we found the Zero produces 80 hp and 120 pound-feet at 3,500 rpm, while the Harley dealt 91 hp and 68 pound-feet at 7,000 rpm. It's much like your classic gas-powered matchup of a big-inch twin and high-revving inline-four. Harley-Davidson's role reversal of leveraging revs while the competition leans on low-rpm torque truly is a Revelation.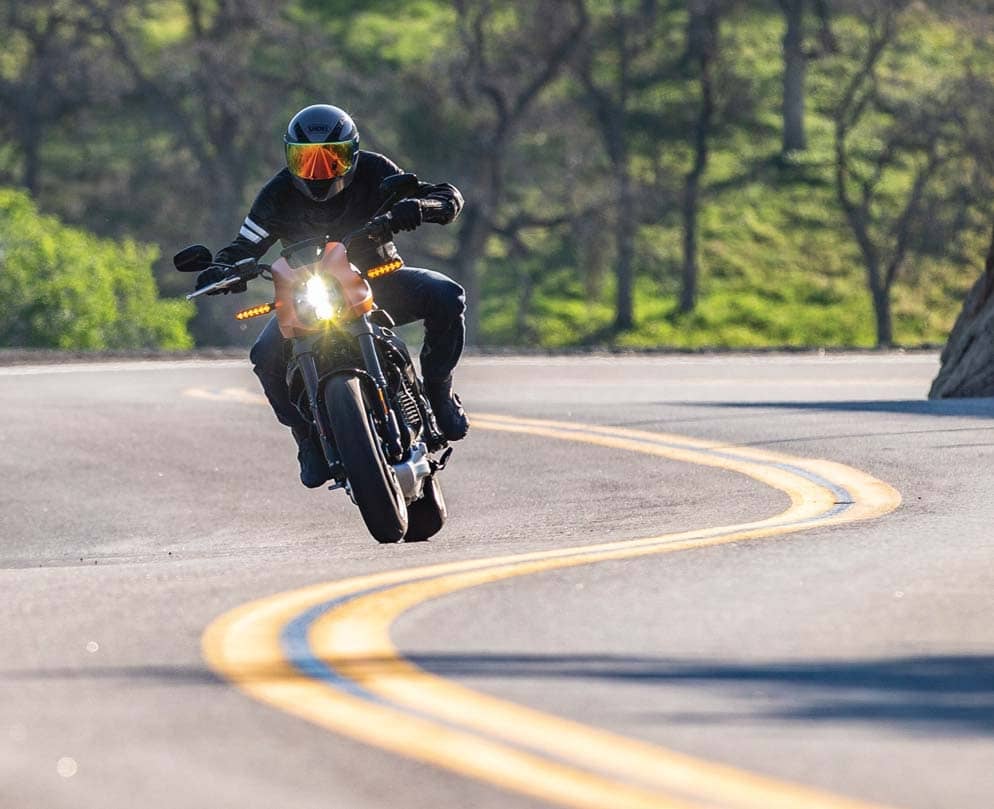 Tipping our scale at 502 pounds ready to ride, the SR/F Premium would also appear to enjoy a power-to-weight advantage on the 544-pound LiveWire. The Harley has 8 percent more energy storage capacity, however, justifying the additional pounds, which also pencils out at 8.3 percent.
You can read up to 3 premium stories before you subscribe to Magzter GOLD
Log in, if you are already a subscriber
Get unlimited access to thousands of curated premium stories and 5,000+ magazines
READ THE ENTIRE ISSUE
Issue 2 - 2020