AUSTRALIAN ROAD-TRAINS
Australian road trains make for an interesting long-truck configuration that could provide a clue or two to how truck platooning could work or not work.
"Emus explode in a colourful cloud of feathers," explains the driver of a 53.5 m road-train when asked about what caused the bloody mess on the front of his bonneted Mack. But of course, emus aren't the main reason why every heavy truck in Australia is fitted with a bull-bar (aka roo-bar). There are considerably more kangaroos than people Down Under, and they have a nasty habit of hopping out in front of trucks. Hit a big one at 100kph, and it will do some serious damage. Even with a bull-bar in place it's still likely that the initial impact will destroy a headlamp assembly, and then there's a good chance that the carcass will rip out airlines and fuel pipes as it tumbles under the truck. Of course, no driver wants to intentionally kill an animal, but when running at 50 m and 120-tonnes, sudden swerves and emergency stops just aren't viable options. There are however ways of reducing the chances of bending a bull-bar, and especially when it involves a 52 m Volvo FH16 road train while travelling into the outback.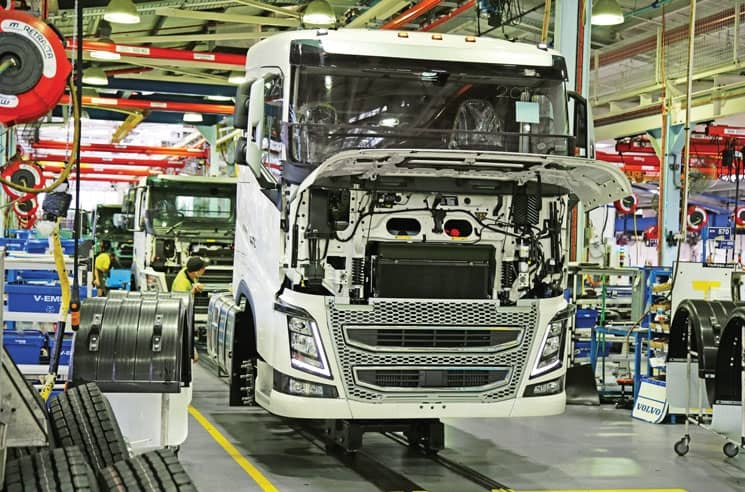 Platooning
The UK is about to embark on a platooning trial. It could be a waste of time and money. Daimler can't make the technology work on North America's big open roads, so why does one think it has potential on the crowded island? Instead of linking them wirelessly, doesn't it make more sense to join the trucks mechanically? While numerous European countries have already introduced longer vehicles, the real experts are the Australians, who have been refining the road train concept over the past 80-plus years. Arriving at Brisbane, which is the home of Volvo Trucks, Australia, a plan hatched by Volvo's driver trainers Bill Manton and Matt Wood to demonstrate three different truck and trailer combinations starts to take shape. Heading out of the city and into the Outback, the truck gradually starts to grow, adding trailers as legislation permits. This would enable experiencing the three most popular combinations that are found in Australia.
At the disposal are a pair of locally-built Volvo FH16 600s, and four trailers. A popular prime-mover for road-trains, the 700 hp FH16 in Australia differs from the European spec. version in a number of ways. The most notable is that it's a EuroV. As yet Australia has no plans to adopt the latest European emissions standards. Like just about every other prime-mover sold in Australia and New Zealand, both the trucks are 6x4s. Unlike in North America where double-drive is frequently specified out of habit rather than necessity, the extra traction provided by the additional drive-axle is required for moving such heavy weights. The trucks' twin fuel tanks carry 1,220-litres of diesel (they are split to hold 690-litres and 530-litres), while a neatly designed 140-litre AdBlue tank is slung under each chassis.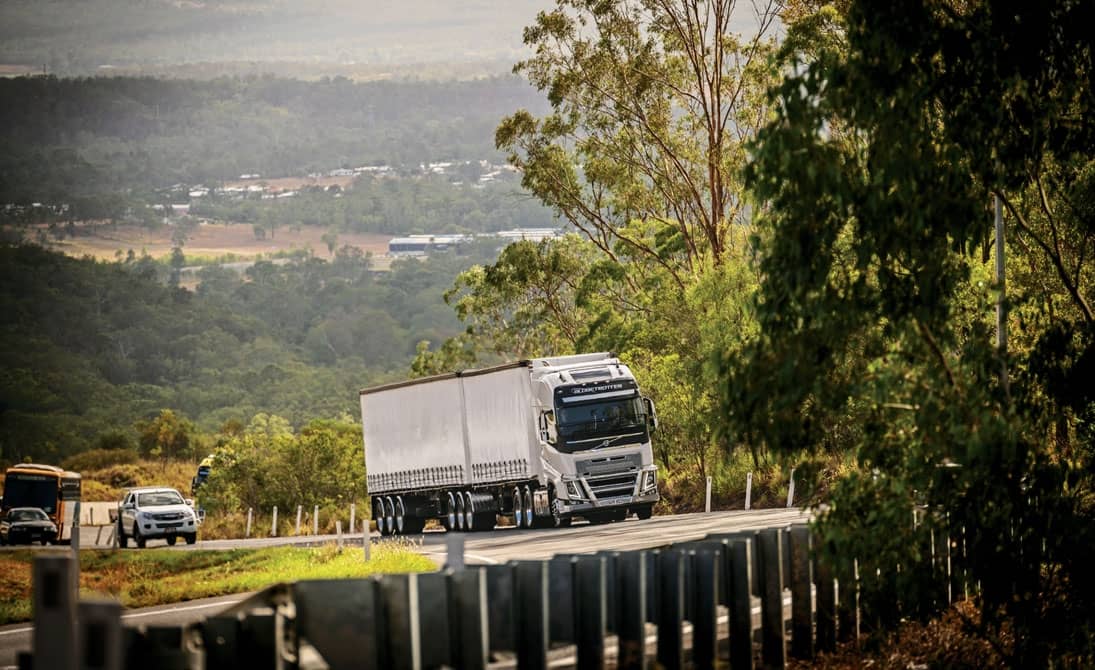 The most obvious differences, externally, are bull-bars (a heavy-duty aftermarket one on the green and yellow truck and a more aerodynamic genuine Volvo part on the white one). They are an absolute must in this part of the world, and can easily prevent thousands of pounds worth of damage in the event of an animal strike. Metal guards, which are fitted on the factory line, protect the windscreens from stones and bird strikes. Unlike in Europe, where FH16s tend to have more bells than the Vatican and more whistles than a referee's convention, the interiors are poverty spec. here in Australia. Only one has a factory-fit fridge, and you have to operate the blinds and sunroof manually.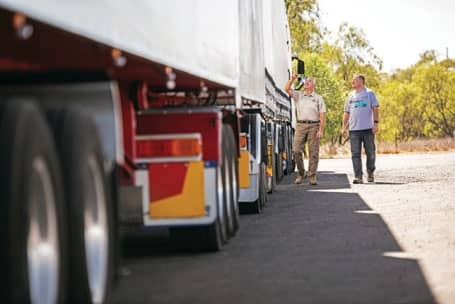 B-double
At the beginning of the 400-mile journey both vehicles are set up as B-doubles. The 'Proudly made in Australia' truck will gradually shrink in length as its trailers are added to the white one. In Australia, the word B-doubles refers to a formation that consists of a prime-mover with a pair of semi trailers - 'B' signifying a fifth wheel and 'double' because there are two of them. It is 25 m long, and is running at 60-tonnes. Although B-doubles have to operate on approved routes, they are widespread. Out on the road, it is evident at once how well the trailer tracks – which just as well as Australian B-double drivers have a huge amount of pride in their driving standards, and scuffed rear tyres are to be avoided at all costs. Navigating through the suburbs on the way to the main freight route west, impressive is how little the trailers cut in.
Out on the open road, the configuration feels incredibly stable. Reckons Manton that the B-double is better planted than a regular tractor unit and semi-trailer as the two trailers hold each other down. He says statistically it's safer too, seeing as its heavier and therefore slower than a regular artic.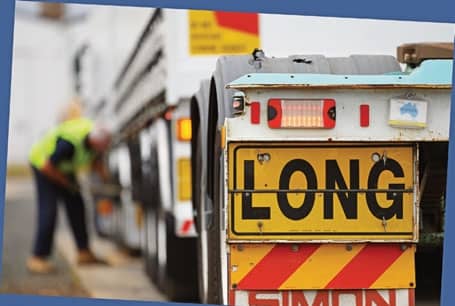 While cornering, it does not take long to observe that the mirrors on this truck are different than those of the European spec truck. Instead of being convex, the glass is completely flat. Apparently, this makes it easier to judge distances, which is especially important when reversing a B-double. "We prefer flat mirrors as main mirrors, but our smaller spotter mirrors are convex," explains Manton. "We use those for seeing where trailers are on bends, and for checking on vehicles overtaking us."
You can read upto 3 premium stories before you subscribe to Magzter GOLD
Log-in, if you are already a subscriber
Get unlimited access to thousands of curated premium stories and 5,000+ magazines
READ THE ENTIRE ISSUE
January 2020