Yamaha TX750 part 4 Fork foibles!
Classic Motorcycle Mechanics|June 2020
Mark is checking out the forks and brakes of his latest purchase. What does he find?
I have spent some time sorting peripheral engine parts (though God knows what the important internal bits are like) so now I want to turn my attention to the cycle parts. I needed to sort out the front brake, which was completely inoperative, as well as servicing and checking the back brake. The front fork seals were leaking as one might expect and it would be a good idea to check the steering head bearings at the same time.
The forks are very simple and straightforward to overhaul. I know you can buy a special tool for this job, but my 'special tool' to remove the old seals worked ok, as usual. It is just a pry bar with a strip of sheet steel as a backing to prevent damage to the top of the fork case. The seals are a standard size and thus it is not necessary to order specific Yamaha parts. Mine came from Simply Bearings, whose products are always good and quickly delivered.
Another not very special tool needed was a very large Allen key for the top caps. You could probably make up something using a large nut and bolt, but why bother as you can get a whole set of big keys for not very much these days? Admittedly, cheap ones are not of Rolls-Royce quality, but they do the job.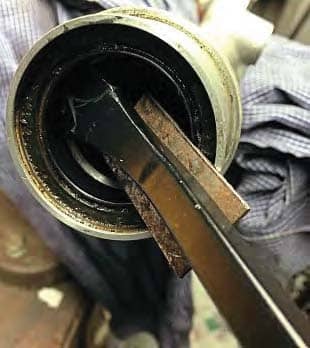 All the internal fork parts were in good condition and the tubes were practically like new – in fact, I could not work out if they actually could be the originals or whether they were replacements. One interesting point was that the external dust seals were also like new, so maybe the forks were overhauled not too long ago. The lower cases were slightly scraped and I wonder what caused this? That scratch did mostly polish out using a Scotchbrite wheel.
You can read up to 3 premium stories before you subscribe to Magzter GOLD
Log in, if you are already a subscriber
Get unlimited access to thousands of curated premium stories and 5,000+ magazines
READ THE ENTIRE ISSUE
June 2020