Test Ride Tales!
Classic Motorcycle Mechanics
|
August 2020
A test ride and then the big job of sorting the camshaft out: all in a day's work for our Allen…
With the lockdown, rules relaxed I was finally able to take my Kawasaki Z1 Super Six for a test ride. The bike had been finished for a few months, but I had only ridden it across my garden a couple of times, which isn't fair.
I had a gallon of petrol in the shed so I put it in the tank, turned on the petrol tap and waited a couple of minutes to check for leaks. All seemed fine so I put on the choke, pressed the starter button and it burst into life on fast idle and sounded great. It was a nice sunny day and I had been looking forward to this moment for weeks. As soon as I pulled away and went up through the gears it felt under-geared; I was almost straight into top gear as I approached 30mph and I could drop below 20mph in top gear and it would pull hard with no snatching in the transmission.
The bike has its original size 630 pitch chain and I had fitted the largest available 16T front sprocket and smallest 33T rear sprocket, so in order to raise the gearing even more I would need to make a smaller rear sprocket. I continued with the test ride and found that as it warmed up the carburation deteriorated and it started to hesitate on pick-up from low rpm. I decided to return home and investigate further and it turned out to be a sticking choke plunger on one carb. That was an easy fix.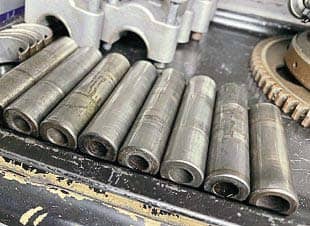 You can read up to 3 premium stories before you subscribe to Magzter GOLD
Log in, if you are already a subscriber
Get unlimited access to thousands of curated premium stories, newspapers and 5,000+ magazines
READ THE ENTIRE ISSUE
August 2020